Salida Trail & Trail Tales of the Earth
Published with permission from the guide book: Mellow Mountain Trails Hiking Guide to Colorado's Upper Arkansas River Valley
by Nathan Ward.
Featuring 27 Fun Day Hikes in Buena Vista & Salida – beginner to expert..
Maps and Elevation Profiles for each ride, including altitude gain and loss.
Local Advice on riding areas and seasons, where to sleep, where to soak, where to find the best pizza, the best coffee and the best bars in Buena Vista & Salida, Colorado.
HIKING

TRAIL GUIDE
Salida Hikes
Poncha Pass Hikes

Marshall Pass

West Of Poncha Springs

Monarch Pass

Buena Vista Hikes

Four Mile Travel Management Area

Chalk Creek Road

Saint Elmo

Cottonwood Pass

Independence Pass/Twin Lakes

The Salida Trail & Trail Tales of the Earth
The Salida Trail is a great hike for people of any age along a paved path wandering through historic downtown Salida and out into fields near town. Children will especially enjoy this trail because of the new Trail Tales of the Earth interpretive stations along the route, which talk about the ecology, environment and human history of the area. The trail follows the path of the old Monarch Spur Railroad from the Arkansas River west until it ends unceremoniously at Walmart. Trail planners are still working on getting easements through private property to continue the trail. As it is now, the Salida Trail is a quick, easy and interesting walk from downtown Salida. Try it out.
Location: Downtown Salida
Distance: 4 Miles – Out & Back
Hiking Time: 2 Hours
Best Months: Year-Round
Trail Type: Paved Walking Trail
Difficulty: Easy
Dog Friendly: Yes. Dogs Must Be on Leash.
Elevation in Feet: Low Point 7,121; High Point 7,191; Climbs/Descends 70
Land Status: City/County, Private Land
Maps: Salida Trail System – Available at outdoor shops & Salida Chamber of Commerce
Note: Many other people use this trail – some on bicycles that will move faster than you. Keep your eyes open and please be friendly to everyone on the trail.
Salida Trail & Trail Tales of the Earth
The Salida Trail & Trail Tales of the Earth
0.0 Trailhead – Begin at the kiosk near the Arkansas River/Steam Plant. The kiosk gives you some interesting facts about the Arkansas River. Turn around and head south on the paved trail. The Steam Plant Theater and Conference Center is on your right – it once housed a 1000-kilowatt steam generator and provided electricity to Salida from 1892 to 1958. Elevation 7,121 ft. (N38°32.28, W105°59.49)
.04 Cross Sackett Street – as a pedestrian you have the right-of-way, but most drivers here don't know this. Watch for vehicles on all street crossings during this hike.
.06 On the right is the AHRA headquarters and it's worth visiting to learn more about the Upper Arkansas River Valley.
0.1 Cross First Street.
0.2 Cross Second Street.
0.3 Cross Third Street. If you wish, walk to the right here a few yards to visit Monarch Spur Park. The flowers and trees are native to this area. The park is named after the Monarch Spur railroad line, which once ran along this trail.
0.4 Cross Fifth Street. Note the trail sign. This trail is funded by the Colorado State Parks and the City of Salida.
0.6 Cross Seventh Street. Look for the "Angel of Shavano" on Mount Shavano (14,229 ft.) several miles to the northwest. You can see this snow formation in the spring or late fall.
0.7 Rest on a bench on the right of the trail.
0.8 Note the structure to the right. What is the origin of this?
0.9 The apple tree on the right produces nice apples every year. Tasty.
1.2 Cross Holman Avenue. The trail here is lined with Russian Olive Trees, a non-native species.
1.7 Bench on the left.
2.0 End of the best part of the trail. You can continue on a bit farther to Walmart (N38°31.63, W 106°01.45)
Turn around and go back the same way to the river. The small mountain on your left as you travel back is Tenderfoot Mountain, or "S Mountain" as the locals call it. In the winter, it's decorated to look like a giant Christmas tree. No kidding.
4.0 Back at the trailhead.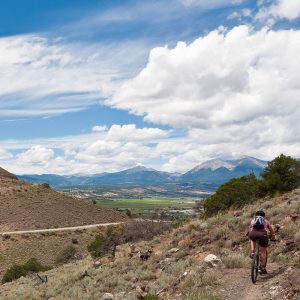 We want you to have a safe and enjoyable trip into Colorado's backcountry. Be prepared it could be a long walk out. Be sure to read this list of equipment you should bring on your ride along with tips to make your biking trip more enjoyable.
The Colorado backcountry is popular - bikers, hikers, motorcycle riders, hunters and equestrians use the trail system in the Arkansas Valley, and everyone wants a private piece of heaven. Even if you don't agree with everyone's motives or methods of travel, please treat them in a courteous manner.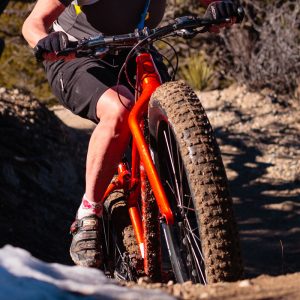 If you require search and rescue services, it can be costly. Buy a Colorado Outdoor Recreation Search and Rescue (CORSAR) card to protect yourself. Funds from the CORSAR program go into the Colorado Search and Rescue (SAR) Fund. If a CORSAR card holder becomes lost or injured in the backcountry, the Colorado SAR Fund pays eligible search and rescue expenses.
Visitor Photos Hiking Buena Vista & Salida, Colorado
Care for Colorado – Are You Colo-Ready?
Biking Buena Vista & Salida, Colorado
CHAFFEE COUNTY VISITORS BUREAU