Help keep Buena Vista & Salida open and safe.

Take the Chaffee County Has Heart Pledge and we'll give you a FREE Discovery Pass.
Your Discovery Pass has over $800 in freebies and deals on eats, drinks, shops, lodging and experiences in Buena Vista and Salida, Colorado. It's completely digital and you'll access the deals with your smartphone. See a list of all freebies and savings here.
If you're a tourism-based business in Chaffee County and would like to be on Discovery Pass, click here.
Learn what we're doing in Buena Vista & Salida, Colorado to keep our community and visitors safe.
We have taken great precautions to keep businesses open and our community and guests safe.
This video series highlights the many social distancing experiences in the area and how you can have the best experience during your visit.
Please be patient and keep your plans fluid.
Agritourism Socially Distanced Adventures
Art Galleries Covid19 Precautions
Aerial Adventure Park Covid19 Precautions
Bowling Covid19 Precautions
Biking Covid19 Precautions
Electric Bike Rentals Covid Precautions
Fishing Covid19 Precautions
Golf Course Covid19 Precautions
Horseback Covid19 Precautions
Hot Springs Covid19 Precautions
Rock Climbing Covid19 Precautions
Rock Hounding Covid19 Precautions
Shopping Downtown Covid19 Precautions
Home Of Monarch Mountain & Browns Canyon National Monument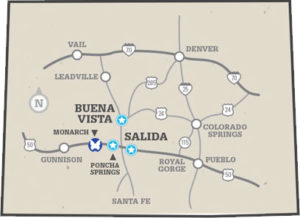 The Upper Arkansas River Valley is located in the geographic center of Colorado, surrounded by three mountain ranges rising 7,000 feet above the valley floor to an elevation of over 14,000 feet. There are fifteen 14,000 foot peaks in the Sawatch Mountain Range, more than anywhere else in Colorado. More people raft the Arkansas River than anywhere else in Colorado. The 100% natural and odorless hot spring water bubbles out of the ground at 140 degrees.
Plan Your Vacation Today!
In case you are unfamiliar, Buena Vista means 'beautiful view' in Spanish. And the name truly says it all. Resting at roughly 8,000 feet elevation, the town of Buena Vista Colorado is nestled between the majestic Continental Divide to the West and the Fourmile Recreation Area foothills to the East, with the impressive Arkansas River running through town.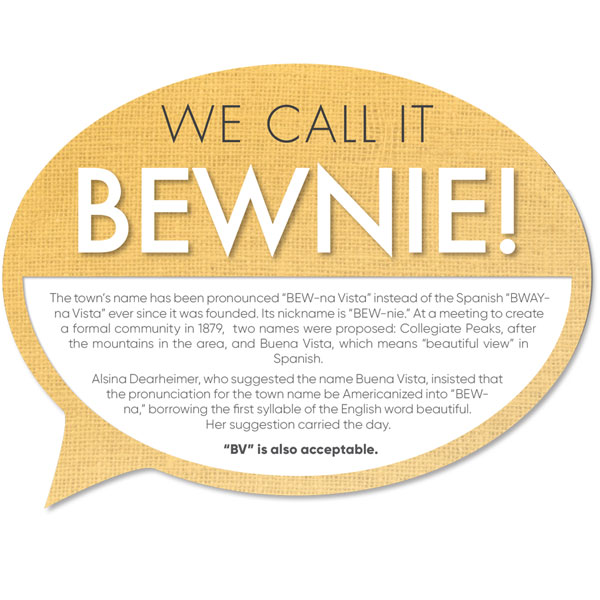 Salida Colorado is a REAL Colorado mountain town. Beautifully nestled between the Sangre de Cristo and Sawatch Mountain ranges, this central Colorado Historic downtown at 7,000 feet elevation boasts a liveliness driven by artistic minds and outdoor enthusiasts.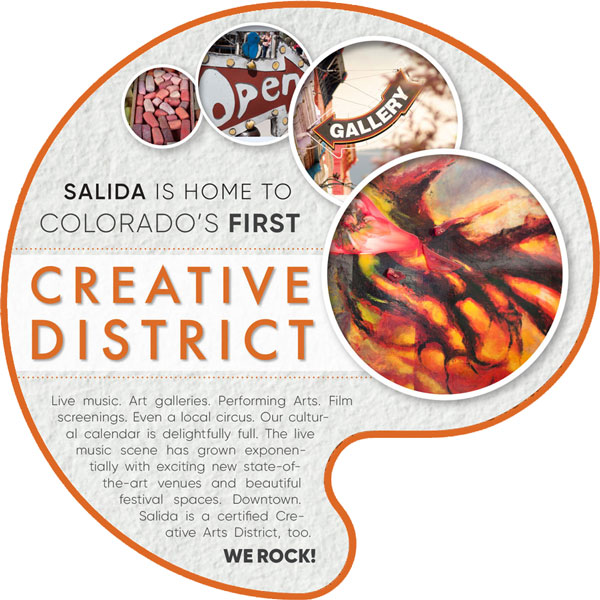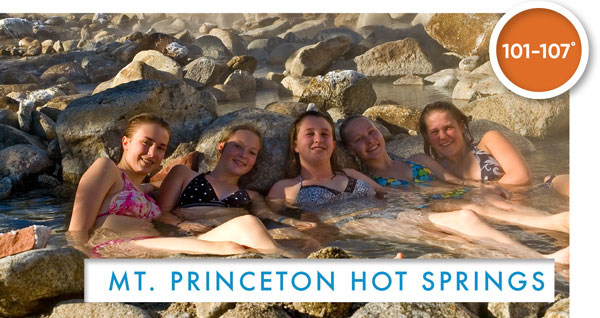 Mount Princeton Hot Springs Resort is one of the most unique settings of all the hot springs in Colo­rado. Sit in the source of the hot springs in Chalk Creek and create your own hot springs pool. Ride the 400-foot water slide while surrounded by the 14,000 foot peaks on either side of the resort. The Spa & Club offers an adults-only experience with a relaxation pool and three Japanese-style cas­cading pools. Hot springs ore included with your overnight stay; purchase a spa treatment and
enjoy all the hot springs amenities all day. (Located in Nathrop between Buena Vista & Salida)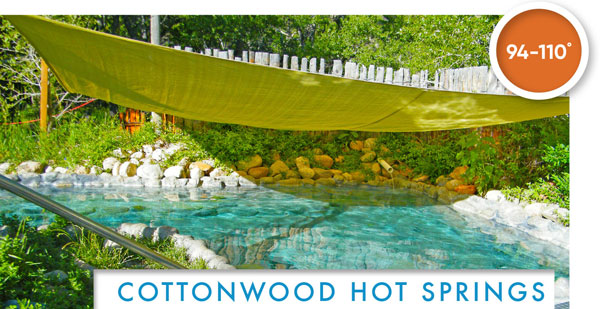 Pure geothermal mineral waters flow into five large, rack-lined soaking pools ranging from 94 to 110 degrees at Cottonwood Hot Springs. The quiet, meditative environment may be similar to that expe­rienced by the native Utes, who regarded the hot springs as spiritual sites with healing waters. Mas­sage therapy, spa services and lodging available. (5 miles west of Buena Vista on Cottonwood Pass)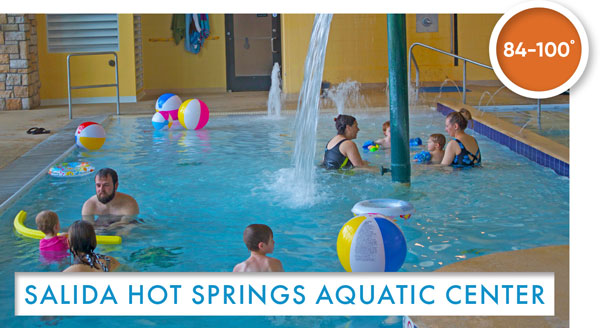 The Salida Hot Springs Aquatic Center is fun for the whole family. A zero-depth-entry play pool of 97 to 100 degrees borders one end of the largest indoor hot springs pool in North America. The opposite end
features a 6-lane, 25-meter lap pool and diving area around 85 degrees. You can also reserve a pri­vate soaking pool and customize the water depth and temperature. (In Salida on US Hwy. SO)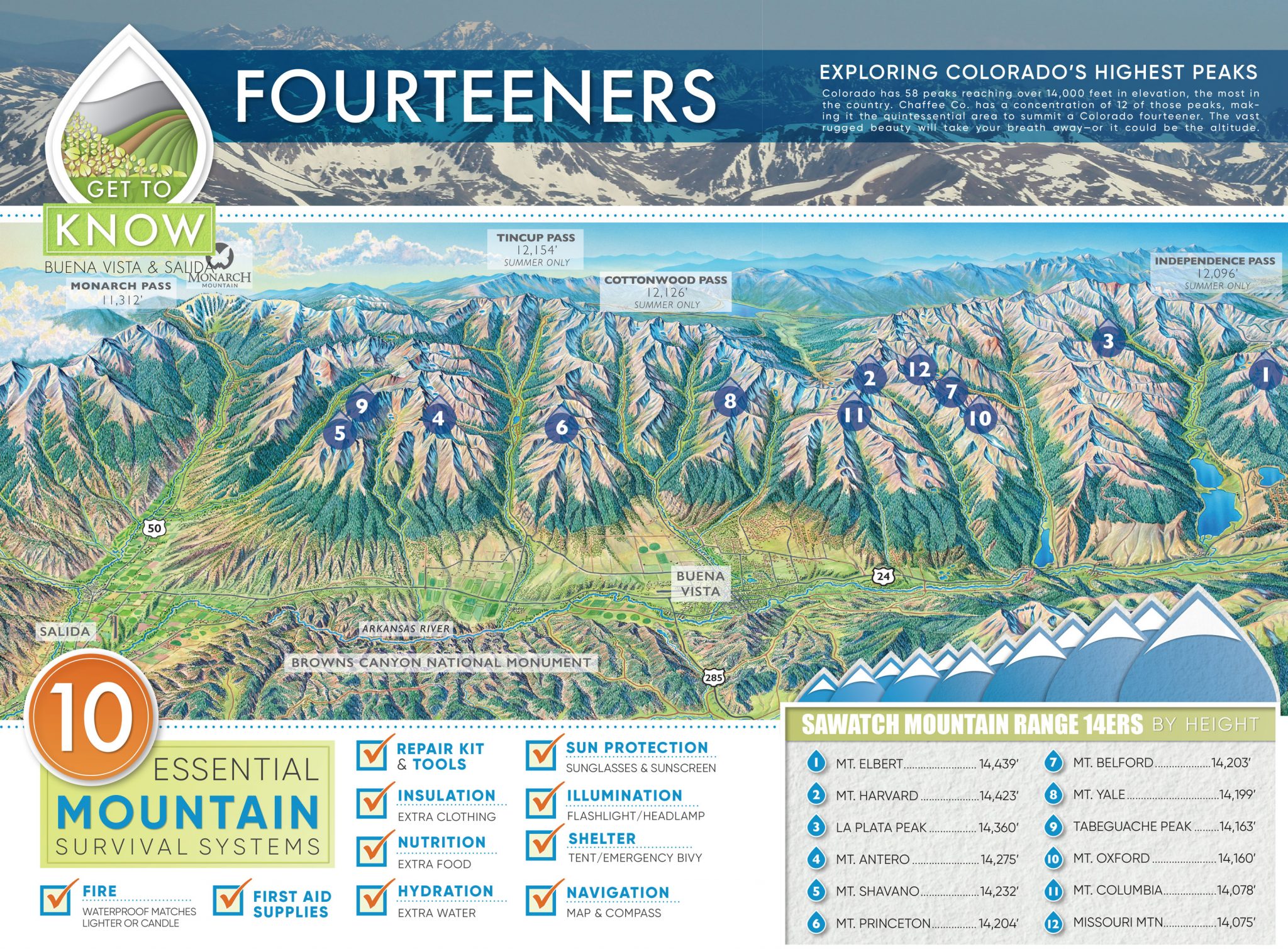 343 US-24 Buena Vista, CO 81211