Castle Gardens
Published with permission from the guide book: Mellow Mountain Trails Hiking Guide to Colorado's Upper Arkansas River Valley
by Nathan Ward.
Featuring 27 Fun Day Hikes in Buena Vista & Salida – beginner to expert..
Maps and Elevation Profiles for each ride, including altitude gain and loss.
Local Advice on riding areas and seasons, where to sleep, where to soak, where to find the best pizza, the best coffee and the best bars in Buena Vista & Salida, Colorado.
Castle Gardens
Castle Gardens hosts a maze of trails among fantastic eroded dirt cliffs – the only landform of this type in the area. This hike follows the dry streambed through the eroded spires and it's fairly easy and short – the perfect place close to town to take a quick hike with the dogs. You can follow the streambed farther up the gully and explore as much as you like. Be careful where you step off the trail as Castle Gardens is home to a endangered species named Eriogonum brandegei or Brandegee wild buckwheat. This area has trails going in all directions, but this hike simply follows the streambed.
Options
Continue up the dry streambed or explore the other unmarked trails in the area. You are on your own if you leave the streambed.
Location: Just East of Salida
Distance: 2 Miles – Out & Back.
Hiking Time: 1 Hour or More
Best Months: Year-Round. It will be hot in the summer, so go in the early morning. In spring and summer, watch for flash floods if there is heavy rain in the area. In winter, this is a good, easy hike when there is little snow.
Trail Type: Sandy Dry Stream Bed
Difficulty: Easy
Dog Friendly: Yes
Elevation in Feet: Low Point 7,053; High Point 7,276; Climbs/Descends 223
Land Status: BLM
Maps: Trails Illustrated #138 (trail not indicated on map)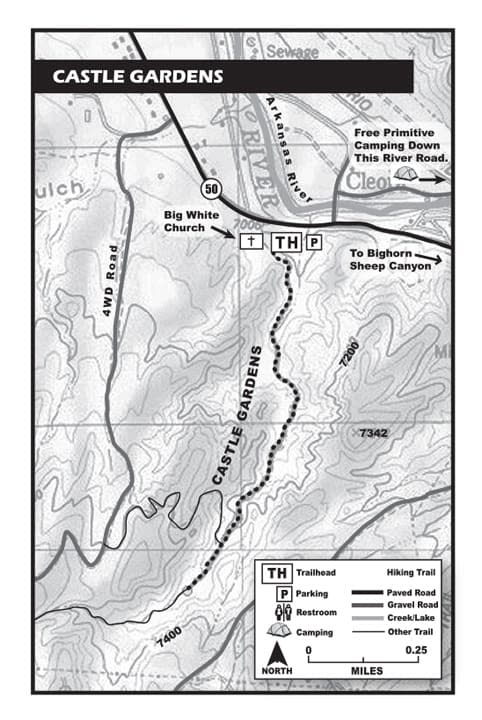 Castle Gardens Photo Gallery
Castle Gardens Mileage Log
0.0 Trailhead – Walk to the east side of the parking lot toward two large boulders on both sides of the trail. Start hiking here. Elevation 7,053 ft. (N38°30.57, W 105°58.41)
.07 Turn slightly left, off the trail, to enter the dry streambed. Walk up the sandy streambed.
.09 Step back on the trail to the left. There is a deep gully in the streambed.
0.1 Step back into the sandy streambed and continue upward.
0.2 A sign says you are entering public BLM lands.
0.4 The streambed divides here, go right or left – they rejoin.
0.7 Look for the cave on the right just above the streambed. Who lives here?
1.0 Turnaround point. Elevation 7,276 ft. (N 38°29.93, W 105°58.65) There is no marker or anything here to mark the turnaround spot. If you don't have a GPS, just walk about ten minutes or so past the cave and you'll be near the spot.
Decide to go back or continue up the dry streambed for a longer hike.
2.0 Back at the trailhead.
Care for Colorado – Are You Colo-Ready?