Behind Tenderfoot (S) Mountain
Published with permission from the guide book: Mellow Mountain Trails Hiking Guide to Colorado's Upper Arkansas River Valley
by Nathan Ward.
Featuring 27 Fun Day Hikes in Buena Vista & Salida – beginner to expert..
Maps and Elevation Profiles for each ride, including altitude gain and loss.
Local Advice on riding areas and seasons, where to sleep, where to soak, where to find the best pizza, the best coffee and the best bars in Buena Vista & Salida, Colorado.
Behind Tenderfoot (S) Mountain
The low hills just north of downtown Salida offer a wide variety of nice hiking trails – everything from rocky singletrack to the smooth dirt road that spirals to the top of Tenderfoot Mountain. It's a perfect area to explore on your own. Simply pick a trail and follow it to see where it goes. Follow the same trail back or you may get lost.
The trails are always evolving here as part of the Salida Mountain Trails initiative with the City of Salida, BLM and USFS. Pick up a current trail map at one of the downtown outdoor stores – Salida Mountain Sports, Salida Bike Company, Subculture Cyclery or Absolute Bikes.
Trailhead Access & Facilities
Some people access this area by simply walking through the open gate at the end of F Street and crossing the railroad tracks to the Arkansas Hills north of downtown. However, the railroad does not currently grant anyone legal access this way, so if you cross this area you are trespassing and may be fined. Because of this, we must suggest that you ride your bike or drive around via Sands Lake to the other side. Hopefully legal access will be granted in the near future.
From the stoplight in downtown Salida, drive or pedal west on First Street approximately one mile and turn right on CR 175, across from the new hospital. Continue past Sands Lake and keep right on CR 175 when the road splits, after crossing the Arkansas River. 1.5 miles from the stoplight, turn right on CR 176, a dirt road that leads up to a big water tank called the "can". Continue past the can on the road heading left and up toward Tenderfoot Mountain. Park in one of the vehicle pullouts and start exploring the trails.
There are no facilities at the trailhead or on any of the trails.
Hike Suggestion
Start walking on Spiral Drive, the spiraling smooth dirt road up to the summit of Tenderfoot Mountain for a great panoramic view of Salida, the surrounding valley and the big peaks to the south and west. Follow the road back.
Alternatively, start hiking up the road then detour off on one of the singletrack trails heading up the mountain. These trails wander all over, so it's best to follow the same trail back, although some will loop back to the road again. Watch for mountain bikes on all trails.
Location: Directly North of F Street, Downtown Salida.
Distance: Variable – Loops, Out & Back
Hiking Time: Variable
Best Months: Year-Round. It will be hot in the summer, so go in the early morning.
Trail Type: Dirt Roads or Singletrack
Difficulty: Variable
Dog Friendly: Yes
Elevation in Feet: Ranges from roughly 7,000 at the river to 8,500 above
Land Status: City/County, BLM, Private Land
Maps: USGS Salida East, Salida West
Note: Watch for rattlesnakes on all trails north of the Arkansas River.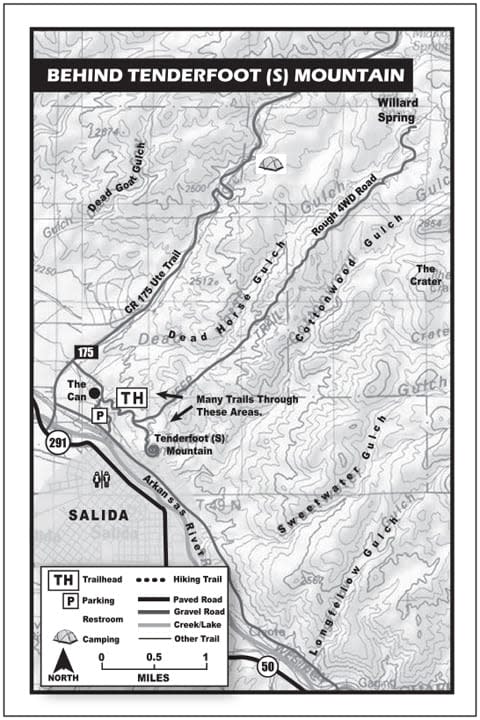 Salida Mountain Trails (SMT) is an all volunteer organization committed to building and maintaining sustainable, non-motorized, multi-user trails on public lands near the city of Salida. We are a 501c3 not for profit.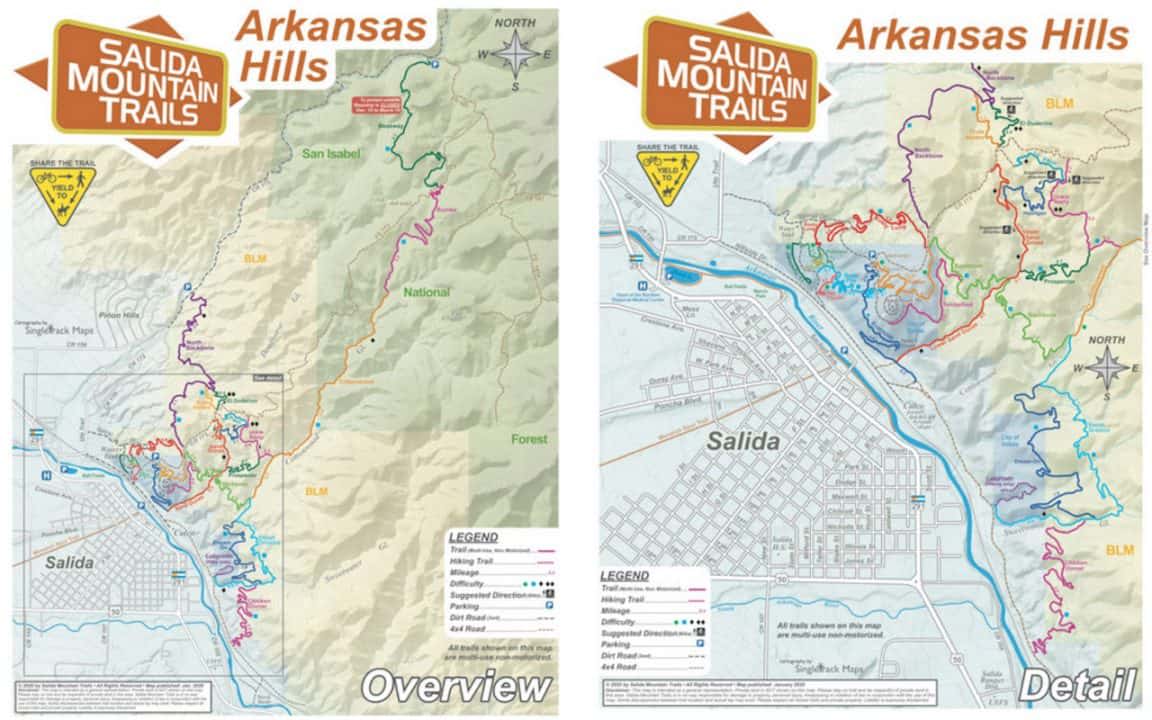 The primary mission of Salida Mountain Trails is to create a real trail system, meaning a mapped and signed network of linked trails. To date, we have created some 23 miles of trails with much more in the works. Check out our Maps for what we have accomplished, and our Trail Projects for what we are doing right now.
We also have a core commitment to maintain and sustain all the trails around Salida – those we have built as well as those that have already been established.
We welcome any and all those interested in helping us! Lastly, we follow the International Mountain Bicycling Association (IMBA) trail design and maintenance standards.
Contact us: salidamountain[email protected]
Salida Mountain Trails
PO Box 612
Salida, CO 81201
Behind Tenderfoot (S) Mountain Photo Gallery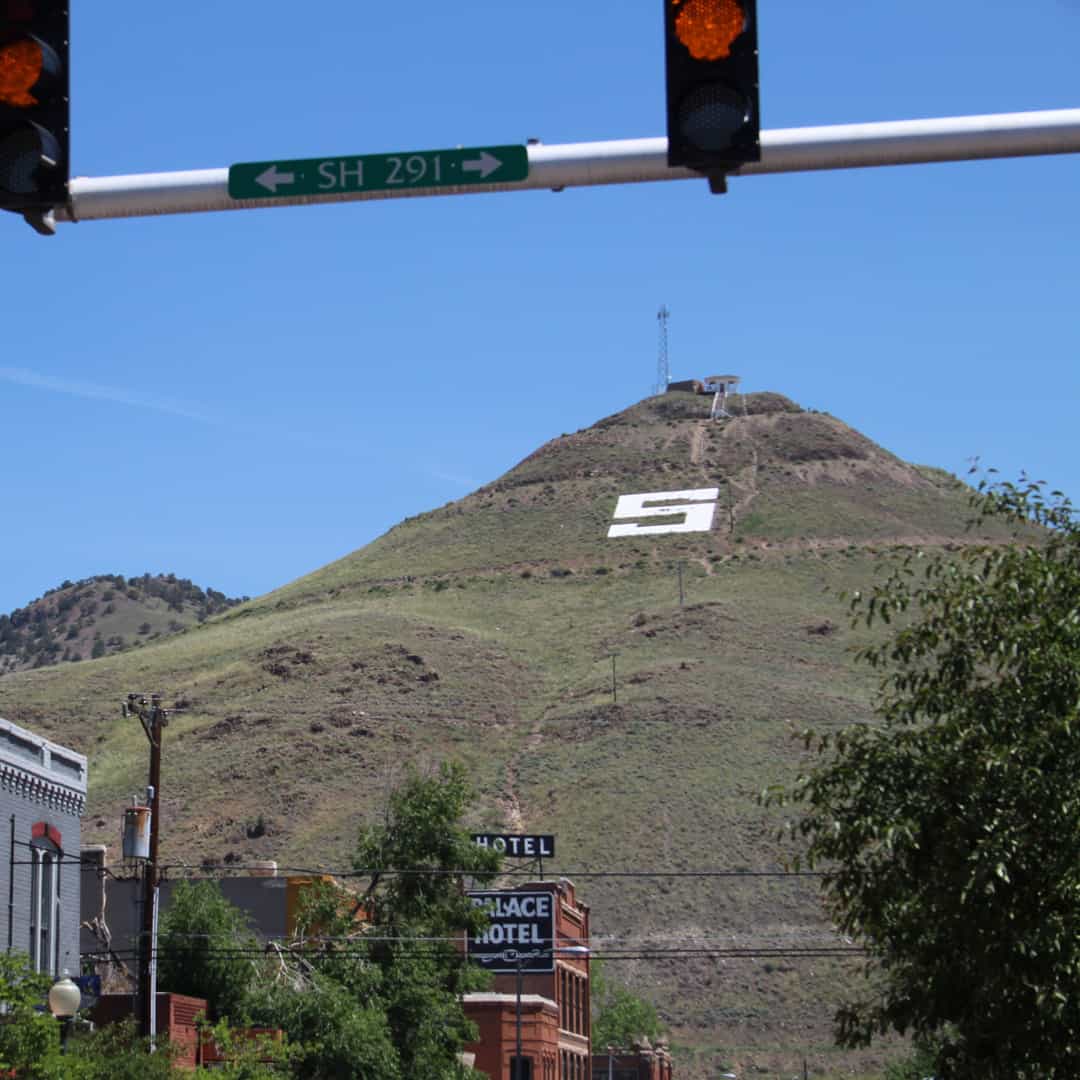 Care for Colorado – Are You Colo-Ready?