Fooses Creek - Colorado Trail
Published with permission from the guide book: Mellow Mountain Trails Hiking Guide to Colorado's Upper Arkansas River Valley
by Nathan Ward.
Featuring 27 Fun Day Hikes in Buena Vista & Salida – beginner to expert..
Maps and Elevation Profiles for each ride, including altitude gain and loss.
Local Advice on riding areas and seasons, where to sleep, where to soak, where to find the best pizza, the best coffee and the best bars in Buena Vista & Salida, Colorado.
Fooses Creek – Colorado Trail
This hike starts at Fooses Lake and follows a rough road up the Fooses Creek drainage toward the Continental Divide. It's an easy walk through pine forests and the road is also a section of the Colorado Trail. You can catch nice trout in Fooses Lake too. The lake is actually a small man-made reservoir built to create power at the hydroelectric plant below the lake. Fooses Creek is one of two units of the Salida Hydroelectric Project. The Fooses Lake plant was built in 1906 and continues operating today.
Options
South Fooses Creek Trail – if you have a high clearance 4WD vehicle, you can drive the rough road described in this hike and start your hike at the South Fooses Creek Trailhead. Be sure you turn left on CR 225C to the trailhead. South Fooses Creek is a pretty singletrack winding through the forest and climbs up to the Continental Divide. The South Fooses Creek Trailhead is located at N38°31.37, W106°16.55. Park by the trailhead sign and start hoofing it. The Continental Divide is approximately 6 miles one-way from the South Fooses Creek Trailhead. It's a nicer hike than the 2WD option, so if you have a truck, go for it.
Trailhead Access & Facilities
From the junction of US 50 and US 285 in Poncha Springs, turn north and stay on US 50 west up Monarch Pass for 9.5 miles. Turn left on CR 225 – the sign is small. Drive down a dirt road toward Fooses Lake. Stay left at the bottom of the first hill. Look for a parking area just before reaching the lake.
There is a pit toilet at the lake.
Location: Downtown Salida
Distance: 4 Miles – Out & Back
Hiking Time: 2 Hours
Best Months: Year-Round
Trail Type: Paved Walking Trail
Difficulty: Easy
Dog Friendly: Yes. Dogs Must Be on Leash.
Elevation in Feet: Low Point 7,121; High Point 7,191; Climbs/Descends 70
Land Status: City/County, Private Land
Maps: Salida Trail System – Available at outdoor shops & Salida Chamber of Commerce
Note: Many other people use this trail – some on bicycles that will move faster than you. Keep your eyes open and please be friendly to everyone on the trail.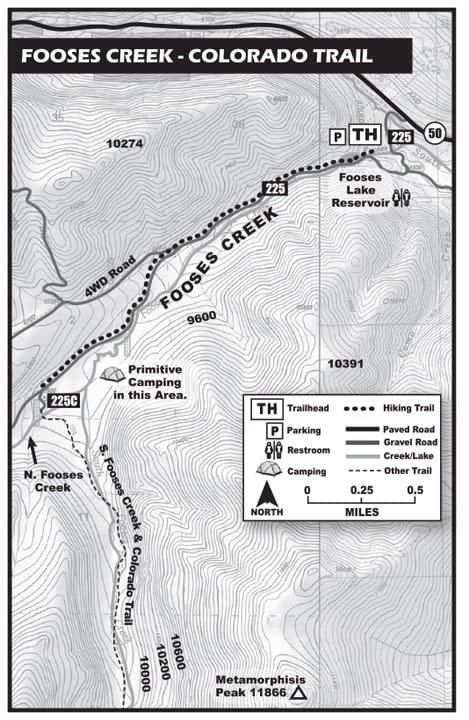 Fooses Creek - Colorado Trail Photo Gallery
Fooses Creek - Colorado Trail Mileage Log
0.0 Trailhead – Walk west from the parking area, uphill to Fooses Lake on CR 225. Elevation 9,025 ft. (N38 32.43, W106 14.71)
0.2 Fooses Lake.
0.3 USFS toilet on the left with a South Fooses Creek sign just afterwards.
0.8 One road, then another, splits off to the right. Don't take either one; stay left on CR 225.
1.2 Road to the right, don't take it.
1.4 Road to the right, don't take it.
2.2 This is the turnaround point – at a sign pointing left to CR 225C and the South Fooses Creek Trail/ Colorado Trail. Elevation 9,616 ft. (N38 31.45, W106 16.57)
If you want to hike farther, turn left on CR 225C and follow it to the South Fooses Creek Trailhead and walk the singletrack line as far as you want. If you've had enough, turn around and follow the road back to Fooses Lake.
4.4 Back at the trailhead.
Care for Colorado – Are You Colo-Ready?