Denny Creek to Hartenstein Lake
Published with permission from the guide book: Mellow Mountain Trails Hiking Guide to Colorado's Upper Arkansas River Valley
by Nathan Ward.
Featuring 27 Fun Day Hikes in Buena Vista & Salida – beginner to expert..
Maps and Elevation Profiles for each ride, including altitude gain and loss.
Local Advice on riding areas and seasons, where to sleep, where to soak, where to find the best pizza, the best coffee and the best bars in Buena Vista & Salida, Colorado.
Denny Creek to Hartenstein Lake
Named for turn of the century Buena Vista Lawyer, George K. Hartenstein, Hartenstein Lake sits in a high basin just below treeline. The hike to the lake climbs steadily and sometimes steeply through pine and aspen forests and small open meadows. The trail is a well-marked, rocky singletrack into the Collegiate Peaks Wilderness Area. The views are spectacular and the lake is pristine and serene. You'll probably be the only one there.
Watch for mountain goats above the lake. They were transplanted to Cottonwood Pass in the 1940s from Washington's Olympic Mountains and have since spread over Colorado's central mountains.
Options
At the junction with trail #1451 (Mile 1.2), you can climb Mt. Yale (14,196 ft.) if you're very fit and get started very early. Alternatively, go right at Mile 2.0 and hike up to Brown's Pass and Kroenke Lake. These are all wonderful hikes.
Trailhead Access & Facilities
From the stoplight in downtown Buena Vista on US 24, drive west on CR 306 for 12.2 miles to the Denny Creek Trailhead. Turn right into the trailhead and park. The trail starts here.
There are pit toilets at the trailhead.
Location: Cottonwood Pass, West of BV
Distance: 5.8 Miles – Out & Back
Hiking Time: 3-4 Hours
Best Months: June through September
Trail Type: Singletrack
Difficulty: Strenuous
Dog Friendly: Yes – Dogs on a leash in wilderness areas.
Elevation in Feet: Low Point 9,927; High Point 11,523; Climbs/Descends 1,720
Land Status: San Isabel National Forest, Collegiate Peaks Wilderness Area
Maps: Trails Illustrated #129
Note: You can camp near the lake – at least 200 feet away and practice low-impact camping.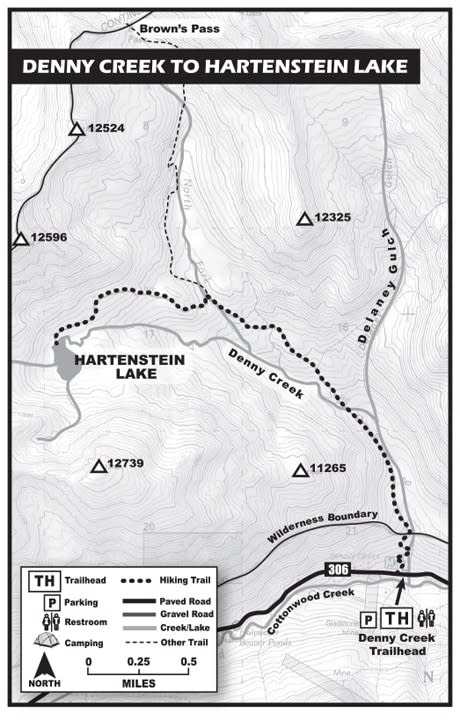 Denny Creek to Hartenstein Lake Photo Gallery
Denny Creek to Hartenstein Lake Mileage Log
0.0 Trailhead Elevation 9,877 ft. (N38 48.91, W106 20.07) Sign the trailhead register and start stepping.
0.1 There are small trails here to Denny Creek on the right. Don't take these – stay on the main trail.
0.2 You are entering the Collegiate Peaks Wilderness Area, 166,000 acres of prime mountain country.
0.3 There is a log fence to the right.
0.9 Denny Creek is to the right of the trail. Cross Denny Creek on a log bridge.
1.1 Cross a small stream.
1.2 Cross a small bridge just before the trail intersects the Mt. Yale Trail, (#1451). Take the left trail to Brown's Pass and Hartenstein Lake #1442. There is a sign here. Elevation 10,689 ft. (N38 49.78, W106 20.55)
1.4 Cross small creek on rocks.
1.7 Look to the left for spectacular views.
2.0 Trail divides here. Hartenstein Lake is to the left. Brown's Pass and Kroenke Lake to the right. A sign indicates which way to go for Hartenstein Lake. Go left.
Elevation 11,160 ft. (N38 50.09, W106 21.16)
2.6 Cross small creek.
2.9 Hartenstein Lake! Elevation 11,472 ft. (N38 49.92, W106 21.98) Enjoy the views and the beautiful, secluded, high mountain lake. After resting, follow the same trail down.
5.8 Back at the trailhead.
Care for Colorado – Are You Colo-Ready?