Waterdog Lakes
Published with permission from the guide book: Mellow Mountain Trails Hiking Guide to Colorado's Upper Arkansas River Valley
by Nathan Ward.
Featuring 27 Fun Day Hikes in Buena Vista & Salida – beginner to expert..
Maps and Elevation Profiles for each ride, including altitude gain and loss.
Local Advice on riding areas and seasons, where to sleep, where to soak, where to find the best pizza, the best coffee and the best bars in Buena Vista & Salida, Colorado.
Waterdog Lakes
The trail to Waterdog Lakes is a popular hike that leads to scenic lakes beneath the Continental Divide. The lakes are a great spot for an afternoon picnic or fishing trip. The odd-named peaks Bald Mountain (12,956 ft.) and Banana Mountain (12,339 ft.) overlook the lake to the north. The trail to Waterdog is fairly short but steep and rocky. The trail also crosses several small creeks, although these may be dry depending on the season.
The lake is named for the Tiger Salamander (Ambystoma tigrinum) or "waterdog" which live in a few of the high mountain lakes in Colorado. Try to spot one – you'll recognize them by their smooth, moist skin, long tale, 4-toed feet and speckled bodies. Please don't catch the waterdogs.
Options
There are more lakes above the lower one. To reach these, hike south around the lower lake and continue west. There is a faint trail and it can be hard to locate.
Trailhead Access & Facilities
From the junction of US 50 and US 285 in Poncha Springs turn north and drive west on US 50 for 15.3 miles up Monarch Pass. Look for two pullouts on the left side of the highway and park here (N38 31.89, W106 19.42). There is a trailhead sign, but it's easy to miss. Carefully cross the highway and start hiking.
The trailhead sign is not easily visible from US 50 traveling west. If you get to the Monarch Park Campground road to the left, CR 231, you've gone too far.
There are no facilities at the trailhead or along the trail.
Location: Monarch Pass
Distance: 2.6 Miles – Out & Back
Hiking Time: 2-3 Hours
Best Months: June through October
Trail Type: Singletrack
b Moderate
Dog Friendly: Yes – Be careful crossing US 50 to the trailhead.
Elevation in Feet: Low Point 10,313; High Point 11,390; Climbs/Descends 1,047
Land Status: San Isabel National Forest
Maps: Trails Illustrated #130.
Note: Look for waterdogs.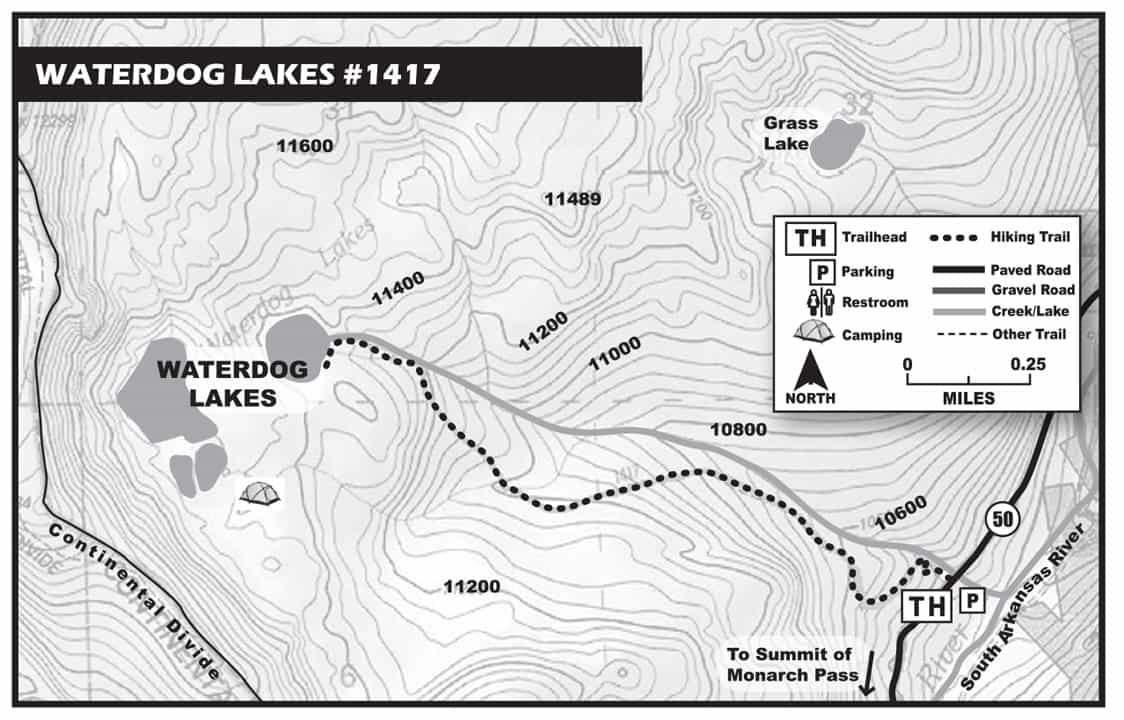 Waterdog Lakes Photo Gallery
Waterdog Lakes Mileage Log
0.0 Trailhead – Sign in at the trailhead to Waterdog Lake. Elevation 10,353 ft. (N38 31.90, W106 19.42) The trail is steep and switchbacks.
0.3 New trail intersects with old trail. The old trail is a drainage, which is now covered with logs and boulders to block vehicles. There is a sign at the highway declaring that it is off-limits to motorized vehicles. Turn right at this junction and go up on this now, wider trail. When you reach the power lines, continue under the power lines as it meanders. The trail is easy to see and follow.
0.9 Trail crosses a small creek. Continue to climb steadily.
1.0 Trail crosses the second small creek.
1.2 Trail emerges from the trees and enters an open meadow.
1.3 You've reached the lower Waterdog Lake. Nice job! Elevation 11,390 ft. (N38 32.25 W 106 20.67) Enjoy the views of Banana Mountain. It's not yellow. Decide if you want to go to the higher lakes – they aren't too much farther.
Return the same way. Watch your footing for loose rocks on the way down.
Care for Colorado – Are You Colo-Ready?