Boss Lake
Published with permission from the guide book: Mellow Mountain Trails Hiking Guide to Colorado's Upper Arkansas River Valley
by Nathan Ward.
Featuring 27 Fun Day Hikes in Buena Vista & Salida – beginner to expert..
Maps and Elevation Profiles for each ride, including altitude gain and loss.
Local Advice on riding areas and seasons, where to sleep, where to soak, where to find the best pizza, the best coffee and the best bars in Buena Vista & Salida, Colorado.
HIKING

TRAIL GUIDE
Salida Hikes
Poncha Pass Hikes

Marshall Pass

West Of Poncha Springs

Monarch Pass

Buena Vista Hikes

Four Mile Travel Management Area

Chalk Creek Road

Saint Elmo

Cottonwood Pass

Independence Pass/Twin Lakes

Boss Lake
Boss Lake is a small reservoir set in a crown of thick forests. It's a beautiful spot for a hike and picnic, an overnight camping trip or fishing. The hike to the lake follows a steep 4-wheel drive road for 1.2 miles before climbing a winding singletrack for 0.7 miles. It's not too tough and the views are worth the climb. Enjoy!
Options
For more adventure, hike up to Hunt's Lake on Trail 1420 from Boss Lake. Look near the south end of Boss Lake for the trailhead. Hunt's Lake is a bit over a mile one-way from Boss Lake.
Trailhead Access & Facilities
From the junction of US 50 and US 285 in Poncha Springs, turn north and drive west on US 50 for 12.7 miles up Monarch Pass. Park directly across from the Monarch Lodge on the north side of the highway. Walk 0.1 mile up the pass and turn right on CR/FSR 230. There is a sign here for the Boss Lake Trailhead. The mileage starts here, at the sign.
There are no facilities along the way, but the Monarch Lodge has toilets and food.
Location: Monarch Pass, west of Salida
Distance: 3.8 Miles –Out & Back
Hiking Time: 2-3 Hours
Best Months: June through October
Trail Type: 4-Wheel Drive Road & Singletrack
Difficulty: Moderate
Dog Friendly: Yes
Elevation in Feet: Low Point 9,690; High Point 10,851; Climbs/Descends 1,189
Land Status: San Isabel National Forest
Maps: Trails Illustrated #130.
0.0 Trailhead – Boss Lake Trailhead sign (N39°33.16, W106°17.83). Hike up the 4WD road, CR 230. It begins as a steep climb with switchbacks.
0.1 Junction with a primitive road, stay straight on CR 230.
0.6 Road to the left, don't take it. Another road comes in from the right. Don't take it. Stay on CR 230
0.7 Just after a road comes in from the left, look for the cabin on the left. Stay on CR 230.
1.0 Look for the cabin on the left.
1.2 Trailhead sign for Boss Lake. Turn left here onto the trail. Elevation 10,378 ft. (N38°33.82, W106°18.73)
1.3 Trailhead to Boss Lake. Cross the footbridge and climb the singletrack trail. You'll enter a dense forest and hike up many switchbacks. The trail is sometimes rocky and steep, but easy to follow.
1.9 After a steady climb through the forest, you reach the Boss Lake Reservoir! It's a beautiful high mountain lake surrounded by high peaks. Rest here and enjoy the views of the high peaks and the valley to the east. (N38°33.56, W106°19.18)
Return the same way. On the way back, you will notice small yellow discs on the trees to mark the singletrack trail down.
3.8 Back at the trailhead.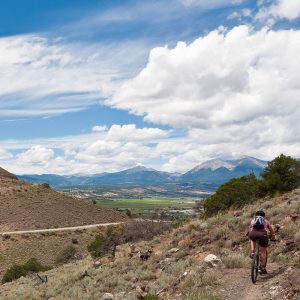 We want you to have a safe and enjoyable trip into Colorado's backcountry. Be prepared it could be a long walk out. Be sure to read this list of equipment you should bring on your ride along with tips to make your biking trip more enjoyable.
The Colorado backcountry is popular - bikers, hikers, motorcycle riders, hunters and equestrians use the trail system in the Arkansas Valley, and everyone wants a private piece of heaven. Even if you don't agree with everyone's motives or methods of travel, please treat them in a courteous manner.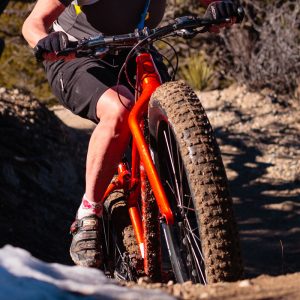 If you require search and rescue services, it can be costly. Buy a Colorado Outdoor Recreation Search and Rescue (CORSAR) card to protect yourself. Funds from the CORSAR program go into the Colorado Search and Rescue (SAR) Fund. If a CORSAR card holder becomes lost or injured in the backcountry, the Colorado SAR Fund pays eligible search and rescue expenses.
Visitor Photos Hiking Buena Vista & Salida, Colorado
Care for Colorado – Are You Colo-Ready?
Biking Buena Vista & Salida, Colorado
CHAFFEE COUNTY VISITORS BUREAU