Waterdog Lakes
Buena Vista, Colorado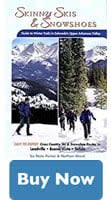 Published with permission from the guide book:
Skinny Skis and Snowshoes – Guide to Winter Trails in Colorado's Upper Arkansas Valley by Nate Porter and Nathan Ward.
This guidebook gives detailed information on 25 of the best backcountry ski and snowshoe routes in the Upper Arkansas Valley, with trails for every ability level. If you count all the options presented for each trail, the actual number of routes is closer to 60 without even counting the individual trails at the Nordic centers – that is a lot of skiing. If you're insatiable and need more, look at the sections titled: Other Areas to Explore. Be insatiable.
The Waterdog Lakes trail is short and steep, but worth the effort. On a clear day, the views of the Continental Divide and the glacial cirque where the lakes sit, are stunning. The trail winds through dense forest, with occasional views of Bald Mountain (12,858 ft.) and Banana Mountain (12,339 ft.). This route is also a summer classic.
Trailhead Access: From the intersection of Highways 50 and 285 in Poncha Springs, drive west on US 50 for 15.3 miles up Monarch Pass. Park on the left side of the road where there is usually a plowed pullout (38º31.90N, 106º19.43W).
Location: Monarch Pass
Distance: 3 Miles – Out & Back
Travel Time: 2 – 2.5 Hours
Type of Trail: Singletrack
Aerobic Level: Strenuous – short, steep hills at altitude
Technical Difficulty: Ski – Advanced; Shoe – Intermediate
Avalanche Danger: Minimal, but much higher near the upper lake.
Elevation in Feet: Low Point 10,326; High Point 11,385; Climbs/Descends 1,059
Land Status: USFS
Maps: Trails Illustrated #130; USGS Garfield
Notes: Most people snowshoe this trail, but in good conditions, it's also a great ski – kick wax, good technique (uphill and downhill) and kicker skins make life easier.
Advanced Option: Continue west uphill to the second, larger lake. The terrain on the west side of the lake is very steep and avalanche prone, so plan your route carefully.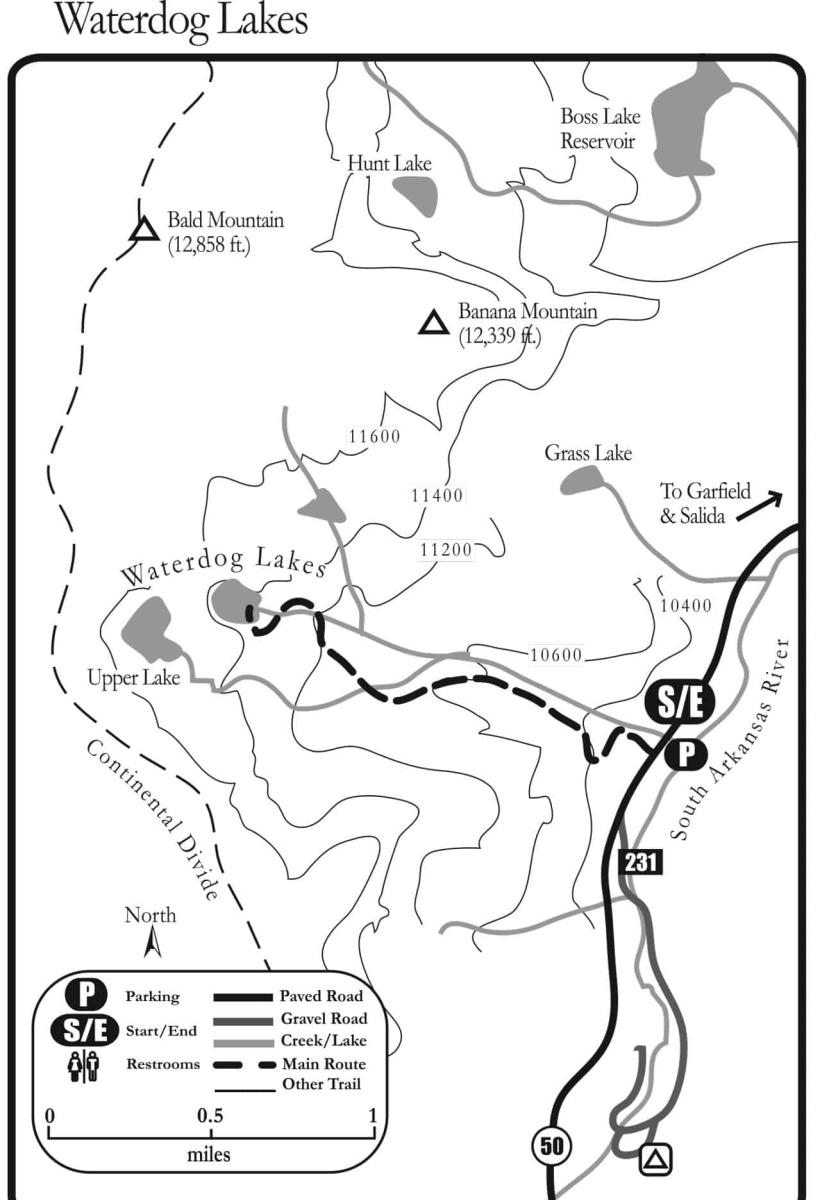 Waterdog Lakes Photo Gallery
Waterdog Lakes Mileage Log
0.0 Cross US 50 and look for the small USFS sign for Waterdog Lakes. The trail is steep to start. The trail soon switchbacks uphill to the left (38º31.93N, 106º19.49W). Don't go directly up the drainage. The trail may not be packed and is only intermittently marked, but goes northwest under a power line. The route parallels this power line for most of the way.
0.1 A trail comes in from the left (38º31.81N, 106º19.57W). Stay right, going uphill.
0.4 Meet the power line again and continue left, uphill (38º31.99N, 106º19.73W).
0.8 Veer right back into the trees, with the power line on your left (38º32.01N, 106º19.81W).
0.9 Hit the power line again and follow it for about 100 yards where the trail cuts right into the trees again (38º32.01N, 106º20.15W).
1.0 There may be a fork in the trail, go right over the creek (38º32.02N, 106º20.33W).
1.4 Stay left (38º32.26N, 106º20.60W). If you go 30 yards more and reach an open slope, you've gone too far. Go left, below and around the side of the slope.
1.5 This is the lower lake (38º32.23N, 106º20.67W). Stop here for a rest while you decide whether to go to the upper lake or retrace your steps to the trailhead. The choice is yours, Luke.
Ski & Snowshoe With Care
Backcountry travel is a physically strenuous activity with many risks and dangers. Hazards, natural or manmade, whether noted in this book or not, can be encountered at any time, under any situation. As a backcountry traveler we assume you know your personal abilities, limitations and have a comprehensive background in avalanche safety.
This book represents nothing more than a guide to routes and is not meant to replace your common sense, your ability to navigate in the wilderness or your ability to travel in the backcountry safely.
The mileages, routes and waypoints listed in this text are only suggestions. There may be variances and changes, you may get lost. We recommend that everyone use a global positioning system and topographical map to navigate.
Most routes in this text are located on public land, but some trails pass through or adjacent to private land. Respect the landowner's rights and obey all signs regarding trail use.
Neither the authors, nor the publisher, nor anyone else mentioned in this book are responsible or liable in any way for any accident, injury or any action brought against anyone traveling any route listed in this book. All backcountry travelers and their companions assume responsibility for themselves. Explore at your own risk, and always tell somewhere where you are going and when you'll be back.