Denny Creek to Hartenstein Lake
Cottonwood Pass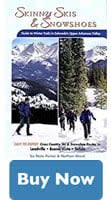 Published with permission from the guide book:
Skinny Skis and Snowshoes – Guide to Winter Trails in Colorado's Upper Arkansas Valley by Nate Porter and Nathan Ward.
This guidebook gives detailed information on 25 of the best backcountry ski and snowshoe routes in the Upper Arkansas Valley, with trails for every ability level. If you count all the options presented for each trail, the actual number of routes is closer to 60 without even counting the individual trails at the Nordic centers – that is a lot of skiing. If you're insatiable and need more, look at the sections titled: Other Areas to Explore. Be insatiable.
Denny Creek to Hartenstein Lake climbs straight from Denny Creek up and up into the Collegiate Peaks Wilderness Area and a beautiful mountain basin. It's one of the best tours in the valley. Hartenstein Lake sits a tad below treeline just east of the Continental Divide and surrounded by high peaks. Turner Peak (13,283) and other stark beauties will grace your eyeballs. If you want a wilderness route on Cottonwood Pass that's both easy to access and promises consistent good snow conditions, this is your baby. Stunning and no snowmobiles.
Trailhead Access: From downtown Buena Vista, drive west on CR 306 from the junction with US 285 (at the stoplight). Drive 12.2 miles up Cottonwood Pass to the gate that closes the pass for the winter. Park on the right. The trail starts on the north side of the parking lot – look for the signboard just a few yards up the hill.
Location: Cottonwood Pass
Distance: 6 Miles – Out & Back
Travel Time: 2 – 3.5 Hours
Type of Trail: Singletrack
Aerobic Level: Strenuous – Altitude
Technical Difficulty: Ski-Advanced; Shoe – Intermediate
Avalanche Danger: Minimal, but much higher if you go off-route.
Elevation in Feet: Low Point 9,927; High Point 11,556; Climbs/Descents 1,629
Land Status: USFS
Maps: Trails Illustrated #129; USFS Mount Yale
Notes: This route can be difficult to follow if the trail isn't broken, because there are no trail markers. Use your maps and GPS waypoint well. Dogs aren't allowed in wilderness areas.
Novice Option: Follow this route to Mile 1.3 when the trail becomes hard to follow.
Advanced Options: Follow the Mount Yale Trail 1451 or the Browns Pass Trail 1442. Choose your way up and be aware of avalanche danger.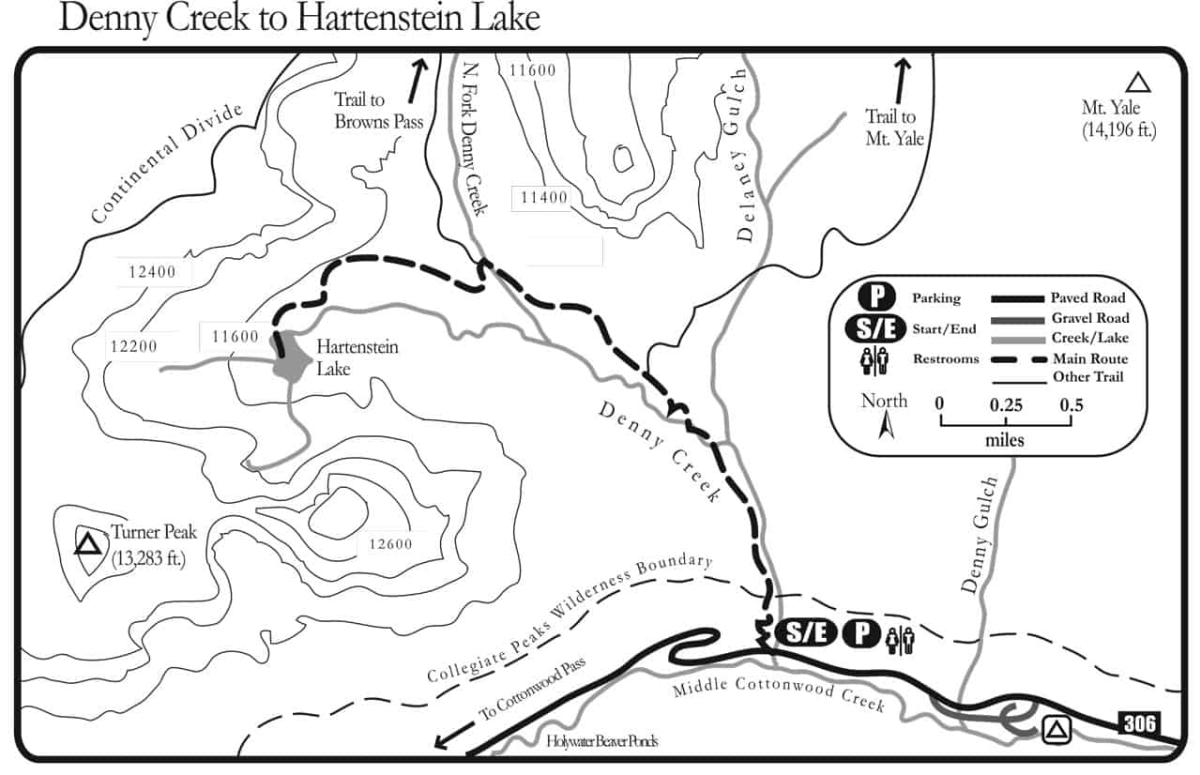 Denny Creek to Hartenstein Lake Photo Gallery
Denny Creek to Hartenstein Lake Mileage Log
0.0 Ski south past the trailhead sign on FSR 391 (39°04.08N, 106º30.31W).
0.3 Stay right on the main road (39 º03.85N, 106º30.23W). The first 1.9 miles are private property, so stay on the road.
1.9 This is an ideal place to turn around if you want a short tour (39 º02.81N, 106 º31.23W).
2.5 Come to the west edge of a large clearing with a bridge that crosses the creek on the left (39 º02.59N, 106 º31.82W). Stay on the main road
2.6 Turn around at this junction (39 º02.55N, 106 º32.04W), or continue on the more advanced options mentioned above. The left road leads south up Sayers Gulch. The right road continues west up the South Fork of Lake Creek toward McNasser Gulch
Ski & Snowshoe With Care
Backcountry travel is a physically strenuous activity with many risks and dangers. Hazards, natural or manmade, whether noted in this book or not, can be encountered at any time, under any situation. As a backcountry traveler we assume you know your personal abilities, limitations and have a comprehensive background in avalanche safety.
This book represents nothing more than a guide to routes and is not meant to replace your common sense, your ability to navigate in the wilderness or your ability to travel in the backcountry safely.
The mileages, routes and waypoints listed in this text are only suggestions. There may be variances and changes, you may get lost. We recommend that everyone use a global positioning system and topographical map to navigate.
Most routes in this text are located on public land, but some trails pass through or adjacent to private land. Respect the landowner's rights and obey all signs regarding trail use.
Neither the authors, nor the publisher, nor anyone else mentioned in this book are responsible or liable in any way for any accident, injury or any action brought against anyone traveling any route listed in this book. All backcountry travelers and their companions assume responsibility for themselves. Explore at your own risk, and always tell somewhere where you are going and when you'll be back.