Winter Trail Etiquette
Ski & Snowshoe With Care
The winter backcountry is becoming more popular in the Upper Arkansas Valley, which means you need to think of your neighbors while out on the trail. There are no hard and fast rules, but please consider the following:
1. If you bring your dog, pick up the poop and carry it out with you. Keep your dog on a leash around other people.
2. If you stop to do your own personal business while in the great outdoors, move well off the trail first. Pack out your own toilet paper or sanitary items. Hiding them under the snow is not cool.
3. On many routes, especially on the weekends, you will encounter snowmobiles. Please be polite and move out of the trail, just in case they are traveling too fast and don't see you. If you can't stand snowmobiles, travel on routes where they are not allowed or travel during the week when there are many fewer people in the backcountry. Remember, we're all out here to enjoy the beauty of the mountains.
4. Don't snowshoe in the ski tracks – it ruins the tracks and people get mad. Alternatively, don't ski in the snowshoe tracks and whine about how rough it is. Break your own trail.
5. Don't litter – anything you pack in, pack it out. If you see other trash, consider carrying it out as well. Karma will be on your side.
6. Always yield to the faster downhill skier or snowshoer. It's easier for you to simply step off the trail than it is for them to ski around you – especially on skinny, wild cross country gear.
7. Be nice and say hello. Spread the peace.
SEASONS & SNOW CONDITIONS
The exact snow season changes every year, but as a general rule, expect good snow from mid-November through late April at higher elevations. The lower elevations fill in later and melt sooner.
It's impossible to be exact and it's often feast or famine – locals remember years with waist deep powder by Halloween and snowpacks that lasted until mid-May. Flip the coin and some years the snow doesn't accumulate until early January and melts by early April. That's life in the mountains and part of the reason we have so many liquor stores.
Lots of factors influence snow quantity and quality in this region. Storm track (wind direction), elevation, aspect (the side of the mountain that the route is located) and temperature all contribute to where you're likely to find the best snow conditions.
Storms hit the Upper Arkansas Valley from the southwest or northwest, and occasionally from the east. This leads to huge differences in snowfall from one end of the valley to the other. Storms from the east, also known as upslopes, are very favorable for lower elevation sites near Salida and Monarch Pass, such as Raspberry Gulch and Silver Creek.
Storms from the southwest and northwest drop a lot of snow on the high peaks throughout the valley, especially near Leadville. At the same time, a southwest storm that drops snow on Monarch Pass can also strip snow fromthe Monarch Crest Trail with high winds above treeline.
High elevation tours get snow first and keep it the longest, so they are the backbone of ski and snowshoe touring in the valley. Good early season tours include Old Monarch Pass, the South Fork of Lake Creek, Turquoise Lake and the Colorado Mountain College trails. Good late season tours include routes on Cottonwood Pass and Tennessee Pass.
Trail aspect, wind and other trail users also influence snow quality. Trails facing the sun melt out more quickly and become icy and crusty with the melt-freeze cycle. Northerly aspects usually shelter good snow well after the last storm. The wind makes some places a miserable exercise in linking crusty snow patches, while loading other areas with fluffy powder at the same time. Sometimes, the only reason any snow still exists on a trail is because other users, on foot or snowmobile, have packed the snow down and made it resistant to the sun and wind.
As you see, snow science is a winter-long puzzle best interpreted by someone who has watched the weather all season. The most current local snow conditions can be found by contacting the people that work and play in the mountains – try asking at Salida Mountain Sports.
Be Prepared In The Winter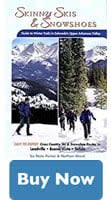 Published with permission from the guide book:
Skinny Skis and Snowshoes – Guide to Winter Trails in Colorado's Upper Arkansas Valley by Nate Porter and Nathan Ward.
This guidebook gives detailed information on 25 of the best backcountry ski and snowshoe routes in the Upper Arkansas Valley, with trails for every ability level. If you count all the options presented for each trail, the actual number of routes is closer to 60 without even counting the individual trails at the Nordic centers – that is a lot of skiing. If you're insatiable and need more, look at the sections titled: Other Areas to Explore. Be insatiable.
Ski & Snowshoe With Care
Backcountry travel is a physically strenuous activity with many risks and dangers. Hazards, natural or manmade, whether noted in this book or not, can be encountered at any time, under any situation. As a backcountry traveler we assume you know your personal abilities, limitations and have a comprehensive background in avalanche safety.
This book represents nothing more than a guide to routes and is not meant to replace your common sense, your ability to navigate in the wilderness or your ability to travel in the backcountry safely.
The mileages, routes and waypoints listed in this text are only suggestions. There may be variances and changes, you may get lost. We recommend that everyone use a global positioning system and topographical map to navigate.
Most routes in this text are located on public land, but some trails pass through or adjacent to private land. Respect the landowner's rights and obey all signs regarding trail use.
Neither the authors, nor the publisher, nor anyone else mentioned in this book are responsible or liable in any way for any accident, injury or any action brought against anyone traveling any route listed in this book. All backcountry travelers and their companions assume responsibility for themselves. Explore at your own risk, and always tell somewhere where you are going and when you'll be back.