Take the Pledge & Receive a Free Discovery Pass
SAVE $100's AT LOCAL BUSINESSES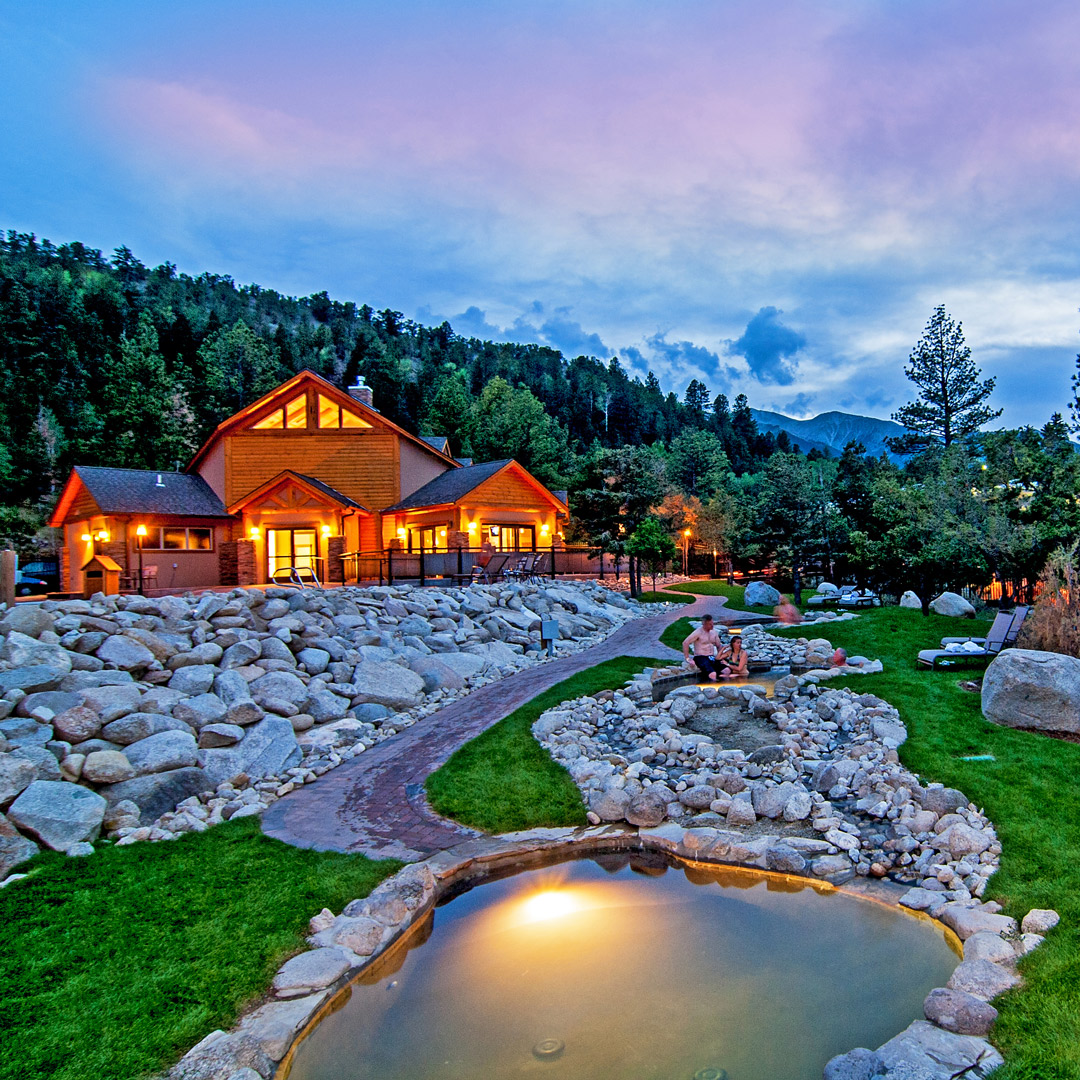 Mount Princeton Hot Springs Resort
Mount Princeton Hot Springs was established in 1879. The hot spring water here is odorless and bubble out of the ground at 140 degrees.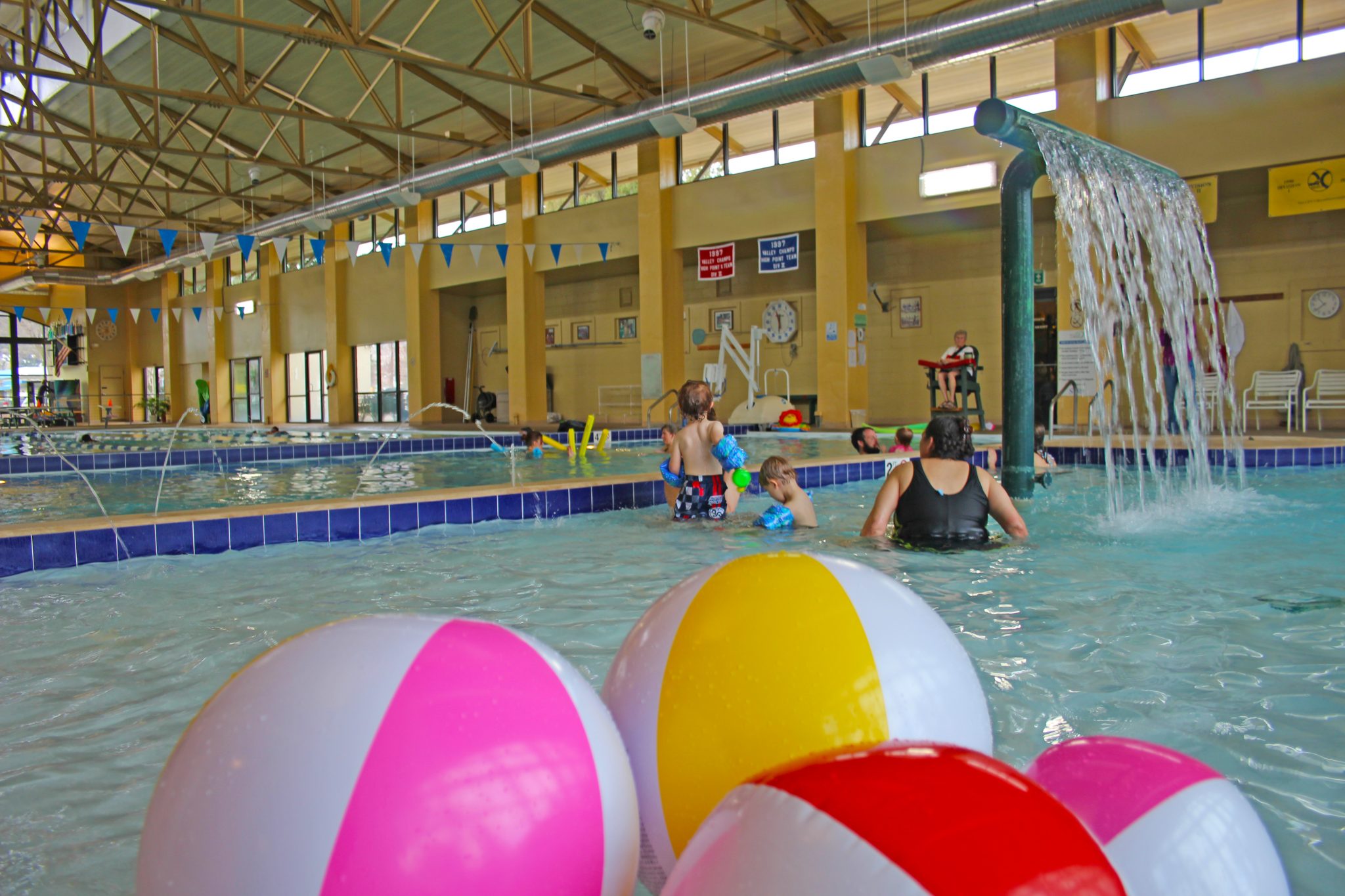 Salida Hot Springs Aquatic Center
The Salida Hot Springs Aquatic Center is owned and operated by the City Of Salida. It was built in 1937 as a Federal Works Progress Administration (WPA) project.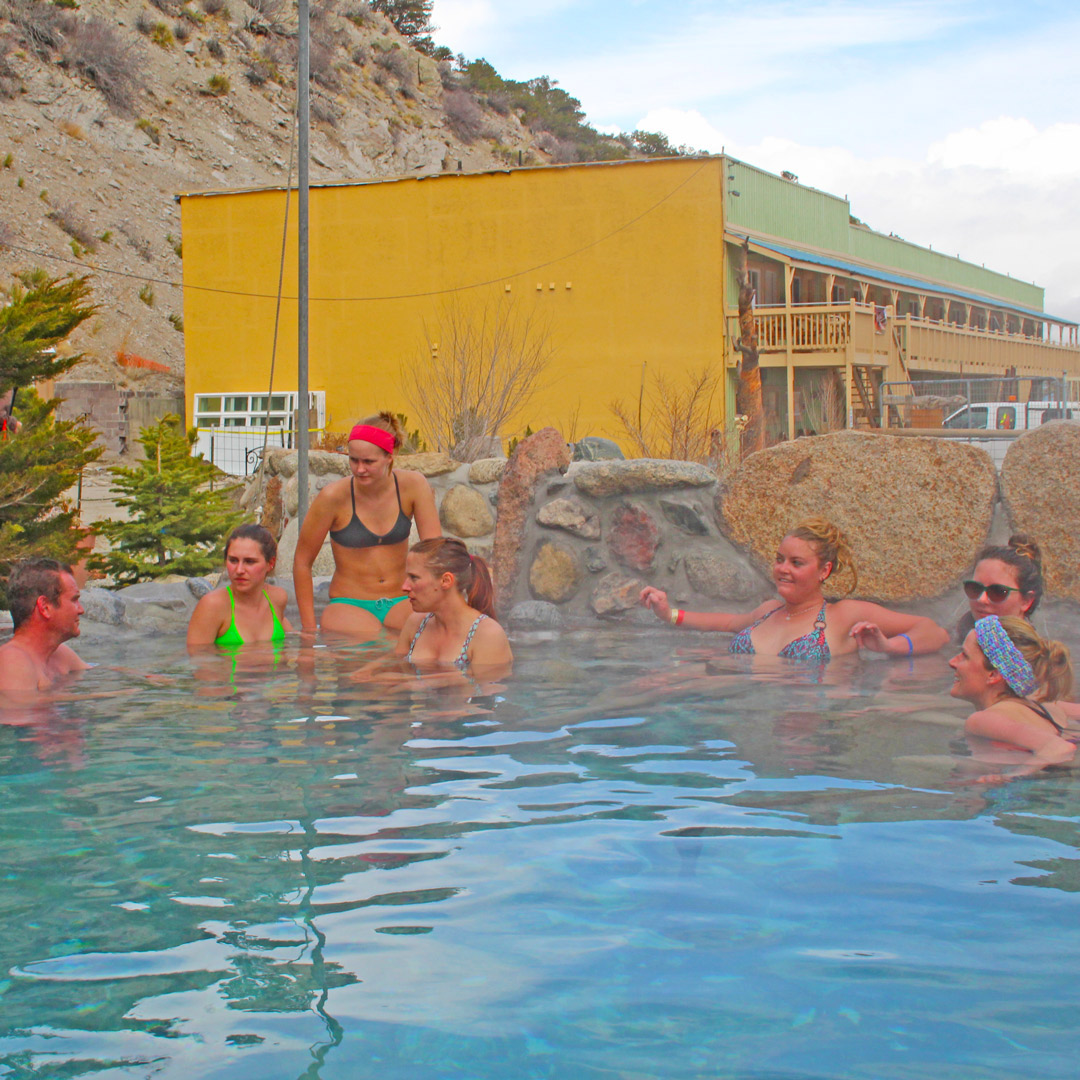 Cottonwood Hot Springs
Cottonwood Hot Springs is the oldest hot springs in the area, a hotel was built here in 1878.
3 Public Hot Springs
100's of rooms within walking distance
Along with the valley's rich mineral varieties, geothermal water also occurs along mountainous fault zones. Chalk Creek, Cottonwood Creek and Poncha Springs all have hot, odorless spring water that has been developed for modern day recreation. The springs were also used in the times of native people and by homesteaders here.
Hot Springs Buena Vista & Salida, Colorado
There is nothing quite as ahhh-mazing as warming up, relaxing and rejuvenating chin-deep in blissful natural hot springs. Geothermal-rich Chaffee County has springs of continuous pure, mineral-rich hot water bubbling beneath its surface, inspiring several resorts and a recreation center. From the earliest days, hot springs were believed to have medicinal, therapeutic and spiritual qualities; a gift for body and soul. These odorless steamy pools provide a year-round retreat but are especially appreciated in winter after an adventurous day on the slopes or trails. Our local hot springs businesses all have the wonder-water in common, but each have their own signature styles and amenities, too. Explore them all!
Will you be camping while visiting Buena Vista & Salida, Colorado?
Please allow us to share some important tips if you plan to camp.
Stewardship of the environment is everyone's responsibility. Please help us protect and preserve our home so future generations can enjoy it just as you have.
The Hottest in Colorado
The hot springs in our area are some of the hottest in Colorado. This geothermal water bubbles out of the ground at 140 degrees Fahrenheit. The hot springs are created by ground water heated by shallow intrusions of magma (molten rock) in this volcanic area.
Our Hot Spring Don't Stink!
These hot springs are unique because they do not stink. The hot springs are non-sulfurous which, unlike many other hot springs, creates an odor-free mineral water experience.
Healing Powers
Some people swear by the rejuvenating powers of the springs. The mineral content and heat can alleviate many ailments. The hot springs are filled with unique minerals including: Boron, Calcium, Carbonate of Lime, Carbonate of Magnesia, Iron, Potassium Carbonate, Chloride of Potash, Fluoride, Lithium, Sulphate of Soda.
Hot Spring Tips
1. Clothing is mandatory in all hot springs in Buena Vista, Salida and Nathrop. Always bring a hat, towel, sandals, sunscreen and a robe.
2. Book a room or cabin at Cottonwood Hot Springs or Mount Princeton Hot Springs Resort and the hot springs are included. At the Salida Hot Springs Aquatic Center there are 100's of rooms within walking distance to the hot springs.
3. Bring the family: Kids of all ages are welcome in all the hot springs. During the summer Mount Princeton Hot Springs Resort has a 400 foot water slide. The Salida Aquatic Center has a water slide and diving board that are open year-round.
4. Traveling without kids? Check out the Spa & Club at Mount Princeton Hot Springs Resort it is reserved for adults 16 and above. Cottonwood Hot Springs are adults only after dark.
5. Get to the hot springs early. The early morning steam is amazing and you should have first pick of the hot springs.
6. Check out the hot springs at night. You will have incredible views of the stars and everyone looks betting in the hot springs in the dark.
7. Get a spa treatment at Mount Princeton Hot Springs Resort or Cottonwood Hot Springs and your soak is included.
8. Digital Detox: Leave your digital devices at home, be in the moment and enjoy the experience with someone you love.
9. Outdoor Adventures: There is no better way to relax in the hot springs than after an outdoor adventure. 80% of Chaffee County is public lands and home to more 14,000 foot peaks than anywhere else in North America. Like to snowmobile, dog sled or ski? Plan your winter getaway visiting nearby Monarch Mountain. Fishing, Mountain Biking and Ziplining are available year-round.
10. Private Hot Springs: Rent your own private hot springs at one of the vacation rentals located in Nathrop, Colorado between Buena Vista & Salida, Colorado. The Salida Aquatic Center, Mount Princeton Hot Springs Resort or Cottonwood Hot Springs each have private soaking pools.
The Adventure By Nature Pledge is an outreach and education project supporting outdoor recreation, economic and visitor growth in Chaffee County by encouraging responsible recreation, stewardship principles and best practices for visitors and residents recreating in the outdoors.
We believe that stewardship of the environment is everyone's responsibility. Please help us protect and preserve our home so future generations can enjoy it just as you have.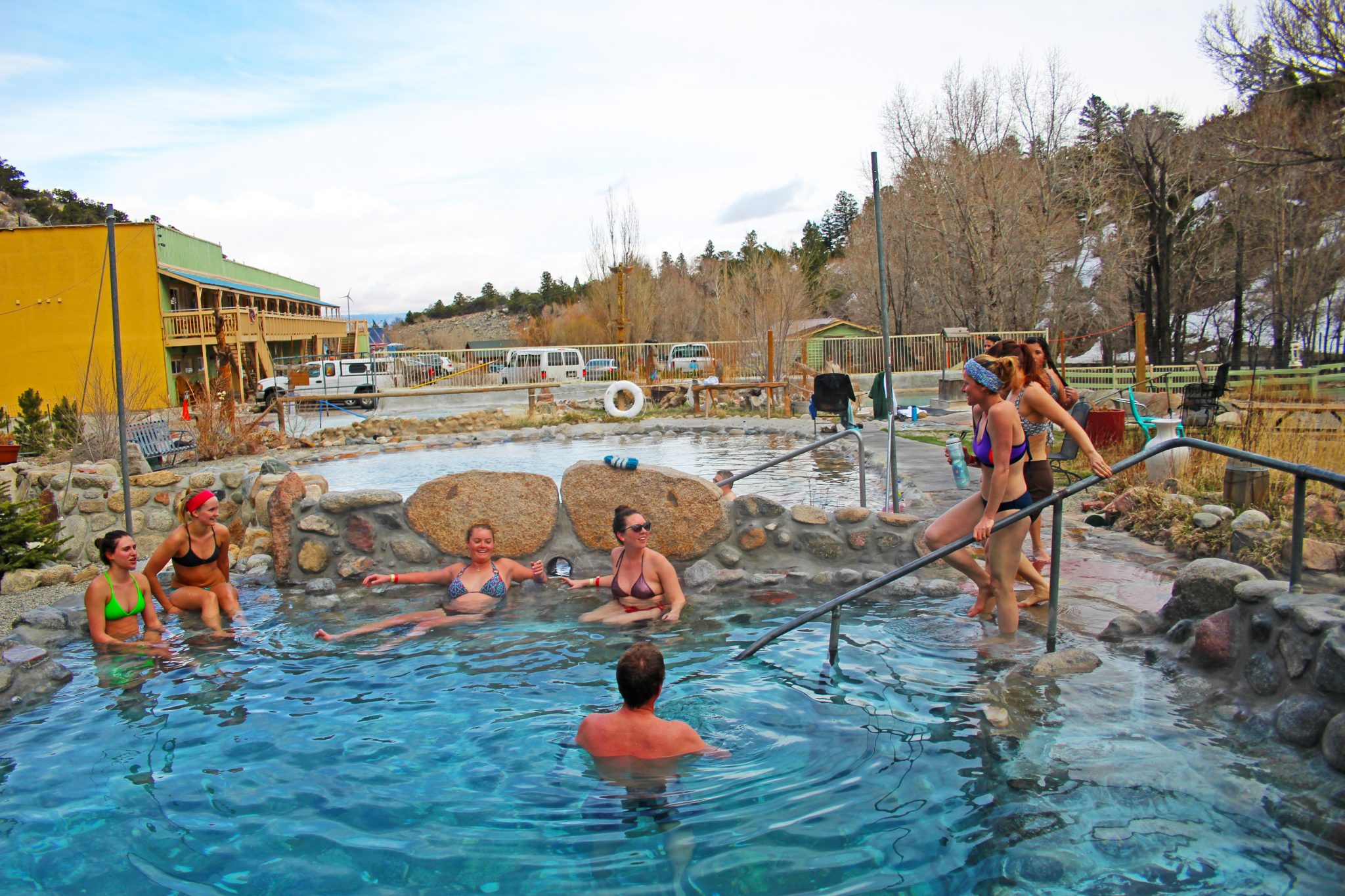 Cottonwood Hot Springs Inn & Spa
This historic resort, located about five miles from Buena Vista along Cottonwood Creek, first opened in 1878. Surrounded by the San Isabel Forest and the Collegiate Peaks, it is a magical, woodsy and restful setting. Steam rises from the four gravity-fed hot mineral pools while snow often covers the surrounding rocks. Each pool is kept at a different temperature for the perfect soak. The water has exceptional mineral qualities, with 15 different minerals from Arsenic to Zinc. Guests are welcome to enjoy the dry sauna, too. The atmosphere is intended to be a respectful Quiet Zone for the ultimate in peaceful relaxation. No lifeguard is on duty, no alcohol is allowed and it switches to adults-only after dark.
The Spa offers Reiki, massages, body treatments, reflexology, or even a Tarot Card reading. Three lodging options are available: Lodge hotel, dormitory and cabins. The dormitory has a co-ed or women only option. The Creek Side Cabins vary in size but all have their own private hot springs pool. You won't find TVs or phones here. And you won't miss them.
Salida Hot Springs Aquatic Center
One of the largest indoor hot springs pools in the country, this is also the only publicly operated aquatic facility within 100 miles. Part of the City of Salida's Parks and Recreation Department, this family-friendly environment features two hot springs pools filled with mineral-rich water.
The water is piped directly to the pools from underground springs eight miles away, as it has been for about 80 years. This building, pools and underground hot water transmission line were originally constructed as part of a 1937 Federal Works Progress Administration (WPA) project that employed about 200 men during the Great Depression. There is no need for chlorination or chemicals, as fresh water is continuously piped in.
Life guards are on duty at the large 25-meter, six-lane Lap Pool that maintains a temperature of 84-86 degrees. The smaller Leisure Pool is kept at 97-100. Small private soaking pools are also available. Open swim times are held every afternoon, while drop-in water fitness classes (over a dozen offered every week) are held most mornings. Join in on water yoga, water volleyball, splash fitness or even learn to roll and recover in a kayak. Its convenient location near lodging and restaurants makes even a quick dip an easy and welcome respite.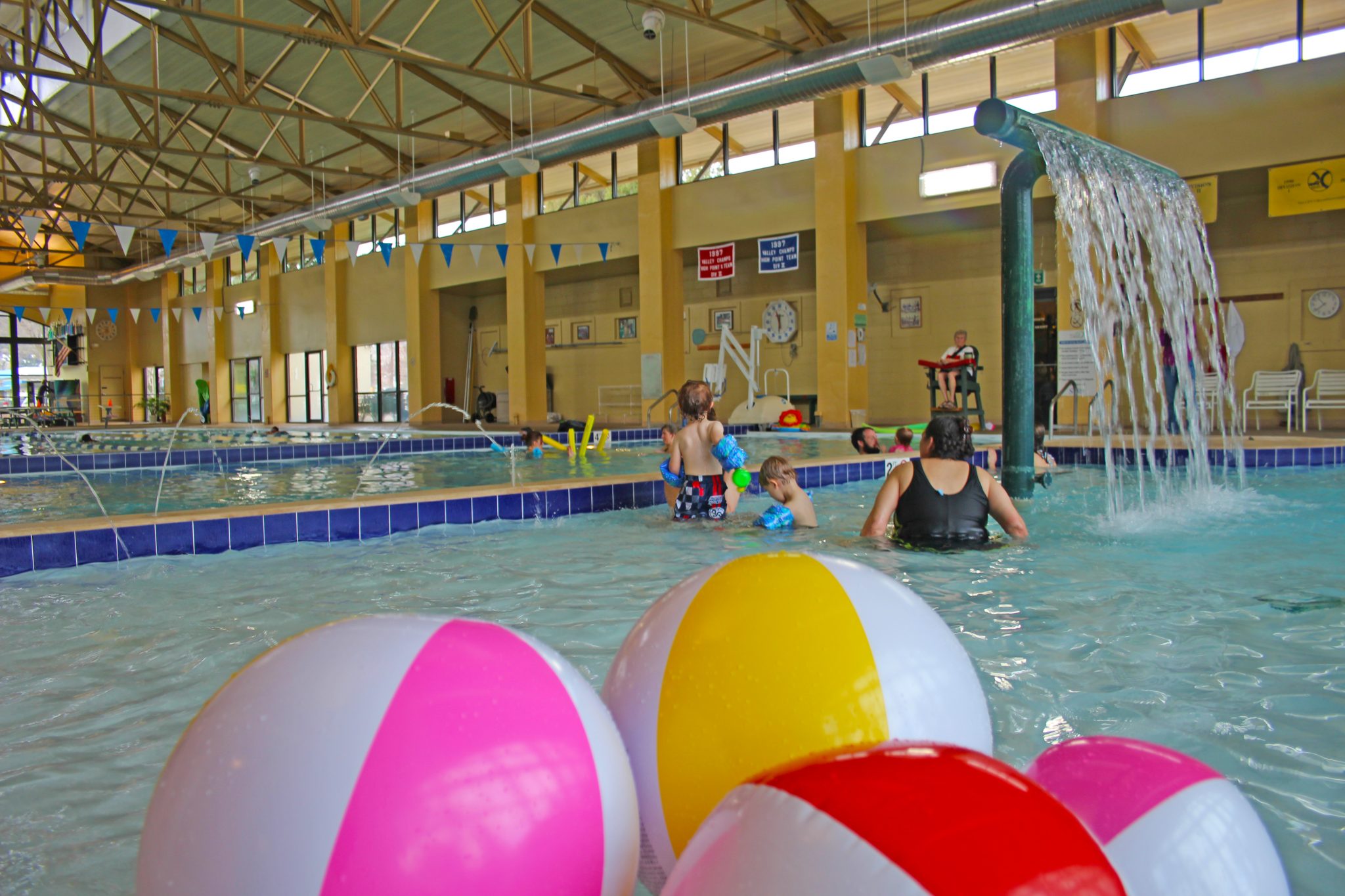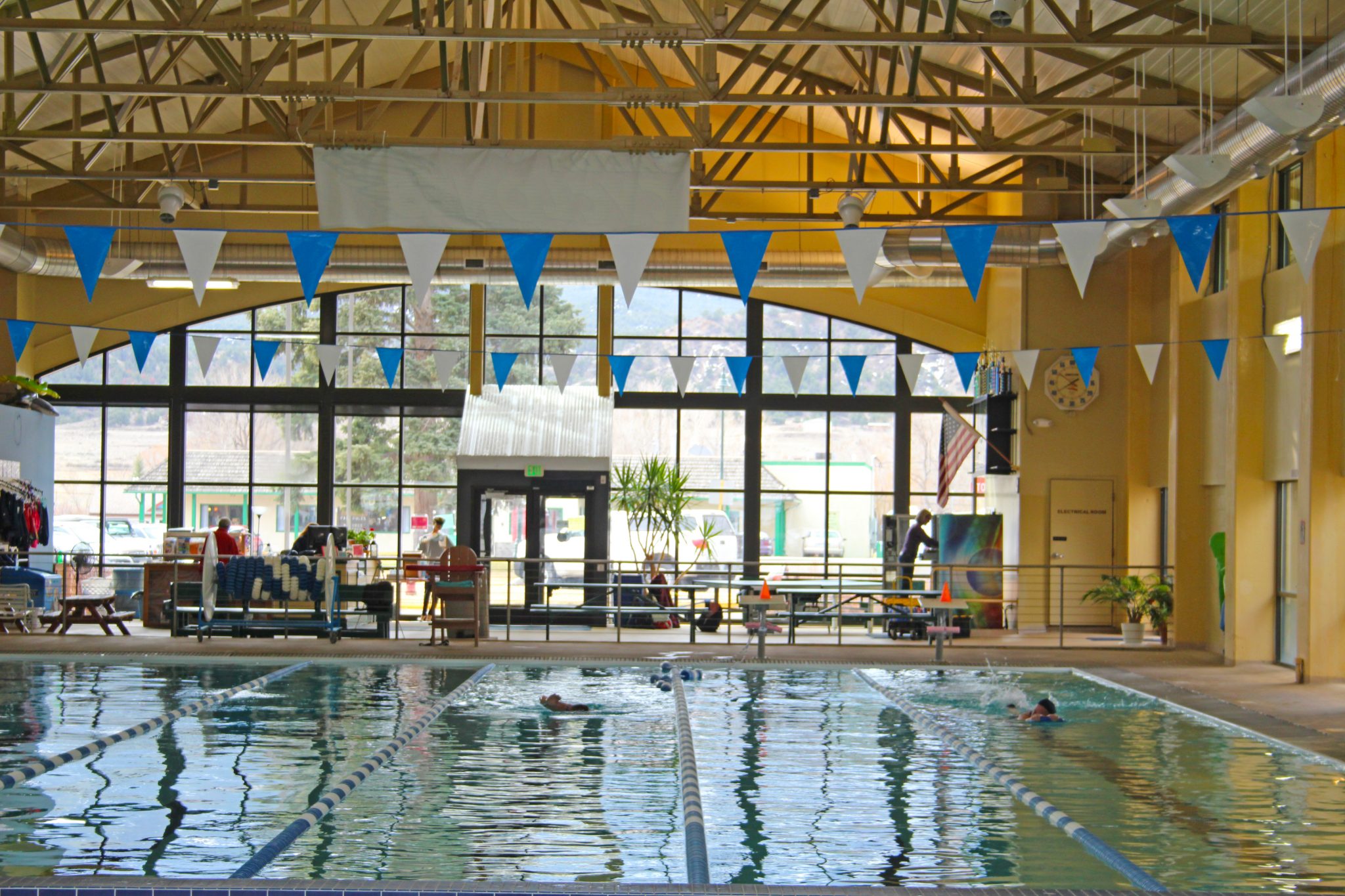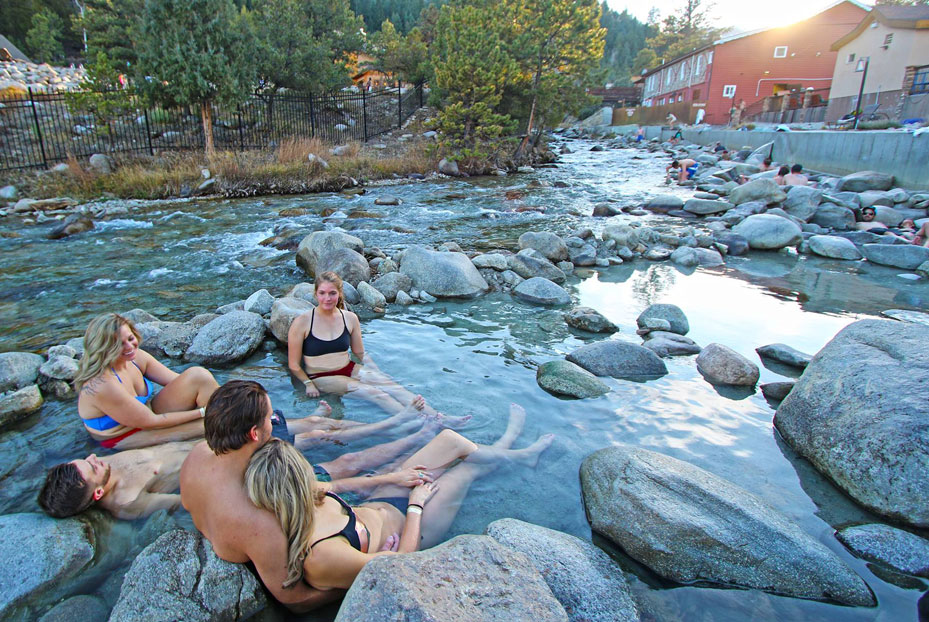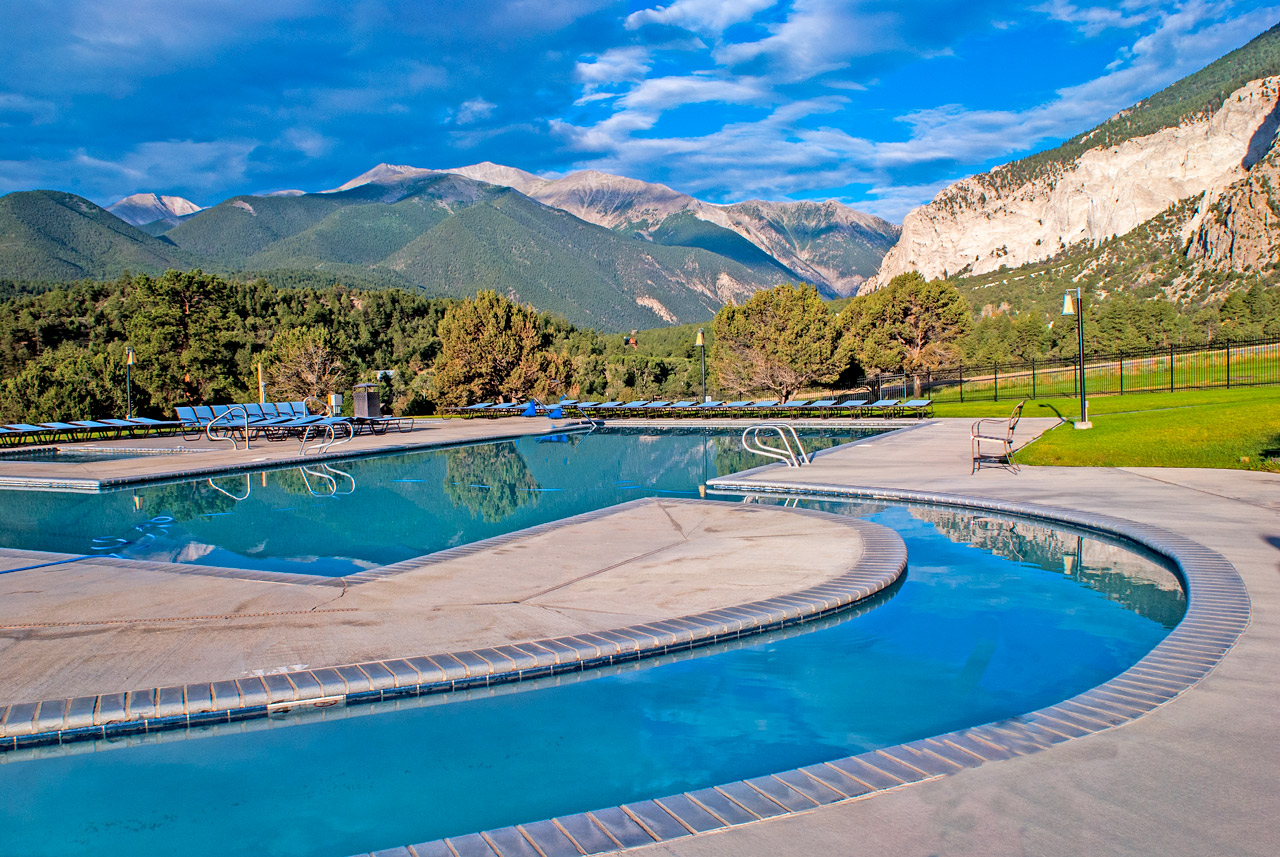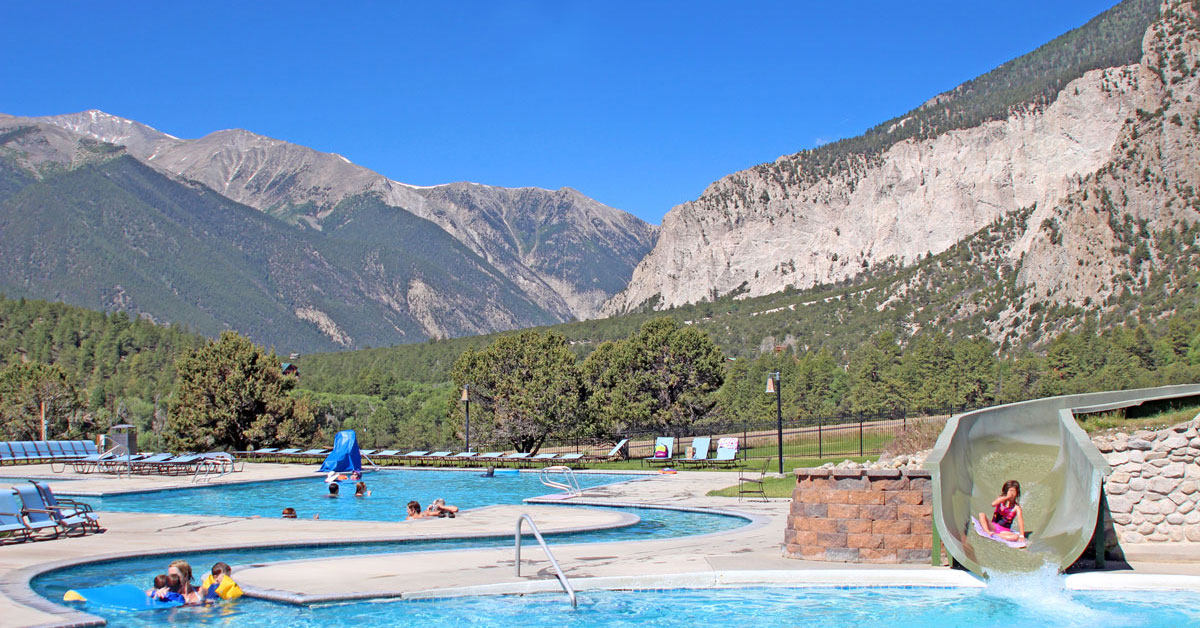 Mount Princeton Hot Springs Resort
This secluded get-away is named for Mt. Princeton, one of Chaffee County's famous "Fourteeners." Surrounded by breath-taking mountain views, this resort offers lodging, a premier spa, dining and event facilities all centered on a haven of hot springs.
The "hot pots" in Chalk Creek allow a unique and completely natural experience. Recline on the shallow, sandy edges of the creek and let the relaxation flow. The resort's main section features a Historic Bathhouse dating back to 1867 leading to a pair of man-made pools (one for soaking, one for exercise) heated by the natural springs. The Upper Pool area, perfect for active families, offers two additional pools, a lazy river and a 400-foot long waterslide.
The new Adults-Only Spa & Club area features several pools, as well as a sauna and steam room, for quiet relaxation. A full array of pampering Spa services elevates the whole experience. Fitness and water exercise classes are available, too. Refresh with fresh juices, light fare and specialty cocktails at the Juice Bar.
Stay at the Main Lodge or a cozy cabin in the woods. Celebrate with a Chalk Creek Martini while dining at the Princeton Club Restaurant. Mt. Princeton's large event center and catering services make this a winter wedding venue beyond compare.
Vacation Rentals With Hot Springs Buena Vista & Salida, Colorado
CHAFFEE COUNTY VISITORS BUREAU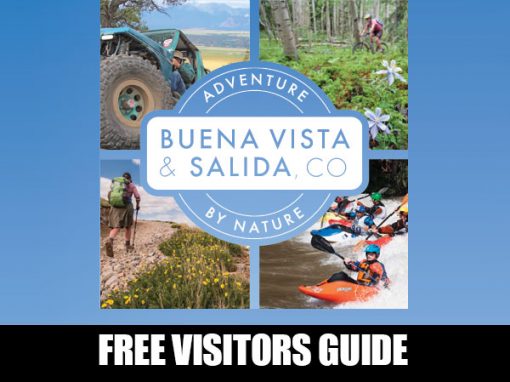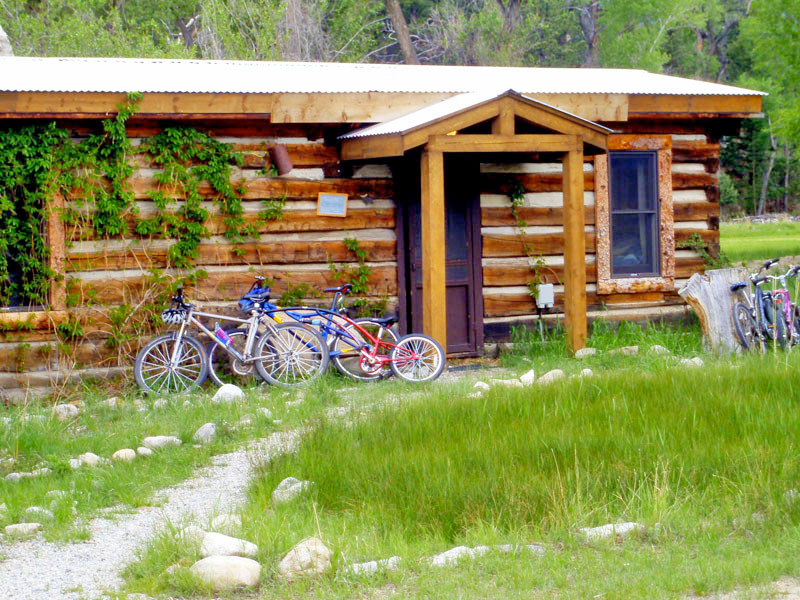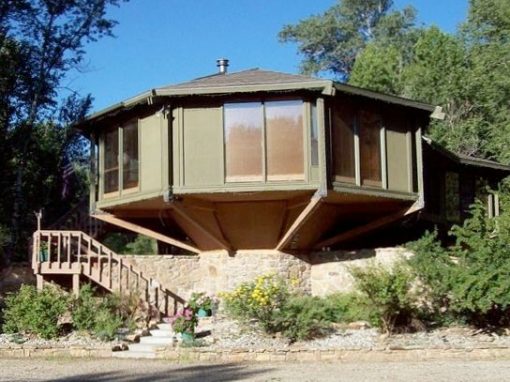 Hot Springs Buena Vista & Salida, Colorado
CHAFFEE COUNTY VISITORS BUREAU