Skiing & Snowboarding
Buena Vista & Salida, Colorado
Monarch Mountain
Buena Vista & Salida, Colorado
Skiing & Snowboarding
Buena Vista & Salida, Colorado
Skiing & Snowboarding
Buena Vista & Salida, Colorado
Skiing & Snowboarding
Buena Vista & Salida, Colorado

Skiing & Snowboarding
In Buena Vista & Salida, Colorado
Monarch Mountain is proud to offer one of the most authentic Colorado skiing experiences available today. Located in the Sawatch Mountains at the top of the Continental Divide, Monarch receives approximately 350 inches of all-natural snow each year.
With a variety of terrain ranging from beginners' bunny slope Snowflake to the area's extreme, hike-to terrain of Mirkwood, Monarch offers something for every skier and rider. Monarch has a single base area, making it easier to keep track of friends and family.
Visitor Skiing & Snowboarding Photos Buena Vista & Salida, Colorado
Ski Season: Late November – Early April
Annual Snowfall: 350-plus inches
Base Elevation: 10,790 feet
Summit Elevation: 11,952 feet
Vertical Drop: 1, 162 feet
8 Lifts | 53 Trails | 800 Skiable Acres

Save when you show your season pass!
When you show your season pass to any ski area at Monarch's ticket windows, you'll get a lift ticket for $45. This offer is valid seven days a week during the entire '16-'17 ski season.
This offer is not valid with loyalty cards, nordic ski passes, or any other discounts.

Whether you're an expert skier looking to hone your skills in Monarch's side-country or a never-ever skier, Monarch's PSIAA-certified ski school can ensure you have many great days on the mountains to come.
Monarch Mountain offers family and friends lessons, so you don't have to split up when you hit the slopes for your lesson.

For those who want a more extreme experience, Monarch's cat skiing program offers 1,000-plus acres of cat-served terrain. The 2015-16 season marks the 25th anniversary of Monarch cat skiing, making for a quarter-century of skiers and riders heading back to the lodge with Cheshire grins on their faces.

For those traveling with 10 or more skiers or riders, Monarch offers discounted rates on lift tickets, rental equipment and lessons.
Groups visiting Monarch get personalized concierge service from the moment they start planning their trip to when they leave the slopes, with a private area for gearing up.

Back Country Skiing & Snowboarding
Monarch Pass has thousands of acres of both advanced and beginner terrain for skiing and snowboarding. The Old Monarch Pass Road is a good choice for beginners and families.
Cottonwood Pass offers great back country skiing and Snowboarding. It is best with snowmobile access.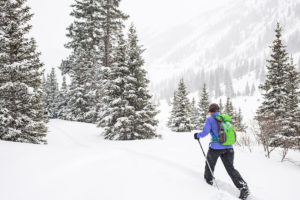 Skiing & Snowboarding Buena Vista & Salida, Colorado
CHAFFEE COUNTY VISITORS BUREAU