Take the Pledge & Receive a Free Discovery Pass
SAVE $100's AT LOCAL BUSINESSES
Jeeping
Drive your Jeep to the top of a 14,000-foot peak. You cannot do that in many places, but here in Chaffee County you can. Jeep and off road enthusiasts challenge this terrain each year, some successfully and some not. Jeep tours and rentals are available in Buena Vista and Salida.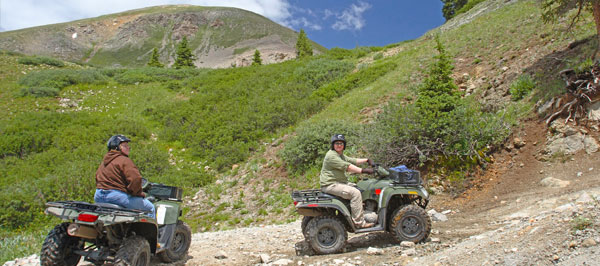 ATV and Side by Sides
Moderate ride routes are found in the Fourmile Travel Management Area just east of Buena Vista. Campsites are located throughout the area. Marshall Pass is also popular for off-roaders and has multiple dispersed camping sites, as well as stream and lake fishing. Rent yours in Buena Vista or Salida.
Motorcycle
Long loop routes with multiple high passes can be run near St. Elmo. Tin Cup, Tomichi, Williams and Hancock passes (Hancock open only in August) can be combined for an amazing day of riding. The Big Bend area north of Poncha Springs is home to an OHV track. Dirt bike rentals are available in Salida.
Off-Road & Jeeping In Buena Vista & Salida, Colorado
Off roaders find spectacular scenery and access to remote mountain areas throughout Chaffee County. Non-technical rolling cruises such as Marshall Pass, a network of trails of varied challenges in the Fourmile Travel Management Area near Buena Vista and epic hard-core routes for the most serious of four-wheelers such as Iron Chest are among explorer's choices.
OHV Color Tour September 21 to September 25th, 2021.
The OHV Color Tour is hosted by the Buena Vista Chamber of Commerce.
The OHV Color Tour enters its 20th year.  This tour is for side by sides and all types of Off Highway Vehicles.  Experience the rugged terrain, Fall colors and historical sites in the heart of fourteener country.
Riders will experience four days of self-guided tours through the awe-inspiring back-country of the Collegiate Peaks range with 12 fourteen thousand foot mountains!  The greatest concentration of 14,000 ft. peaks on the continent.
Will you be camping while visiting Buena Vista & Salida, Colorado?
Please allow us to share some important tips if you plan to camp.
Stewardship of the environment is everyone's responsibility. Please help us protect and preserve our home so future generations can enjoy it just as you have.
OHV Travel Tips
Off highway vehicles allow us to travel faster and further into the backcountry than we ever imagined. With this privilege comes the responsibility to be considerate of fellow wheeled and non-wheeled adventurers, wildlife, and the fragile high alpine ecosystem.
Stay the trail. Never travel off the designated route or into private property.
Slow down and give space to your fellow adventurers traveling on foot and bicycle. It's hard enough to hike and bike uphill, so help keep the dust down.
Leave gates as you found them, or as marked. Close the gate behind you if the gate is closed when you drive up. Leave open if it's open, unless signage states otherwise.
Louder doesn't mean faster. The maximum noise limit under Colorado State Law is 96 decibels. Use the appropriate exhaust system for trail riding. Race systems are smaller and have less packing material inside to absorb the sound, so get that fixed before heading out into the wilderness.
Pull over to the side of the trail and stop to let faster vehicles pass. Choose appropriate places to allow others to pass and be patient with other trail users. Avoid sensitive vegetation when parking along routes.
Support the sport by joining Colorado Off Road Enterprise
CORE is a motorized action group based out of Buena Vista working to keep our trails open. In addition to their 12 adopted trails, they work projects, provide trail reports, and work with land managers to ensure motorized users are represented when they make decisions.
Colorado OHV Use Permit Requirements
"All OHVs and motor vehicles (including motorcycles) that display a valid Colorado or out-of -state license plate must also display a current Colorado OHV use permit sticker when operated on any designated OHV trails in Colorado."
"All out of state OHVs (including OHVs that display an out of state OHV registration) must also display a current Colorado OHV use permit sticker when operated on any designated OHV trails or routes in Colorado."
OHV Registration & Permits
"All OHVs owned and operated in Colorado (including motor vehicles and motorcycles that are not licensed for public road access) must display current Colorado OHV registration stickers when in a person's possession in an OHV staging area or operated on any designated OHV trails or routes in Colorado."
Register Your Ride!
Visit the Colorado Parks & Wildlife website to read more information on how to purchase OHV registrations and permits, and the projects that the OHV Registration program funds.
The Adventure By Nature Pledge is an outreach and education project supporting outdoor recreation, economic and visitor growth in Chaffee County by encouraging responsible recreation, stewardship principles and best practices for visitors and residents recreating in the outdoors.
We believe that stewardship of the environment is everyone's responsibility. Please help us protect and preserve our home so future generations can enjoy it just as you have.
Because of its close proximity to Salida and Buena Vista, Fourmile can serve as a great base camp for exploring the entire area. Campers can stay for up to 14 days at primitive camp sites, as well as in several established campgrounds. Many spots have mountain views, others are secluded and woodsy, still others offer wide open vistas. Pitch a tent only in an existing site with a campfire ring and park on bare compacted areas. Keep in mind you're camping in the wild so bring your own drinking water, firewood and a portable toilet system. Packing out all your trash is a given. Beautiful drive-up sites for RVs are available too, on a first-come, first served basis.
Because wildlife is abundant but water is scarce, campers need to stay away from streams and other water sources. This allows the elk, mule deer, and bighorn sheep to maintain their health. As always, wildlife should never be fed or disturbed.
Central Colorado Mountain Riders
CCMR is an off-road motorcycle club focused on trail maintenance & advocacy. We are based out of Salida, Colorado and cover the Central Colorado mountain trails. While our focus is dirt biking and single track trail, we welcome adventure bike riders as well!
Marshall Pass
In the southern end of the county, south of Poncha Springs off U.S. 285, Marshall Pass is a popular off-road recreation, camping and fishing area. Highlights are dispersed camping sites and a newly-renovated U.S. Forest Service campground at O'Haver Lake.
St. Elmo: Tin Cup Pass & Hancock Pass
Exploring from the Colorado Ghost Town of St Elmo, one can feel like an explorer from back in old Colorado mining times, despite the fact that you are on a very modern off highway vehicle.
Rugged Jeep trails wind six miles from the base at St Elmo to the top of Tin Cup Pass at 12,100ft. Descend over Tin Cup Pass and enjoy the views of Mirror lake and into the historic ghost town of Tin Cup.
You may continue on to Pitkin over Cumberland Pass.
Carnage Canyon
Skill Level: Extremely Difficult
Skill Level: Extremely Difficult Trail Length: ¾ Mile Nearby Towns: Buena Vista This is an extremely challenging and trail and is only recommended for experienced, hardcore off-road enthusiasts with the proper aftermarket parts and 4×4 accessories. Huge tires are recommended and don't be surprised if you were to flip your vehicle or damage it here, so proceed with caution. If you're looking for the challenge of all challenges, this is the place to go! A below timberline route, this trail is close to seven miles long. Extreme off-roaders with high clearance rock crawlers face multiple obstacles including Rock Garden, Rock Pile, Whale's Tail, The Stairs and The Chutes. This is an impressive place to watch rock crawlers in action.