Snowshoeing & cross country skiing are two low impact winter activities that can be enjoyed by most anyone. With over 80% of the land in Chaffee County designated as public, there are plenty of opportunities to enjoy these two sports. Whether you have your own gear or rent it, the places to explore are endless.
Get Started with Snowshoeing
Snowshoeing is a wonderful way to get out in nature and experience the quiet and solitude found in the wilderness areas of Chaffee County.  Snowshoeing takes very little gear and experience.  Basically all you need are boots, a pair of snowshoes and poles.  Ben Wygant states, "I had a really good friend tell me once that if you can walk, you can snowshoe".  This activity allows the participant to access a wider variety of terrain and go deeper into the backcountry. A great place to start is the Denny Creek Trailhead.  This trail travels through a wilderness area and provides access to Browns Pass and Hartenstein Lake.  With no motorized vehicles allowed, quiet and solitude are guaranteed.
Get Started With Cross Country Skiing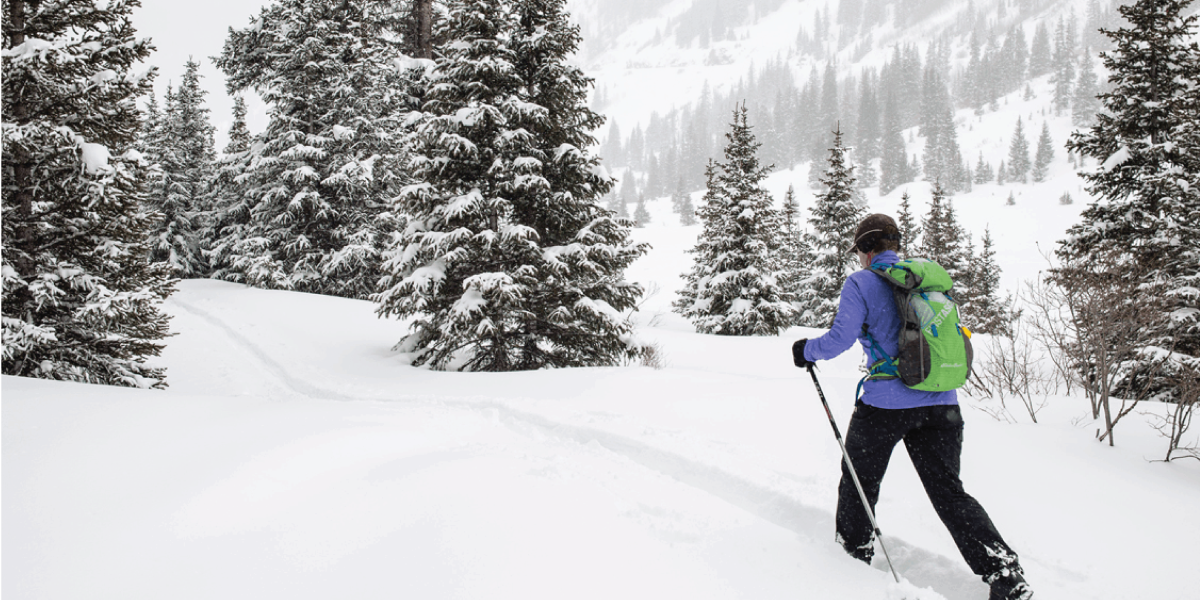 Cross country skiing opportunities in Chaffee County exist for all levels and experience. For beginners the mountains offers miles of groomed trails that follow closed roads and picnic areas. Some of the more popular destinations are Cottonwood Lake and the Collegiate Peaks Campground. It's fairly easy to learn and most people pick it up within a day. Beginners at first, may wish to stick with flat groomed trails and avoid deep powder. For those with more experience, a network of singletrack trails wind through the mountains and valleys west of Buena Vista. A great place to try out your advanced skills is the North Cottonwood Trailhead.  An old mining road will take you far into the backcounty with access to alpine lakes such as Kroenke Lake.
Where To Get Rental Equipment & Advice
 The Trailhead outdoor store in Buena Vista, operating since 1972, is one of a few places in the valley to buy or rent this equipment if needed. Ben Wygant, general manager, explains that the most important thing they offer however is advice. When a customer comes through the door looking for a place to go or a question about gear, the staff will ask questions about what they are looking for and their skill level. With this in mind they are able to customize a great day in the mountains without getting people in over their heads. When visiting Chaffee County, stop by the Trailhead in Buena Vista or Salida Mountain Sports in Salida for friendly advice, gear rentals, or a new equipment to get you into the backcountry safe and securely.