Salida To Joyful Journey Mineral Hot Springs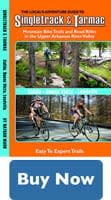 Published with permission from the guide book: The Local's Adventure Guide to Singletrack & Tarmac – Mountain Bike Trails and Road Rides in the Upper Arkansas River Valley by Nathan Ward.
Featuring 36 Mountain Bike Trails and 18 Road Rides in and around Buena Vista & Salida, Colorado – beginner to expert, town to summit, smooth tarmac to extreme singletrack.
Maps and Elevation Profiles for each ride, including altitude gain and loss.
Local Advice on riding areas and seasons, where to sleep, where to soak, where to find the best pizza, the best coffee and the best bars in Buena Vista & Salida, Colorado.
Salida to Joyful Journey Mineral Hot Springs starts in downtown Salida, climbs over Poncha Pass and descends into the San Luis Valley to Joyful Journey Mineral Hot Springs, one of the best soaking spots in Colorado. It's a fun ride with the challenge of a small mountain pass along the way. Once you're over the pass, it's a ruler straight slightly downhill ride to the hot springs. This is also the only ride in the book that heads south into the stunning and spiritual San Luis Valley, one of the last undiscovered gems of Colorado. The riding is great, the soaking superb, especially with a blood red sunset on the peaks.
Options: Take an extra day and make this ride into an overnight trip – sleep in one of the yurts next to the hot springs. They're decked out for sleeping, but bring your own food because there is nothing nearby unless you like sagebrush and can chase down a jack rabbit. www.joyfuljourneyhotsprings.com
Trailhead Access: This ride requires a shuttle. Follow the ride description and drop a car at Joyful Journey Mineral Hot Springs – the shuttle takes about 70 minutes round-trip from downtown Salida. Drive back and park at the AHRA headquarters at the corner of Sackett and G Streets or in the public lot immediately west of Safeway at the corner of 3rd and H Streets. The ride starts from the corner of Sackett and G Streets.
Location: Salida
Distance: 33.0 Miles – One Way
Riding Time: 3.5 Hours or More
Riding Surface: Good Pavement
Shoulder: Excellent
Traffic: Medium, but Heavy on Holiday Weekends
Aerobic Level: Intermediate to Difficult
Elevation in Feet: Low 7,031; High 9,041; Climbs 2,071, Descends 1,346
Notes: In the summer, Poncha Pass can be hot in the middle of the day. Ride early or late to avoid the heat. After Poncha Pass, the only food and toilets on this ride are in Villa Grove. Only microwave food available at the hot springs.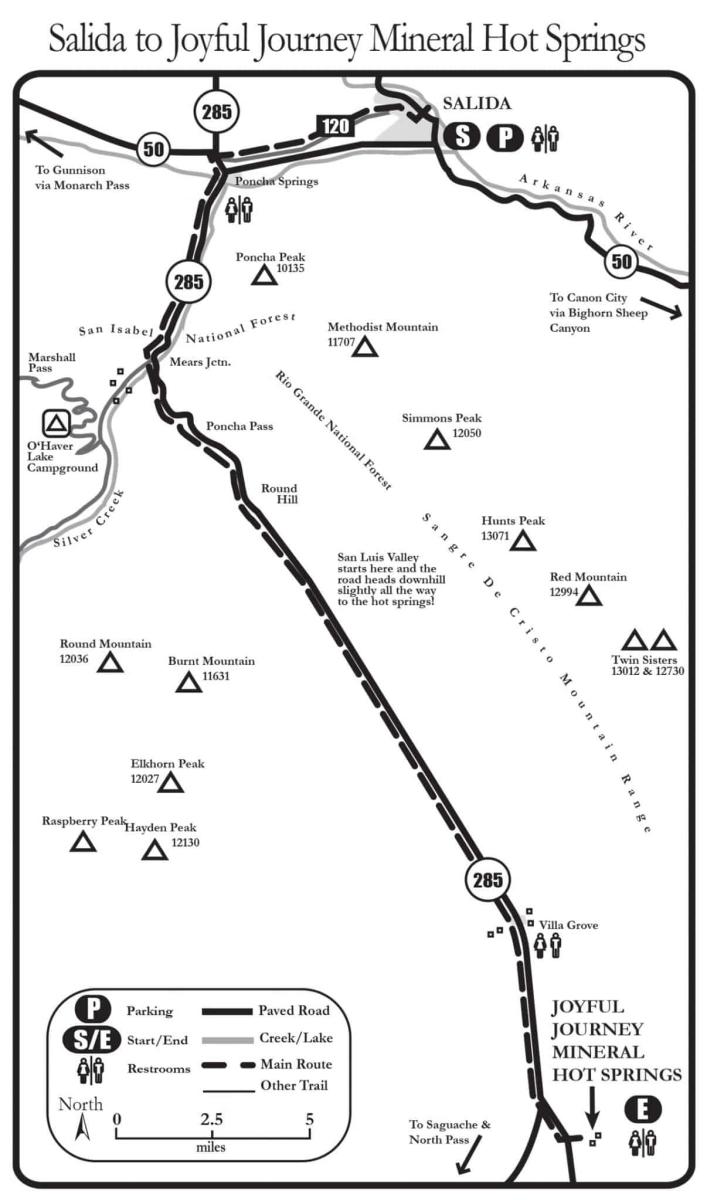 Photo Gallery
Mileage Log
0.0 Ride west on Sackett Street.
0.1 Turn left on I Street and ride 3 blocks.
0.3 T-intersection with 3rd Street. Turn right and take an immediate left uphill on Poncha Blvd. Stay left on Poncha Blvd. at the top of the hill. Stay on Poncha Blvd. west all the way out of town.
1.1 Poncha Blvd. changes to CR 120. Stay on CR 120 to Poncha Springs, there is a bike path next to the road.
5.0 T-intersection with US 50/285. Turn left and ride through Poncha Springs. Follow the signs and stay on US 285 south.
5.5 Cross the Arkansas River – the climbing is about to begin!
9.5 Look left across the creek to see the old railroad grade.
10.3 On this big sweeping left hand turn, look up the valley at Antora Peak (13,269 ft.).
12.1 When you ride through this big aspen grove, you are almost at the top!
12.7 Summit of Poncha Pass!
12.7 From the top of the pass, continue south on US 285 into the San Luis Valley below the jagged continuous summits of the Sangre de Cristo mountains.
27.0 Pass through Villa Grove, a tiny town with a store. Stay on US 285.
31.5 Turn left on CO 17. Stay to the right on CO 17 immediately after turning.
32.9 Turn left on CR 58EE and follow the signs to Joyful Journey.
33.0 The hot springs! Soak those weary legs.
Ride With Care
Bicycle riding is a physically strenuous activity with many risks and dangers. Hazards, natural or man made, whether noted in this book or not, can be encountered at any time under any situation. As a cyclist, we assume you know your personal abilities and limitations. This book represents nothing more than a guide to the trails and roads and is not meant to replace your common sense, your ability to navigate in the wilderness or in traffic, or your ability to ride a bicycle safely.
In addition, the mileages and routes listed in this text are only suggestions. There may be variances and you may get lost. We recommend everyone uses a GPS and topographical map to navigate. Most routes in this text are located on public land, but some trails pass through or adjacent to private land. Respect the land owner's rights and obey all signs regarding trail use. The same goes for wilderness areas which prohibit mountain bike riding. Neither the author, nor the publisher, nor anyone else mentioned in this book are responsible or liable in any way for any accident, injury or any action brought against anyone traveling any route listed in this book. All cyclists and their companions assume responsibility for themselves. Ride at your own risk.