Mt. Princeton to Cottonwood Pass (hot springs)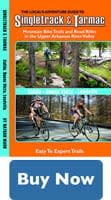 Published with permission from the guide book: The Local's Adventure Guide to Singletrack & Tarmac – Mountain Bike Trails and Road Rides in the Upper Arkansas River Valley by Nathan Ward.
Featuring 36 Mountain Bike Trails and 18 Road Rides in and around Buena Vista & Salida, Colorado – beginner to expert, town to summit, smooth tarmac to extreme singletrack.
Maps and Elevation Profiles for each ride, including altitude gain and loss.
Local Advice on riding areas and seasons, where to sleep, where to soak, where to find the best pizza, the best coffee and the best bars in Buena Vista & Salida, Colorado.
Mt. Princeton Hot Springs to Cottonwood Hot Springs is one of the best singletrack rides in the valley, and it remains almost unknown! This piece of the Colorado Trail offers a beautiful skinny track through thick forests, big valley views from Mount Princeton, and a long technical descent to top it off. Plus, you'll find mineral hot springs at either end of the ride – Mt. Princeton Hot Springs on the southern end and Cottonwood Hot Springs on the northern end. Both will let you soak your tired muscles until they sing happy again.
Trailhead Access: This ride requires a shuttle. From the stoplight at the junction of US 24/CR 306 in downtown Buena Vista, turn west on CR 306 toward Cottonwood Pass. Only if you plan to soak in Cottonwood Hot Springs after the ride, park a shuttle vehicle in the lot near the pools. Cottonwood Hot Springs is 5.5 miles from the US 24/CR 306 junction. If you are not soaking, continue up Cottonwood Pass to CR 344, 7.3 miles from the junction. Turn left on CR 344 and drive 0.1 mile to a small clear area on the left side of the road. Park here next to the Colorado Trail sign.
Drive the other vehicle and bikes back to US 24 and turn right (south). Approximately 8 miles from Buena Vista look for a sign to Mt. Princeton and Saint Elmo. Turn right (west) on CR 162 and drive 4.5 miles to the Mt. Princeton Hot Springs. Just after the facilities, turn right on CR 321 uphill. Follow this paved road 0.8 mile to CR 322 and turn left on the dirt road with a sign to the Young Life Frontier Ranch. Stay left on CR 322 after the yield sign and drive 1.4 miles to the Mt. Princeton Trail parking area. Park here and start riding.
Location: Mount Princeton to Cottonwood Pass (Buena Vista)
Distance: 11.1 miles – one way
Riding Time: 1.5 to 2.5 hours
Riding Surface in Miles: Paved 1.6, Dirt Road 1.5, Singletrack 8
Aerobic Level: Moderate
Technical Difficulty: Intermediate with an Advanced final descent
Elevation in Feet: Low Point 8,867; High Point 10,097, Climbs 1,853; Descends 2,249
Land Status: USFS; Private Land
Maps: Mount Antero, Buena Vista West
Options: Ride out and back to double your fun and avoid running shuttle. If you ride it both ways, it doesn't matter what direction you ride since you'll hit the big hill either direction. Riding out and back may be the best. Follow the directions to the Mt. Princeton parking area and ride.

Mt. Princeton Hot Springs to Cottonwood Hot Springs Photo Gallery
Mt. Princeton Hot Springs to Cottonwood Hot Springs Mileage Log
0.0 From the parking area ride straight west uphill toward the obvious summit of Mt. Princeton (14,197 ft.) on the road that parallels the log fence.
0.2 Stay on the road to the right between 2 fences, is CR/FSR 322. A sign reads "Mt. Princeton" and points to the desired direction.
1.1 Turn right. The singletrack Colorado Trail goes north while the road switchbacks south. A tiny sign here points to the Colorado Trail. This section of singletrack swings between the trees and is very smooth.
2.1 The trail gets rocky with the only technical challenge being transition betweens the sharp downhill to sharp uphill as you cross the washes. Shift, or push!
2.3 Cross a small stream on a log bridge.
2.4 Cross an old logging road and continue on the skinny.
4.1 Cross a stream on a log bridge and another soon after.
5.1 Ride through an aspen grove and into a open meadow with great views of the valley south of Buena Vista.
5.8 Beautiful view of Mt. Yale (14,194 ft.) to the north.
6.5 The trail runs downhill to Cottonwood Pass and is loose and sandy. The second section is beautiful and the last section technical. Horses frequently use this section of trail so it can be very torn up. Technical riders love it. If you don't want to ride the technical downhill, turn around and ride back to Mt. Princeton.
6.7 Watch out for the left hand switchback.
7.1 The trail intersects a logging road. Stay on the more traveled path to the right.
7.2 Turn sharply left on to the singletrack. From here the trail is technical with small drop-offs.
8.5 Cross a large dirt road and continue on the Colorado Trail.
8.9 The trail descends to Cottonwood Creek and winds past beaver ponds.
9.0 Turn right on the wooden bridge that crosses the creek. This is another good place to turn around if riding out and back. Don't worry, the big hill isn't as bad as it looked. Ha!
9.1 After a very short uphill, reach a small cleared area. Ride directly ahead on the rocky road.
9.2 The trail intersects a dirt road and the small cleared area is where you park the shuttle vehicle. If you parked at Cottonwood Hot Springs, turn right on CR 344.
9.5 CR 344 turns to pavement and T-intersects with CR 306, the Cottonwood Pass road. Turn right downhill. There are no shoulders so be careful.
11.1 Turn left into the Cottonwood Hot Springs and watch out for the wide slats on the bridge.
Ride With Care
Bicycle riding is a physically strenuous activity with many risks and dangers. Hazards, natural or man made, whether noted in this book or not, can be encountered at any time under any situation. As a cyclist, we assume you know your personal abilities and limitations. This book represents nothing more than a guide to the trails and roads and is not meant to replace your common sense, your ability to navigate in the wilderness or in traffic, or your ability to ride a bicycle safely.
In addition, the mileages and routes listed in this text are only suggestions. There may be variances and you may get lost. We recommend everyone uses a GPS and topographical map to navigate. Most routes in this text are located on public land, but some trails pass through or adjacent to private land. Respect the land owner's rights and obey all signs regarding trail use. The same goes for wilderness areas which prohibit mountain bike riding. Neither the author, nor the publisher, nor anyone else mentioned in this book are responsible or liable in any way for any accident, injury or any action brought against anyone traveling any route listed in this book. All cyclists and their companions assume responsibility for themselves. Ride at your own risk.