Lost Canyon Road: Granite to the Columbine Mine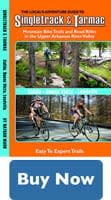 Published with permission from the guide book: The Local's Adventure Guide to Singletrack & Tarmac – Mountain Bike Trails and Road Rides in the Upper Arkansas River Valley by Nathan Ward.
Featuring 36 Mountain Bike Trails and 18 Road Rides in and around Buena Vista & Salida, Colorado – beginner to expert, town to summit, smooth tarmac to extreme singletrack.
Maps and Elevation Profiles for each ride, including altitude gain and loss.
Local Advice on riding areas and seasons, where to sleep, where to soak, where to find the best pizza, the best coffee and the best bars in Buena Vista & Salida, Colorado.
Lost Canyon Road: Granite to the Columbine Mine follows part of the Leadville 100 route and includes the race's infamous climb. If that doesn't scare you off, the ride offers perhaps the best views of any ride in this book – expansive vistas of huge mountain peaks and alpine lakes in every direction. The upper section of the ride climbs high above tree line and traverses alpine meadows where nothing blocks your view. If you're hard enough to handle the climb, this ride is well worth it. Go for it!
Trailhead Access: This ride starts in Granite, 16 miles north of Buena Vista. Park north of the restaurant and be sure your vehicle isn't in the way of their business. If the area is too crowded, drive 0.3 mile up Lost Canyon Road and park on the side of the road after crossing the cattle guard.
Location: Granite, North of Buena Vista
Distance: 21.6 miles – out and back
Riding Time: 3 to 4 hours
Riding Surface in Miles: Dirt Road 21.6
Aerobic Level: Strenuous – altitude and climbing
Technical Difficulty: Novice
Elevation in Feet: Low Point 8,975; High Point 12,549; Climbs/Descends 3,679
Note: This is not a ride to do if there is danger of lightning.
Land Status: USFS, BLM, Private Land
Maps: Granite
Options: Drive part-way up Lost Canyon Road (CR/FSR 398) to shorten the climb and still see the sweet views from the top. The road can be driven by almost any car with decent clearance.
Lost Canyon Road: Granite to the Columbine Mine Photo Gallery
Lost Canyon Road: Granite to the Columbine Mine Mileage Log
0.0 Ride to Lost Canyon Road at the south end of the store. Turn right uphill.
0.3 Cross a cattle guard and enter public land.
1.2 Stay straight on CR 398.
1.7 The road splits. Stay on the left road, CR/FSR 398.
1.9 Stay straight on CR/FSR 398.
2.9 The road splits. Take the left road, CR/FSR 398. A small sign points to the Gold Basin Mine.
3.8 Many side roads cut off to camping spots in this area. Stay on the main road.
3.9 The Colorado Trail cuts south on the left.
4.0 The Colorado Trail cuts north on the right.
7.1 Follow the switchbacks up, past 2 log garages on the left.
8.1 Pass a large metal tripod in the creek. It looks like a mining dredge. The road gets rockier and climbs above tree line – probably because all the trees were cut long ago to build cabins. The creek above shows evidence of heavy mining and there are lots of remnants to view while pedaling.
8.3 Stay on the lower main road.
8.7 Turn right toward an old cabin. Turn immediately left and turn left again so you are in front of the cabin and pointed uphill. Walk around the back for an awesome view of Twin Lakes to the north. Get back on the bike and ride west uphill.
8.9 The road splits. Ride up the steeper right hand road.
9.5 Steep, high altitude climbing. When it feels like your heart and lungs are going to burst from your chest and scamper away across the alpine meadow like a frenzied marmot, stop and look behind for a great view of the Mosquito Range.
9.9 You have reached the top of the world! When the road splits, take the left road. You are headed to the old mining camp directly to the left on the distant saddle. The climbing is pretty much finished.
10.8 Stop and explore the area around the Columbine Mine, and watch out for mine shafts. Where the mountain drops off, look south at this line of peaks – Waverly Mountain (13,292 ft.), Mount Oxford (14,153 ft.), Mount Belford (14,197 ft.), Pecks Peak (13,270 ft.), and Missouri Mountain (14,067 ft.) – from east to west. This view is awesome, especially in late September when the aspen turn the lower hillsides golden. If you have time and energy left, ride the other faint roads that wind around above tree line for more incredible views. Follow the same route back down. The descent is as fast and the climb was slow. You are a rocket on two wheels. Go Rocket go.
Turquoise Lake Loop
The Turquoise Lake loop is half road ride and half singletrack. It circles a high alpine reservoir with excellent views of the lake and surrounding peaks. The singletrack presents some tricky bits and beginners will need to walk sections. The western part of trail is much more technical than the rest. The Turquoise Lake loop is a good training ride or introduction to singletrack riding.
Ride With Care
Bicycle riding is a physically strenuous activity with many risks and dangers. Hazards, natural or man made, whether noted in this book or not, can be encountered at any time under any situation. As a cyclist, we assume you know your personal abilities and limitations. This book represents nothing more than a guide to the trails and roads and is not meant to replace your common sense, your ability to navigate in the wilderness or in traffic, or your ability to ride a bicycle safely.
In addition, the mileages and routes listed in this text are only suggestions. There may be variances and you may get lost. We recommend everyone uses a GPS and topographical map to navigate. Most routes in this text are located on public land, but some trails pass through or adjacent to private land. Respect the land owner's rights and obey all signs regarding trail use. The same goes for wilderness areas which prohibit mountain bike riding. Neither the author, nor the publisher, nor anyone else mentioned in this book are responsible or liable in any way for any accident, injury or any action brought against anyone traveling any route listed in this book. All cyclists and their companions assume responsibility for themselves. Ride at your own risk.