Blank's Cabin to Monarch Pass (US 50) Loop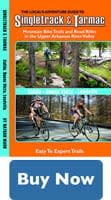 Published with permission from the guide book: The Local's Adventure Guide to Singletrack & Tarmac – Mountain Bike Trails and Road Rides in the Upper Arkansas River Valley by Nathan Ward.
Featuring 36 Mountain Bike Trails and 18 Road Rides in and around Buena Vista & Salida, Colorado – beginner to expert, town to summit, smooth tarmac to extreme singletrack.
Maps and Elevation Profiles for each ride, including altitude gain and loss.
Local Advice on riding areas and seasons, where to sleep, where to soak, where to find the best pizza, the best coffee and the best bars in Buena Vista & Salida, Colorado.
Blank's Cabin to Monarch Pass Loop: The road to Blank's Cabin meanders up a huge alluvial fan to a beautiful meadow at Blank's Cabin near the foot of Mount Shavano (14,229 ft.) – no ride has better views of this peak. From the meadow, the Colorado Trail travels seven miles south along prime, mostly nontechnical, singletrack through forests of aspen. This trail isn't ridden often so you will have it to yourself with only the company of wild turkeys, deer and elk.
Trailhead Access: From Salida, drive west on US 50 to Poncha Springs. Stay on US 50 west through Poncha Springs and turn right (north) on CR 250, 2.3 miles past Poncha Springs. Continue on CR 250 through a stop sign where the road changes to dirt and park on the left side of the road after crossing a cattle guard and entering the Shavano Wildlife Management Area. It's more of a wide spot than a pull out.
Location: West of Salida at the base of Mount Shavano
Distance: 24.0 miles – loop
Riding Time: 3 to 4 hours
Riding Surface in Miles: Paved 5.6, Dirt Road 10.5, doubletrack 0.4, Singletrack 7.5
Aerobic Level: Moderate – one big climb
Technical Difficulty: Intermediate – two short tricky downhills
Elevation in Feet: Low Point 7,964; High Point 9,888; Climbs/Descends 3,318
Land Status: USFS, Private Land
Maps: Salida West, Maysville
Note: Don't look for Blank's Cabin. It's gone.
Options:
a. Pedal out and back to Blank's Cabin – park where the loop road starts, ride the road to Blank's Cabin and the first 1.3 miles of singletrack. This keeps the technicality to a novice level, perfect for beginners. Round trip is 15.2 miles.
b. Ride just the singletrack – park or camp at Blank's cabin and ride the 7 mile singletrack out and back for a total of 14 miles of the good stuff.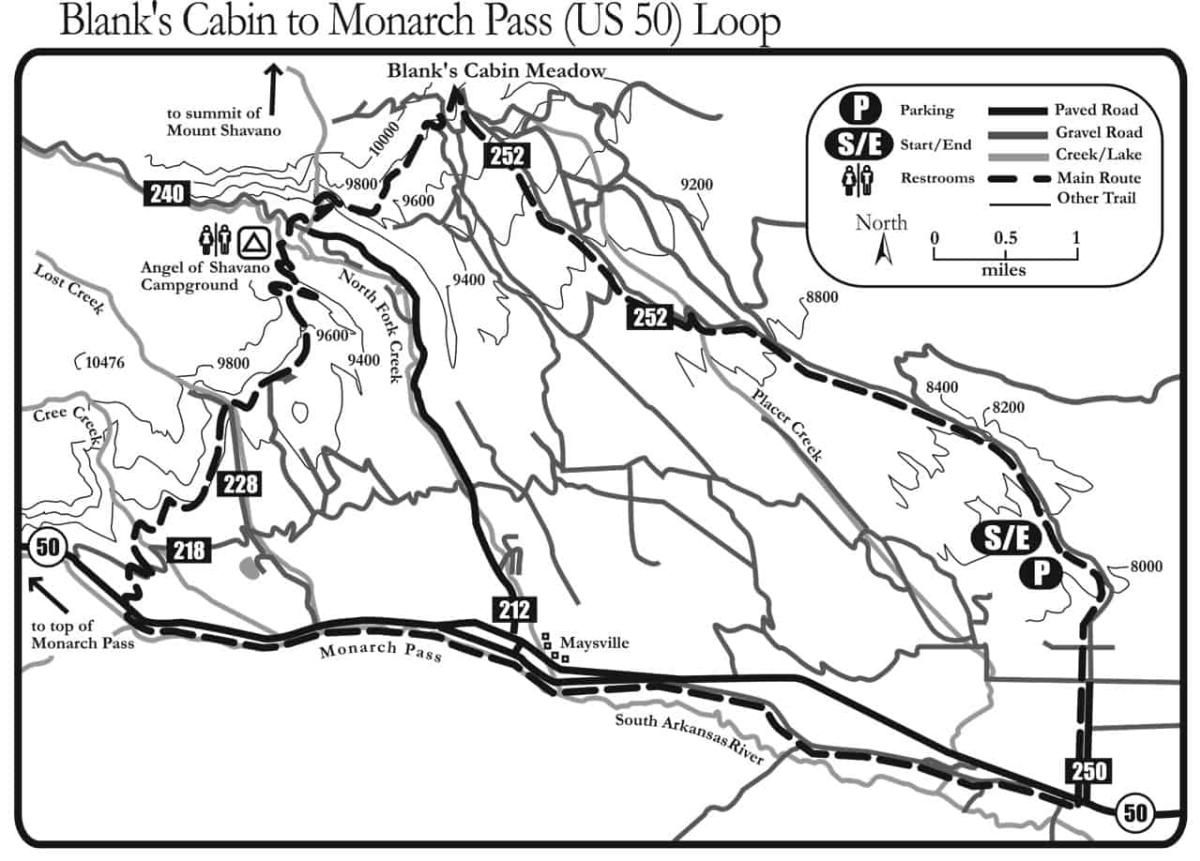 Blank's Cabin to Monarch Pass Photo Gallery
Blank's Cabin to Monarch Pass Mileage Log
0.0 Ride uphill west on CR 250 toward Mt. Shavano.
1.2 Cross a cattle guard. Always stay on the main road.
2.8 Cross a cattle guard with a sign "San Isabel National Forest". About 60 yards farther the road forks. Take the signed left hand road, FSR 252.
3.6 The road curves around a big switchback to the left. Stay on the main road.
5.9 The road forks – stay on the left hand road through the fence and over the cattle guard. About 20 yards ahead look for a small Colorado Trail sign.
6.1 The road splits again and CR 252B turns left. Ride the right hand road straight and downhill.
6.2 Reach a parking lot with pit toilets. There is a camping area off to your left. Follow the trail right past the toilet and it will intersect with the Colorado Trail.
6.3 Turn left on the CT and ride south on the singletrack following the sign to "CR 240 – 2, HWY 50 – 7". Get ready for beautiful smooth singletrack.
6.5 Cross a small road and continue on the singletrack.
7.6 As you top out a ridge, look left for a great view of the Sangre de Cristos. Below is the North Fork Creek drainage. From here, the trail drops steeply into the drainage and the bottom section is technical. If you are doing the out and back option to Blank's Cabin, turn around here.
8.4 At the bottom of the hill is a parking area and a large sign for the Angel of Shavano Trailhead. Do not turn onto the road, but continue in front of the sign on singletrack until it intersects the dirt road, CR 240. Ride directly across CR 240 and continue on the singletrack.
8.6 Cross North Fork Creek on a wooden bridge. The trail starts to climb almost immediately and it's a long climb. This section of trail is not used much and not as well maintained. Keep your eyes open for downed trees and washed-out slopes. It's also a great area to spot wildlife.
10.1 The top of the climb! From here the trail drops descends and whips through the trees. Fun.
11.2 A small logged area, the singletrack swings around to the left.
11.5 Cross the old fire road and continue straight.
12.6 As you enter a large open area and your front wheel points toward the meadow, the Colorado Trail continues at a 45˚ angle to the right, just across the doubletrack road into the aspens. There are no signs, except for a Colorado Trail sign 10 feet up an aspen tree. The trail follows the perimeter of the meadow.
12.7 Cross the dirt road, FSR 228, and continue on singletrack. Look for signs.
13.0 After a short downhill, cross the creek on two small bridges. This drainage is choked with downed aspen and beaver ponds.
13.3 Top out on the ridge. Ride beneath the metal power line tower straight ahead where the trail follows a doubletrack road downhill.
13.7 Turn sharp left onto singletrack. There is a small Colorado Trail sign.
14.1 Cross the railroad grade and ride slightly left, follow the signs downhill.
14.2 T-intersection with US 50/Monarch Pass. Watch out because the trail spits you out right on the shoulder of the road! Watch for cars. Turn left (east) down US 50/Monarch Pass.
16.6 Turn right on CR 220 through the village of Maysville.
18.4 The road forks. Take the right hand onto the dirt road. A sign points to Greens Creek/Willows Creek. The building on the right is the Mountain Spirit Winery with free tasting in case you need a little sip before continuing.
19.6 The road forks again, stay left on CR 220.
21.4 Turn right (east) at the intersection with US 50.
21.9 Turn left on CR 250
22.8 Continue through the stop sign and ride straight.
24.0 Cross the cattle guard to complete the loop. Get looped!
Ride With Care
Bicycle riding is a physically strenuous activity with many risks and dangers. Hazards, natural or man made, whether noted in this book or not, can be encountered at any time under any situation. As a cyclist, we assume you know your personal abilities and limitations. This book represents nothing more than a guide to the trails and roads and is not meant to replace your common sense, your ability to navigate in the wilderness or in traffic, or your ability to ride a bicycle safely.
In addition, the mileages and routes listed in this text are only suggestions. There may be variances and you may get lost. We recommend everyone uses a GPS and topographical map to navigate. Most routes in this text are located on public land, but some trails pass through or adjacent to private land. Respect the land owner's rights and obey all signs regarding trail use. The same goes for wilderness areas which prohibit mountain bike riding. Neither the author, nor the publisher, nor anyone else mentioned in this book are responsible or liable in any way for any accident, injury or any action brought against anyone traveling any route listed in this book. All cyclists and their companions assume responsibility for themselves. Ride at your own risk.