Sometimes the best present under the tree isn't the biggest one with the shiniest bow. Sometimes the one that is full of surprises and unexpected delights is the little, almost-hidden one. The one you discover while everyone else is busy with the big one. That's how Salida is amidst all the large, famous Colorado winter destinations. But this winter we invite you to unwrap the gifts that only this special small town can offer. Located in Chaffee County, right in the heart of Colorado, right along the Arkansas River, and right among the majestic Sawatch Mountain Range – it's just right for your winter adventures. It may be short on glitz and glamour but it's definitely big on enchantment and small town charm. In the winter, we don't hibernate, we celebrate. It's just our nature. In fact, our nature has everything to do with why this is the place to be. It's as sunny as it is snowy and as spectacular as it is serene. There is always so much to do and so many places to explore and discover. Go ahead, open it up. It's got your name on it.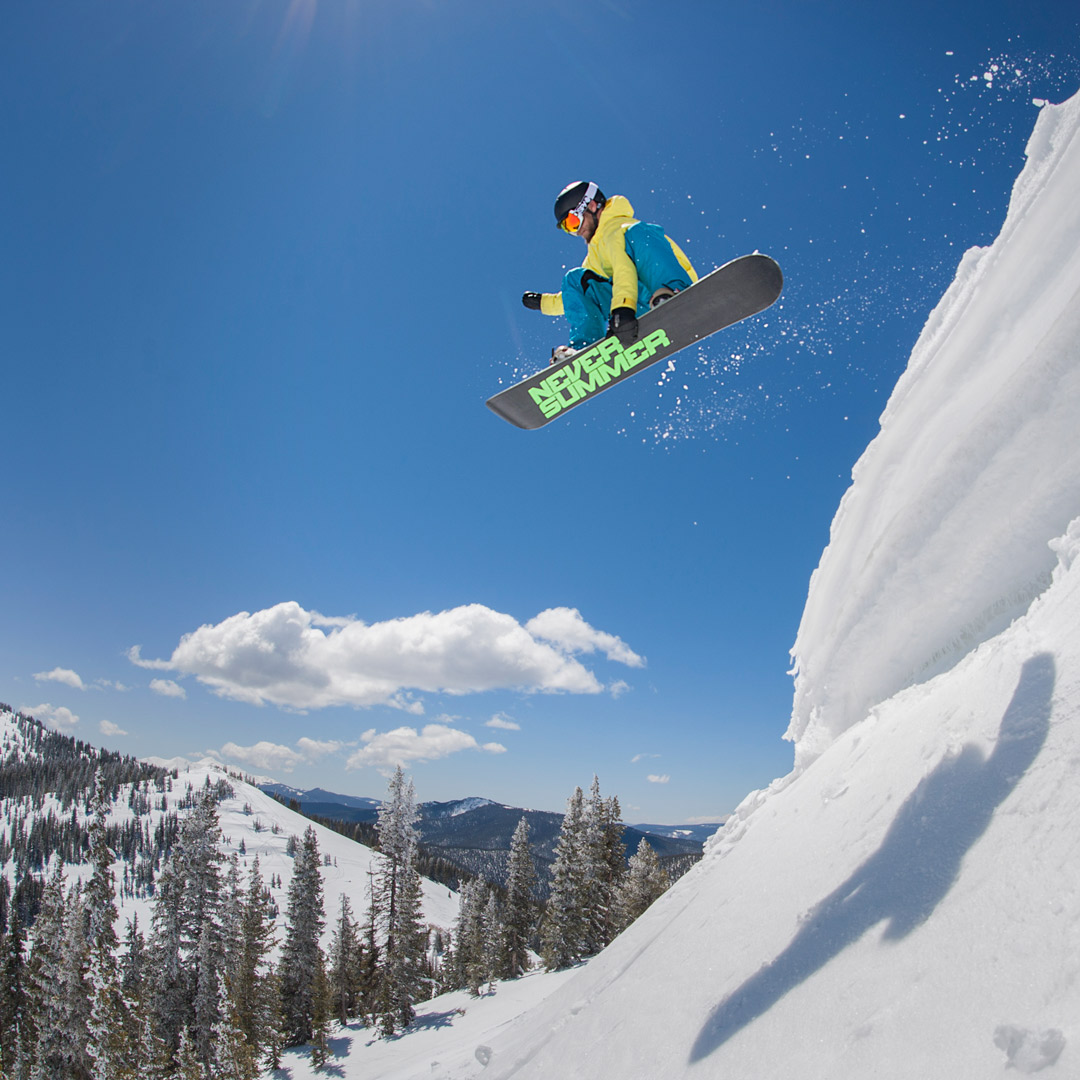 SKIING and RIDING
If you've ever been the only one on a ski run, bathed in sunlight with pillowy powder buffering your every turn, maybe you've already been to Monarch Ski Area. If not, it's time to experience this rare kind of wonder. Twenty minutes from Salida, Monarch has been delighting downhill enthusiasts for the past 78 years. One of the few remaining ski resorts with all-natural snow, it boasts an average of 350 inches of the sweet stuff every season. That adds up to tons of epic pow-pow-powder days in a laid-back but exciting atmosphere. Monarch has 64 trail runs with 6 lifts and 2400 skiable acres overall. The summit tops out at a sky-scraping elevation of 11,952 feet, unveiling some truly mind-blowing mountain views. It beckons backcountry skiers with recent impressive expansions in the Snow Cat and Mirkwood Basin expert acreage. Not an expert yet? We'll get you there. Monarch's ski instructors are members of Professional Ski Instructors of America, insuring a top-notch teaching program for every level. Nosh and après' ski at the Sidewinder Saloon, Elmo's or the Gunbarrel Cafeteria. Monarch is also one of the least expensive resorts around, too. Find deals and event info online. Rent equipment at Monarch Mountain or in Salida at Mt. Shavano Ski and Snowboard Shop, or the Mountain Sports Haus.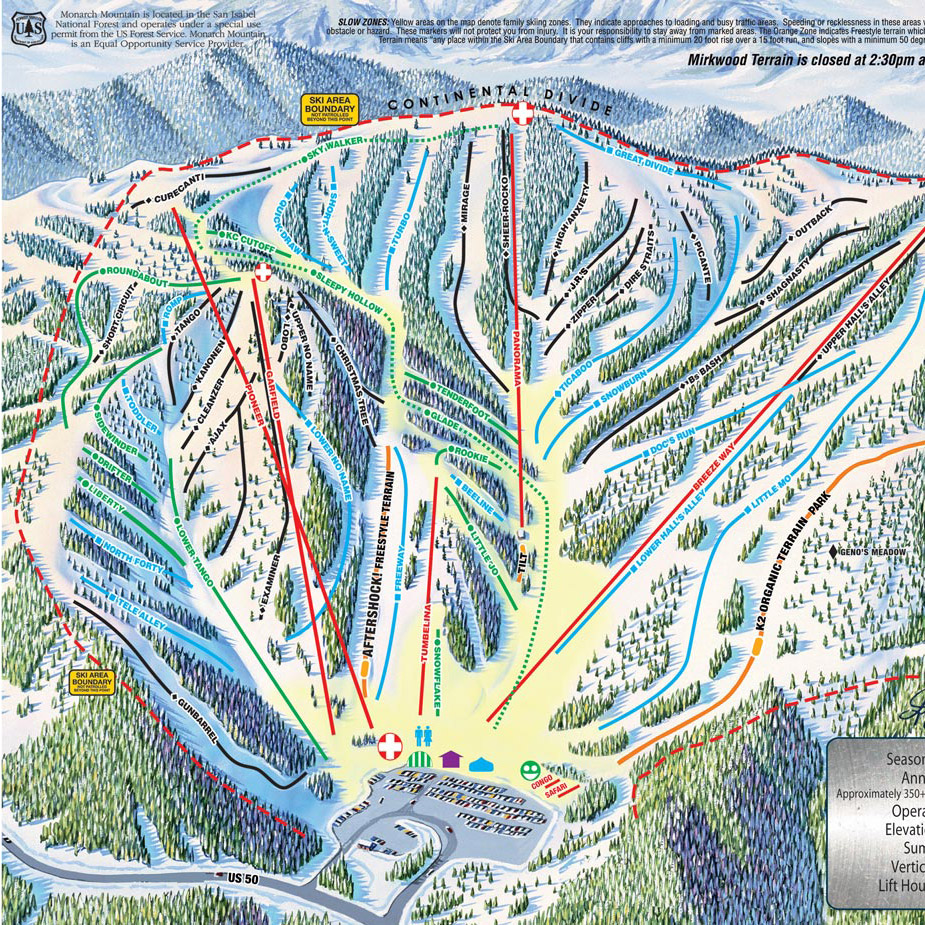 ALPINE TOURING
Just say 'no thanks' to chair lifts and 'yes!' to "skinning" your way uphill. Monarch Mountain Ski Area is among the first Colorado resorts to add designated uphill travel routes. Energetic experts can be their own human-powered lift from the base to summit even during regular skiing hours. Alpine Touring requires a little more than strong legs, though. Come equipped with specialty "climbing skins" with textured gripping to prevent backsliding and hybrid ski bindings that keep heels free uphill and clipped-in downhill. Or try a splitboard, a reconfigured snowboard that splits into two halves resembling skis. This allows a much easier uphill tromp. At the top, the two halves rejoin for downhill boarding. One of Monarch's designated routes starts left of the base lodge, then skirts along the right side of Gunbarrel run to the top of the Panorama Lift. Or start to the left of the "Never Summer" Terrain Park, staying left of 'Little Mo' intermediate run to the top of Breezeway Lift. Both routes lead to the best blue or black runs. Better yet, power on to Mirkwood Basin for some of the best expert backcountry terrain in Colorado. Alpine Touring requires a special pass for a nominal fee (sold at the Season Pass desk) and everyone must sign a waiver.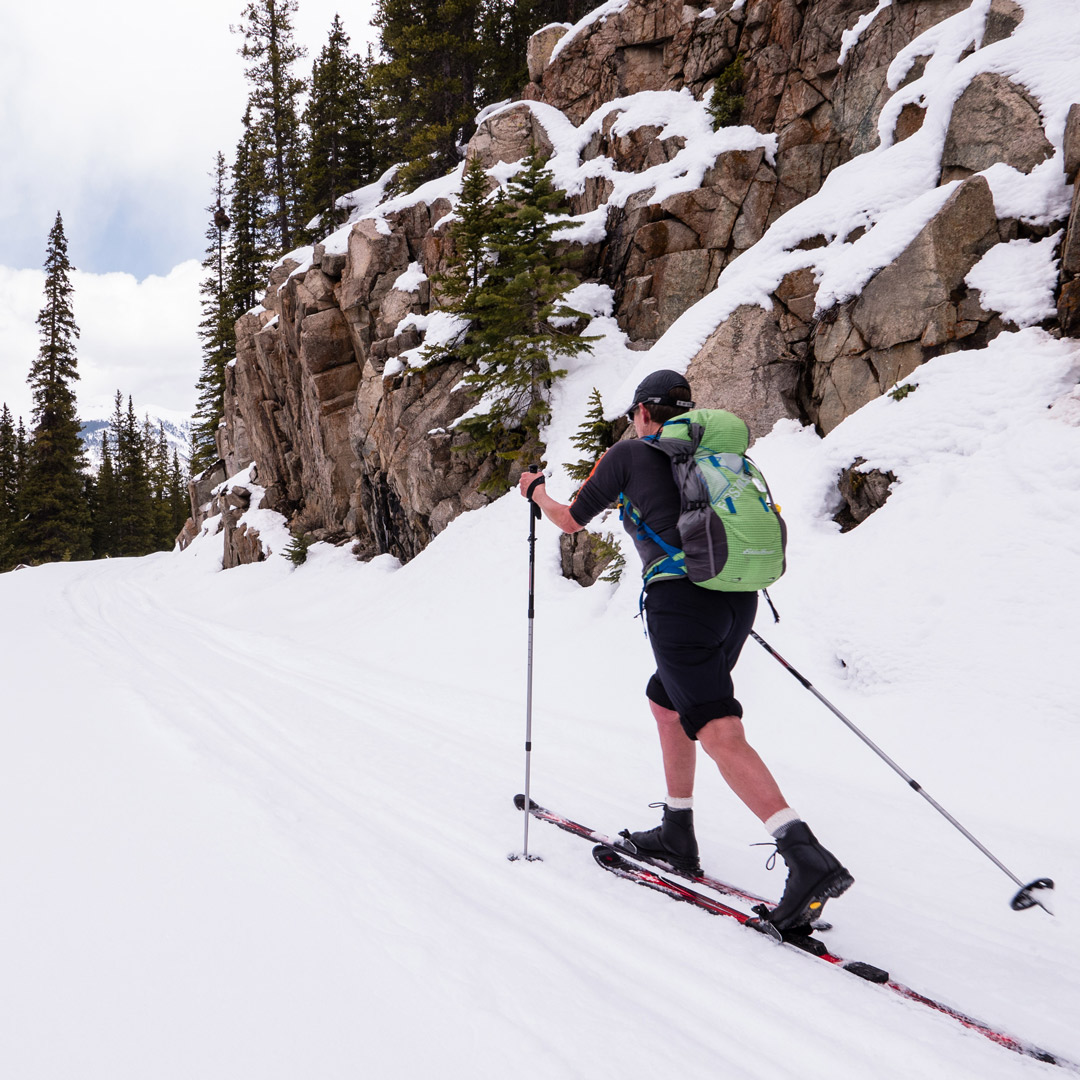 NORDIC CROSS COUNTRY SKIING
Downhill, uphill, even no hills. Sometimes skiing is about going horizontal, rather than vertical. Schuss across valleys, meadows, parks and trails in and around Salida on cross-country skis for a completely different experience. Take it slow or get aerobically aggressive on Salida's miles and miles of scenic snowy trails on unimproved terrain, mountainous areas or groomed treks. Easy to learn and guaranteed calories to burn, Nordic skiing is a winter activity that people of all ages and abilities can enjoy together. Explore the Arkansas Hill Trail System, the Rainbow Trail, Methodist Mountain and the Colorado Trail – all a quick drive from town. Or find some of the best Nordic skiing opportunities in the mountain backcountry at the Old Monarch Pass Trail or the Monarch Crest Trail near Monarch Mountain Ski Area. Salida Mountain Sports located in the historic downtown has cross country ski rental packages for the whole family. Rent for just a day or make it a few for maximum exploration. Mt. Shavano also rents cross country skis: http://www.mtshavanoskishop.com/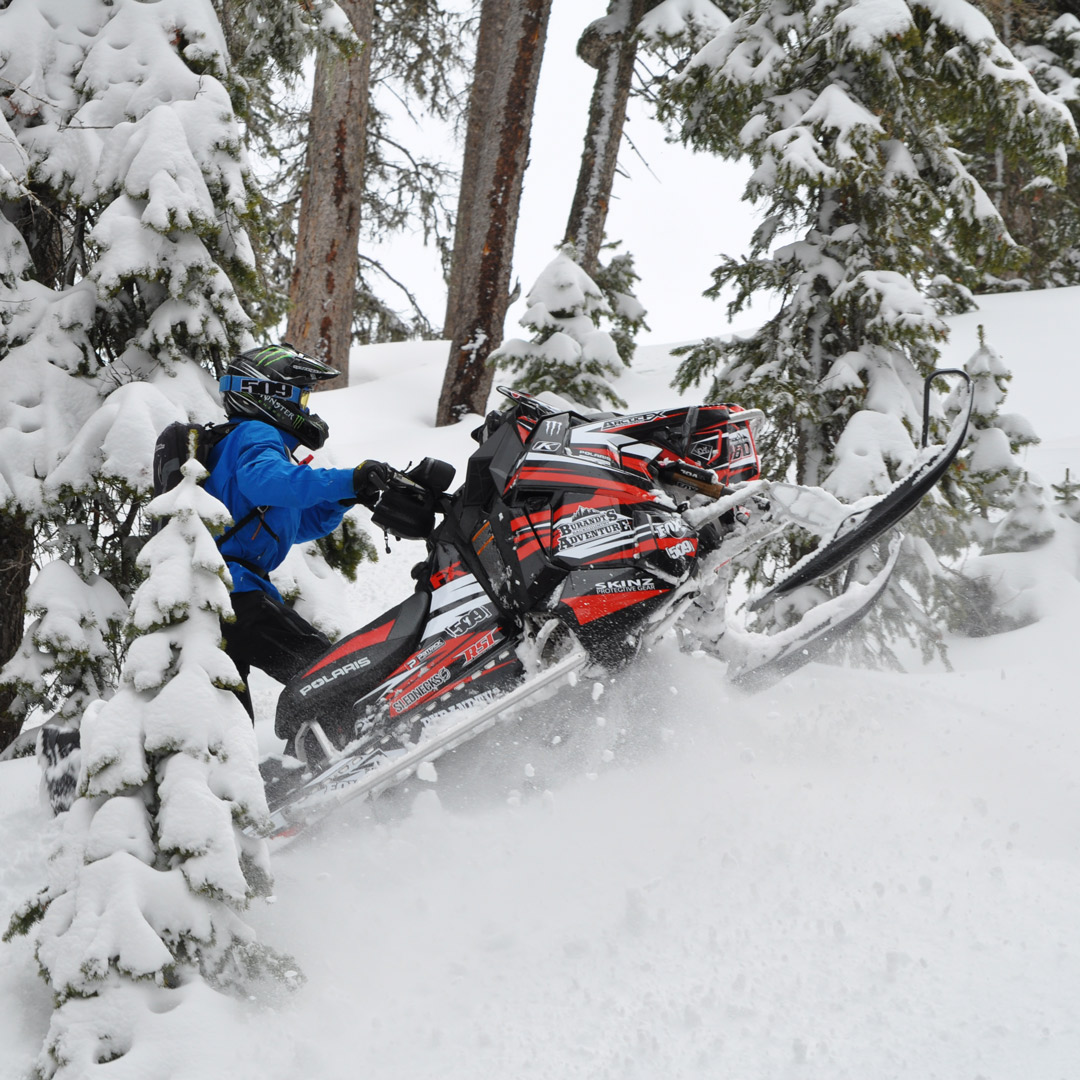 SNOWMOBILING
Then there are those with no "slow" in their vocabulary. Snowmobiles are the fastest way to see our amazing winter terrain all in a snow flurry hurry. Powder bowls, open parks, tree trails; it's all here. Salida is crisscrossed with seemingly unlimited trails of unmaintained snowmobile routes, as well as hundreds of miles of groomed backcountry trails. You can thank the Salida Heart of the Rockies Snowmobile Club for maintaining most of the groomed trails. Whether you bring your own sled or rent one here, these trails are ripe for exploration for riders at both the novice and extreme spectrum. Those unfamiliar to the area will get the most out of a guided tour trip. Beyond amazing local terrain expertise, professionally guided tours give safety in numbers, access to rides on private lands and perhaps best of all – comradery. Area snowmobile companies offer snowmobile tours up Marshall Pass for unforgettable top-of-the-world views at the Continental Divide. Ride above 11,000 feet on groomed and ungroomed trails full of steep hills and high thrills. Old Monarch Pass and Poncha Pass are also excellent areas to go with the snow. Rentals are available, too, for just a couple hours or overnight.
More rental options: http://salidachamber.org/category/recreation/snowmobiles-sales-rentals/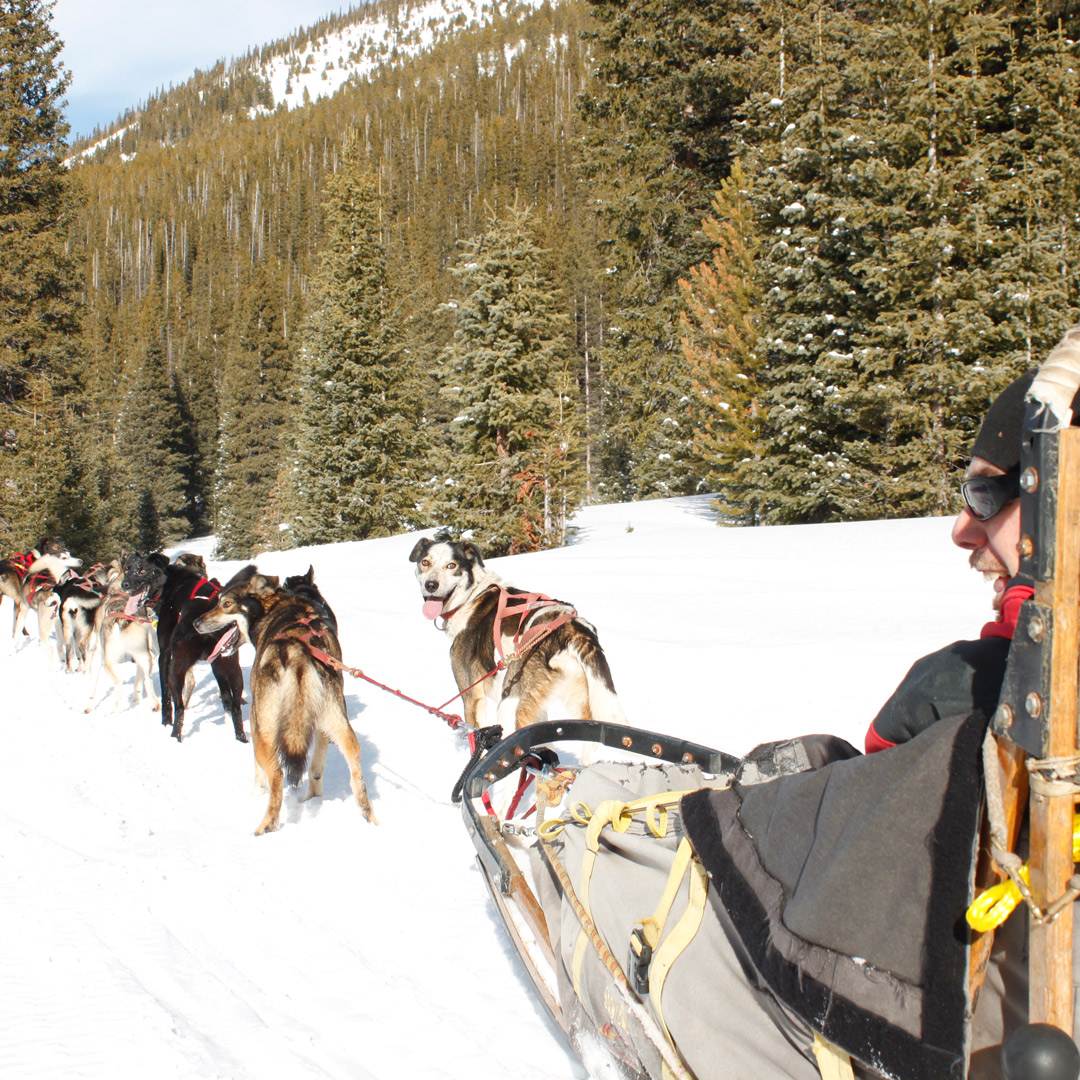 DOG SLEDDING
Mush! Dogsledding is not your average, everyday winter activity. It's an unusual, exhilarating sport borrowed from our neighbors to the Great White North. In Salida, this unforgettable experience is made possible by the Monarch Dog Sled Rides team. By team, we mean the guides as well as the noble Alaskan Huskies barking at the chance to take you for a ride at dog-speed. Behind the surprising power of this canine crew, you'll glide over vast expanses of snow in the San Isabel National Forest. The Monarch Park Tour starts with a meet-and-greet with these excitable, driven, tireless dogs. Pulling teams range from 8-14 dogs depending on conditions. Every sled has a professional guide but participants can take turns being the lead "musher." Just two sleds venture out at a time so tours are always personalized. Guides illuminate guests about the dogs, the history of the sport and the spectacular scenic area, as well. Tours meet at Monarch Park Campground, one mile east of Monarch Mountain Ski Area. Reservations required.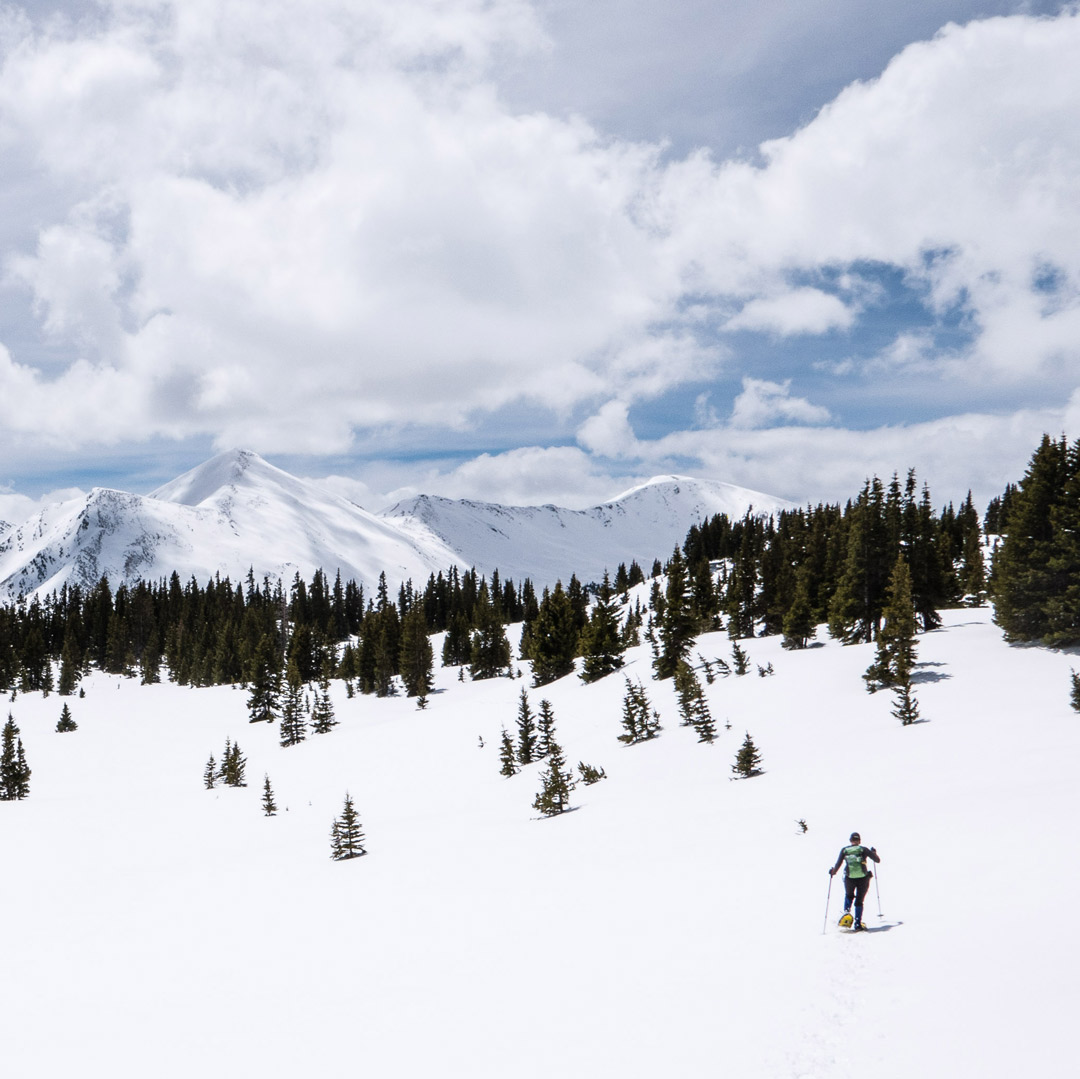 SNOW SHOEING
The same unspoiled terrain cross-country skiers enjoy here is also perfect for snowshoeing. One of the simplest, least expensive ways to get that snow-and-go experience, snowshoeing is either like a walk in the park or more of a strenuous hike. The choice is yours. Going back thousands of years, snowshoes predate even skis. Now this classic activity is not just a fun way to get out there in nature, but a powerful exercise regimen, too. Snowshoes are welcome wherever there's snow but a local favorite trek is the Angel of Shavano Trailhead. It's part of the Colorado Trail, a 130-mile wilderness trail that runs through Chaffee County. Find the trailhead west of Salida by taking US 50 to CR240 for about four miles. All that is Bureau of Land Management public lands out there, so feel free to make your own tracks. Salida Mountain Sports in downtown Salida sells and rents snowshoes and other gear.
More guiding and renting resources: http://salidachamber.org/category/recreation/skiingsnowboarding-resort-tour-operator-outfitters-supplies/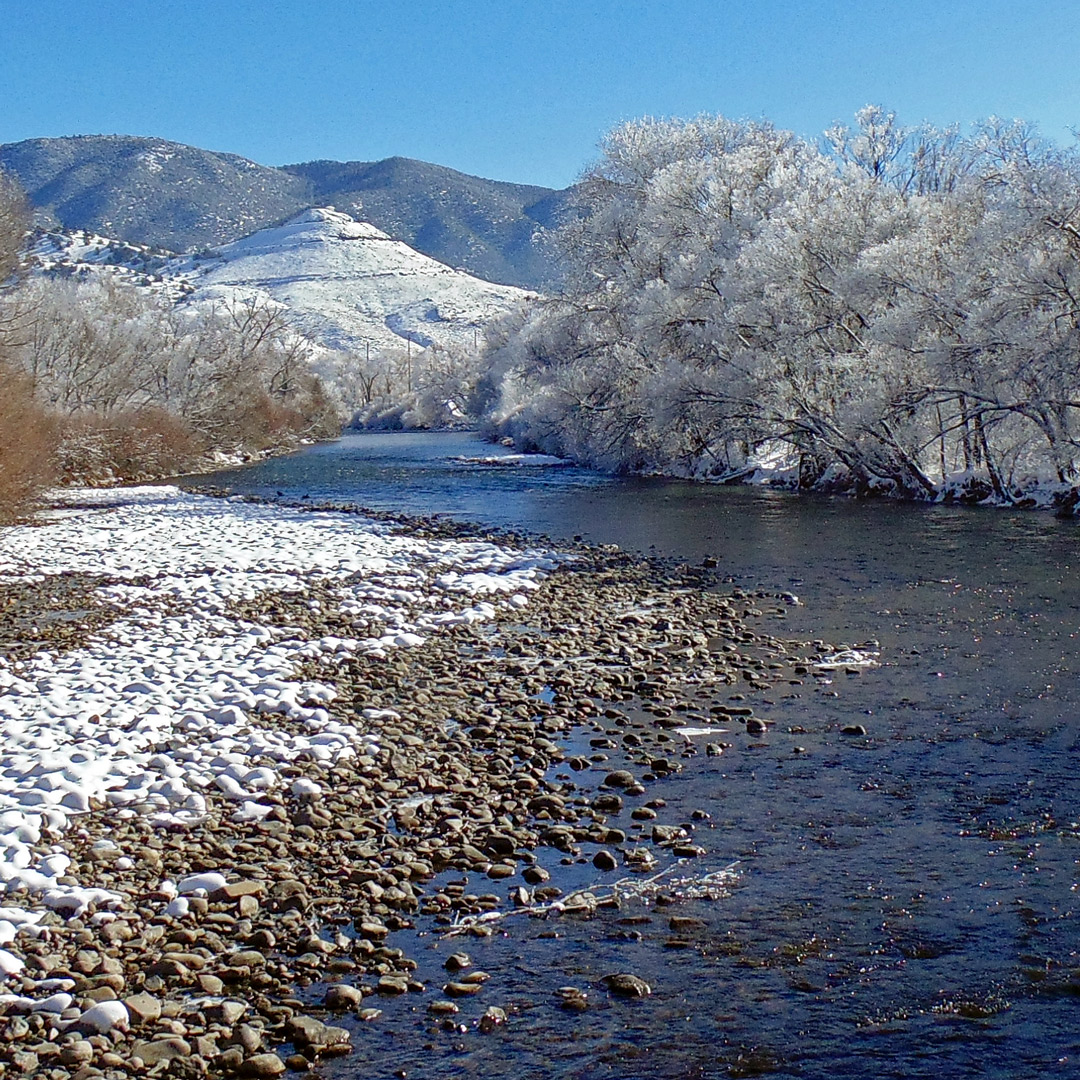 HIKING
Salida has a little secret ingredient that makes winter not just manageable, but magical. It's located in the "banana belt" of the Upper Arkansas Valley. Not banana-tropical, but just a term generally meaning a region of comparatively warm climate. This really puts the 'win' in winter. Sure, the 14ers and majestic mountains define Salida's landscape, but there are many places in the valley near downtown that are nearly desert-like. These areas receive little snow even in the middle of winter, making hiking possible year-round. Find a world of trails to explore right across the Arkansas River around Tenderfoot Mountain in the Salida Mountain Trails and Arkansas Hills Trail Systems. On Salida's south side, hike the Methodist Mountain trails, the Rainbow Trail and the Colorado Trail. It's possible to hike and ski all in the same day. Keeps life very interesting.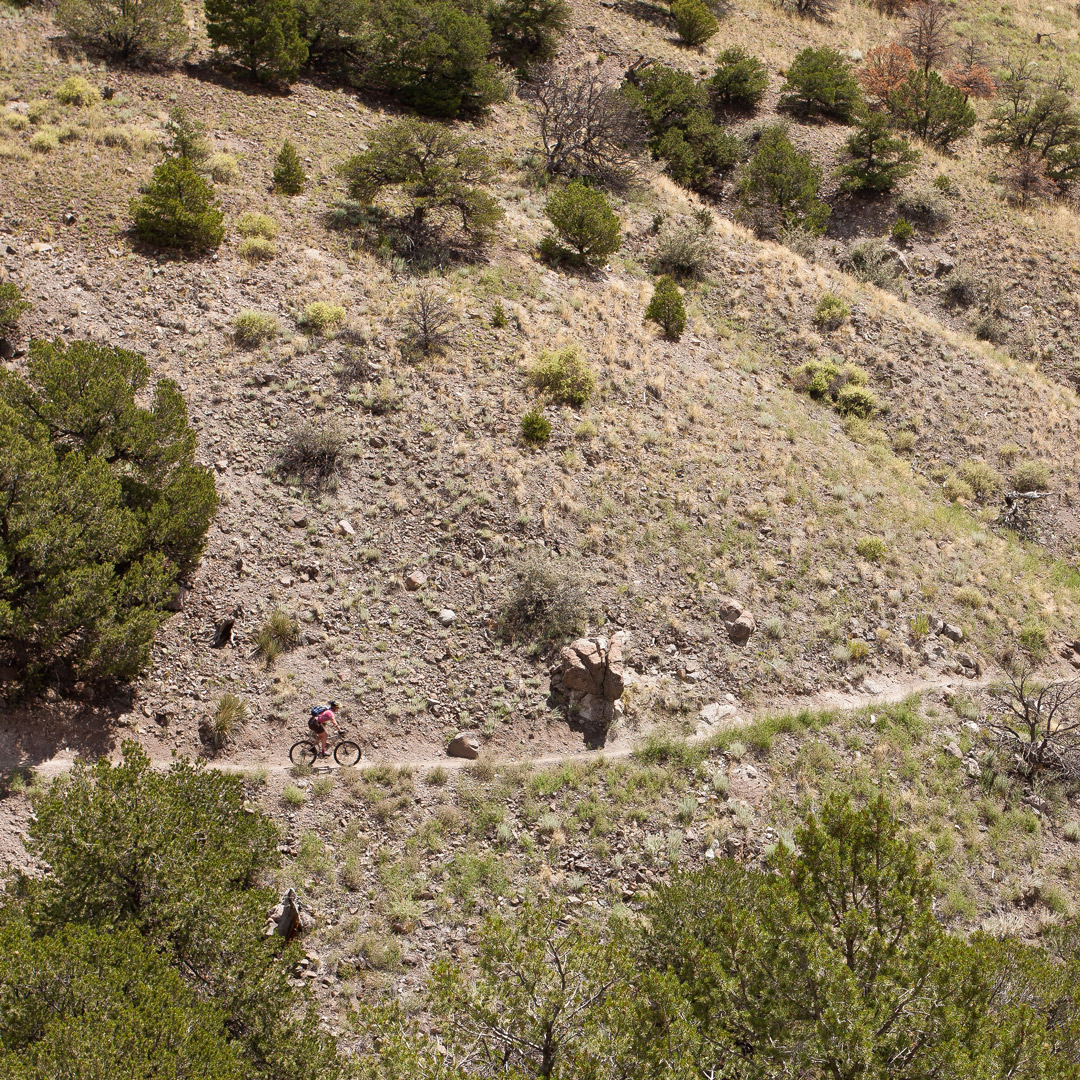 MOUNTAIN BIKING
Wheels just keep on turning in Salida – every day in every season. Salida was recently named one of the Top 5 Mountain Biking Destinations in Colorado by editors of Singletracks biking blog. Think of Salida as the center hub, with spokes flaring out in all directions leading to some of the state's best singletrack. This year-round mountain biker's mecca is home to the Monarch Crest Trail, a 21.2 mile out and back multi use trail at tree line that ranks as an International Mountain Bike Association Epic Hall of Fame ride. But even when it gets too snowy up there on those steep alpine trails, bikers are not sidelined for the winter. There's still a vast inviting network of trails and routes around the valley floor dirt trails. That's really unusual among Colorado mountain areas, but this "banana belt" town enjoys an incredibly diverse climate zone and ecosystem and that make all the difference. To find all the possibilities, trust the local experts. The crew at Absolute Bikes designed a color-coded Salida Area Trail and Events Route map outlining rides. The free Absolute Bikes app also provides up-to-date trail conditions. More local expert advice, maps and rentals are available at Salida Bike Company, Subculture Cyclery (not Chamber members with Salida Chamber) and Salida Mountain Sports.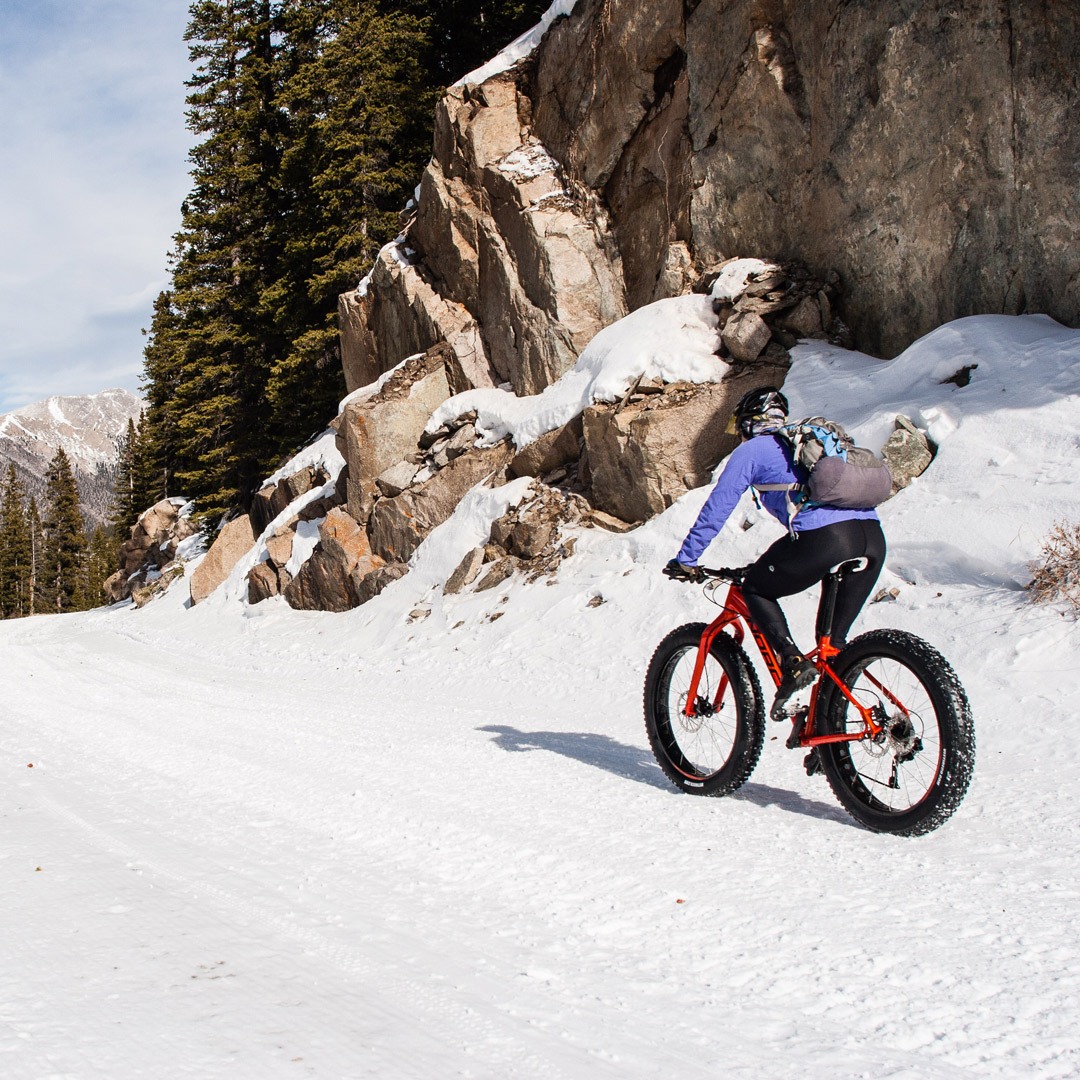 FAT BIKING
Fat Bikes are cruiser bikes with one big, fat difference – those over-sized, big-n-wide bouncy tires. All the better to ride on Salida snow, my dear. More than twice as wide as a mountain bike's, these tires make sure you don't skid or slip on ice or get slogged down in snowpack. These off-road bikes can pedal and plow through powder, no problem. In the winter, take a Fat Bike anywhere a mountain bike normally goes on miles and miles of local trails. But in this case, the snowier the better. And don't just go Fat, go high, too. Ride on the high-altitude trails that take you above treeline around the Monarch Mountain area, including the Monarch Crest Trail, named as one of the top 10 rides in the country. Fat Bikes are not allowed on the ski slopes, except for one fatty-phenomenal race day at Monarch Ski Area. Ride in the Great Divide Grinder Fat Tire Bike Race, Saturday, March 24, 2018. Illuminated by headlamps, racers start before daybreak and finish before skiers arrive. The seven-mile route treks through the slopes up to 11,800 feet and back for 2,000 feet of climb and descent. Go Fat or go home.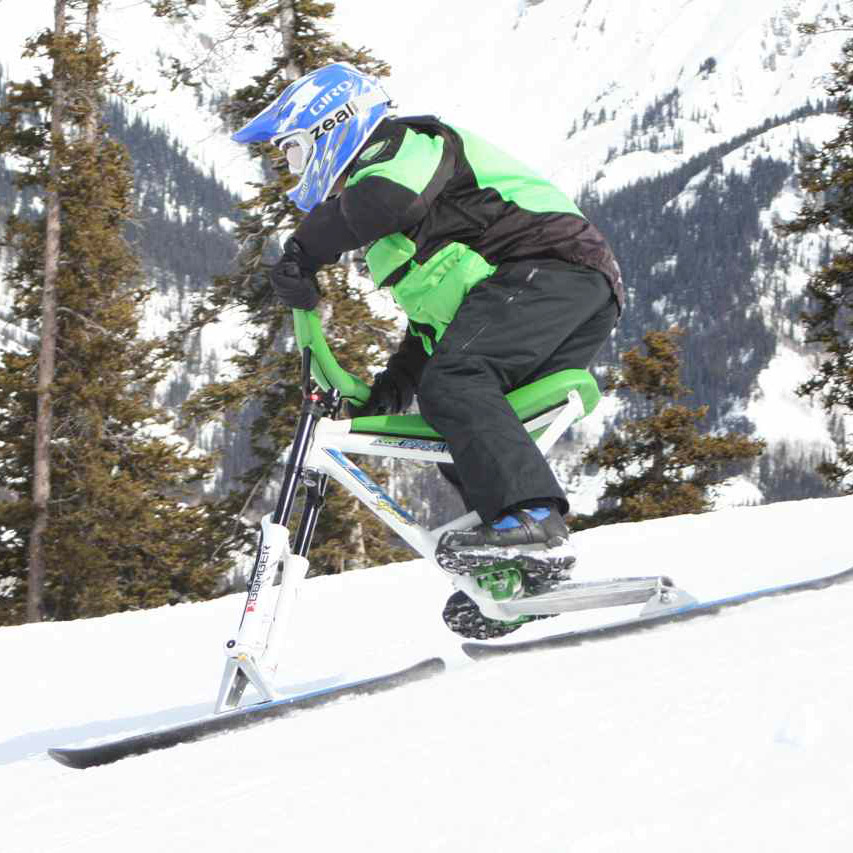 SKI BIKING
Ski Bikes are non-motorized bikes with skis instead of tires. Sometimes called skibobs, they are gaining popularity as a safe, low-impact alternative to skiing with a minimal learning curve. Riders also like that it is easier on the joints from ankle to hip than many snow sports. That's because you're skiing in a sitting position, balanced with four points of contact with the ground. Light-weight and easy to maneuver, riders can wear foot skis to help with balance and control. Ski Bikes are allowed at Monarch Mountain Ski Area with prior approval for ADA (American Disabilities Act) adaptive skiing. Adaptive snowriders are embracing the sport and many are finding new opportunities on the slopes thanks to these ingenious bikes.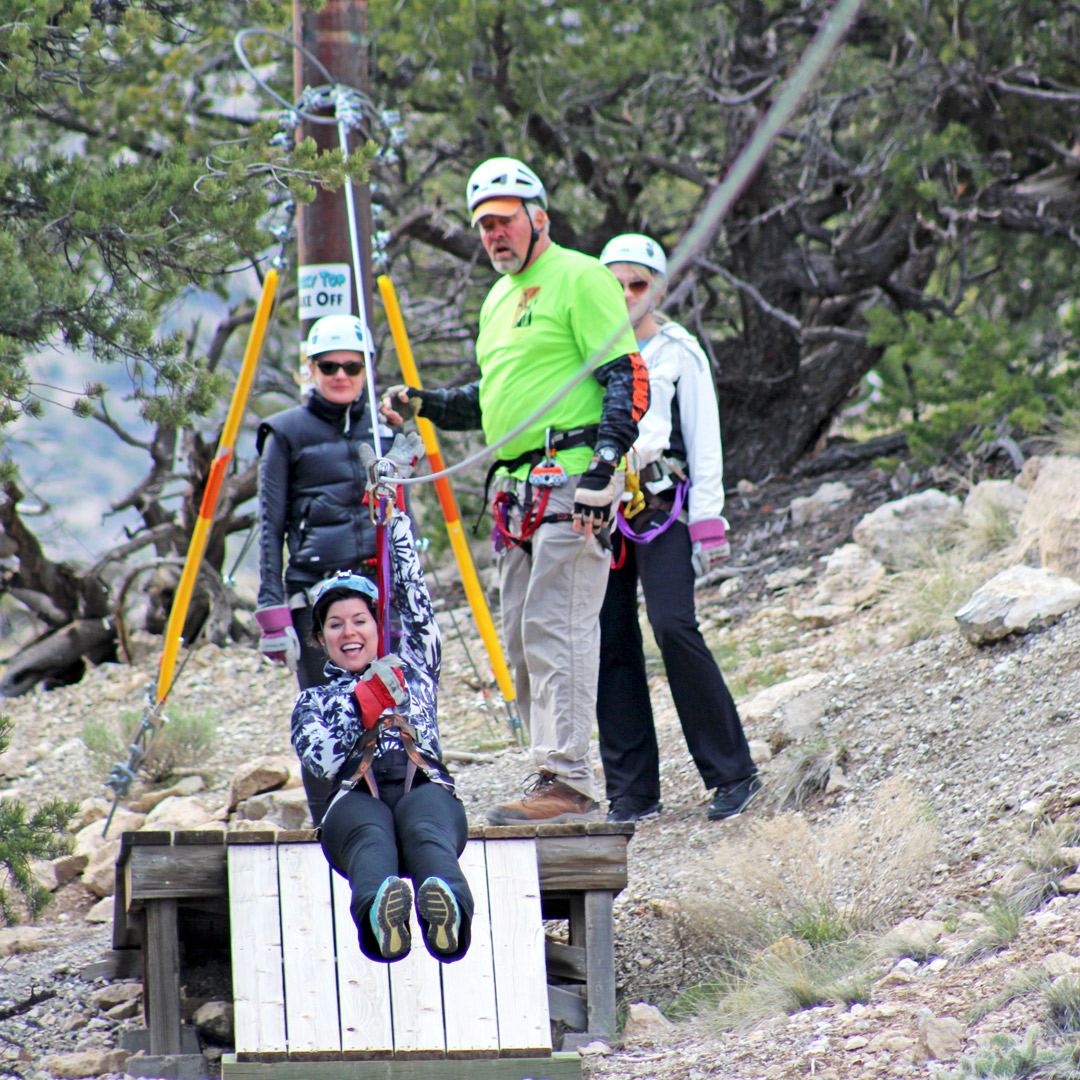 ZIPLINING
In the dramatically scenic Lost Canyon east of Salida, two daring adventures await at Captain Zipline Aerial Adventure Park. Choose to zip-and-zoom 150-200 feet above this gorgeous gorge or play in an outrageous obstacle-course below. The Lost Canyon Zipline Tour has been recognized by national media from Outside Magazine to National Geographic Traveler as one of the country's top Zip lines. With a panoramic backdrop of towering cliffs, mountain vistas and river views, this tour features six different cables (and one to practice on), ranging up to 695 feet long stretched over the canyon. Step off the cliff and plunge into an exhilarating adrenaline rush. Then stay and play at the Canyon Aerial Course, Colorado's largest aerial adventure park. Designed and built by professional Swiss Mountaineers, this daring, outdoor challenge is the real deal. Navigate a network of wooden platforms high atop 60-foot telephone poles connected by bridges, swings, cables, ropes, nets. Yes, even a flying snowboard. Unlike the Zipline, it's not an organized tour; it's two hours of free-play on 120 different obstacles of varying difficulty. Zip zip hoorah!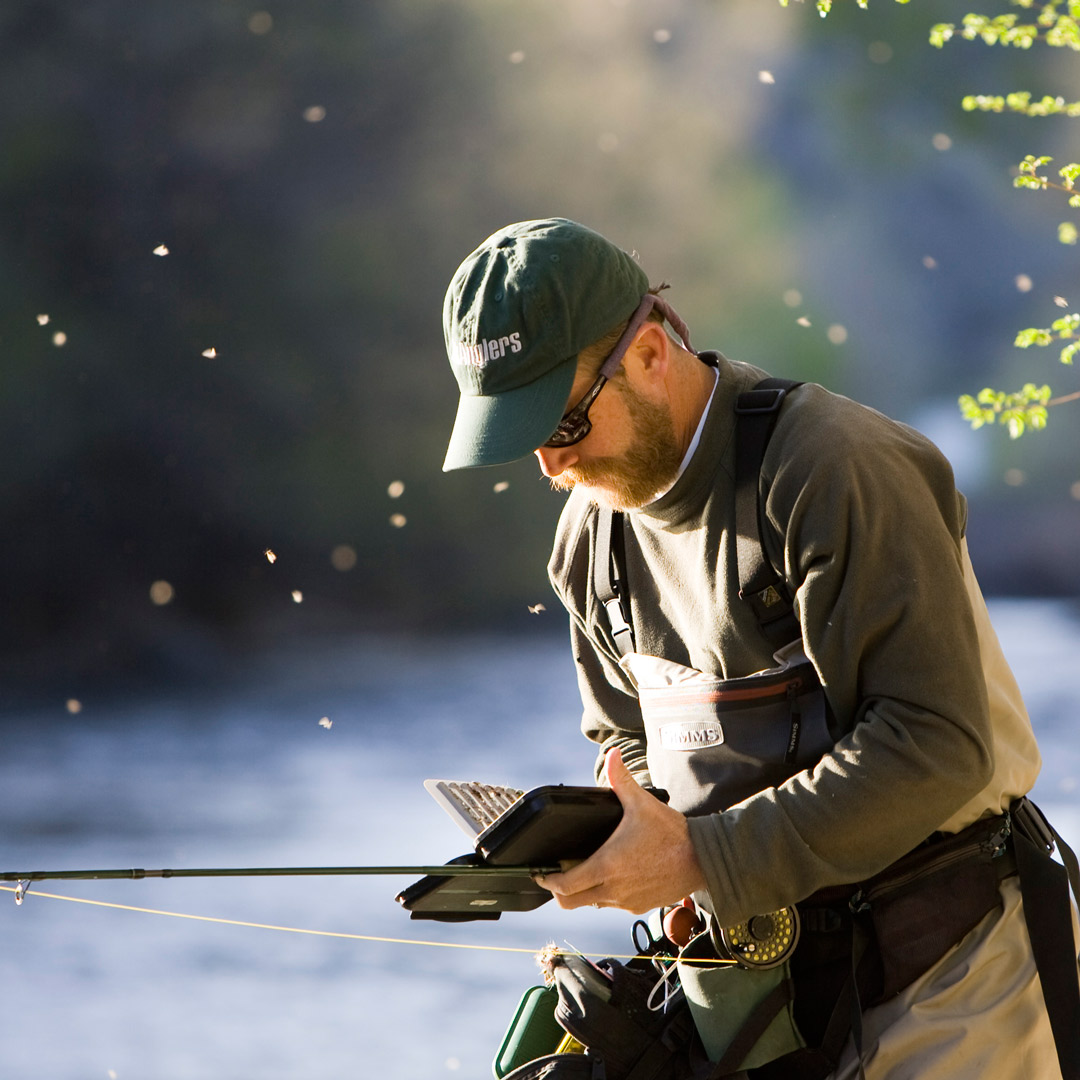 FLY FISHING
Salida is a river-runs-through-it town. The specific section of the Arkansas River that runs through Salida is known for being among the best trout fishing in the country. The Colorado Division of Wildlife estimates there are between 2,000 and 5,000 trout per river mile here. Miles of public access and boat launch sites, including the Coors Boat Ramp downtown, make it easy to find the perfect fishing hole. While this is a year-round angler's dream, winter fishing has surprising advantages like crystal-clear water and the rare chance for solitude in a pristine atmosphere. Beyond the Gold Medal waters of the Arkansas River, Salida is also surrounded by numerous streams, alpine lakes, reservoirs and ponds stocked with rainbow trout. Browns, brook and cutthroat are also abundant. Head toward Monarch Pass to fish the South Arkansas River and its tributaries: North Fork, Middle Fork, Little Cochetopa Creek and Pass and Green's Creek. Also check out Fooses Creek and the North Fork Reservoir. In the Poncha Pass area, fish O'Haver Lake and Poncha Creek. Near downtown, there's Frantz and Sand Lakes. Advice on fishing licenses, fly selection, seasonal strategies, maps, guide services and winter fly fishing clinics are available through Ark Anglers and the Arkansas Headwaters Recreation Area.
ARTS
Take an art appreciation walk through historic downtown. Salida. Nicknamed "the biggest little art town in Colorado," Salida sets the state's artistic standard. In 2012 Governor John Hickenlooper officially certified it as one of Colorado's first Creative Arts Districts. This program was created by Colorado Creative Industries (CCI) to encourage Colorado communities to nurture artistic expression, recognize innovative, inspired, and ingenious communities. Like right here, of course. Salida has 20 art galleries and studios, creating a vibrant, entertaining atmosphere full of one-of-a-kind offerings and unexpected delights. These creative hubs are all within wonderfully walkable distance of each other, too. Celebrate creativity during the Second Saturday Art Walks and Gallery Tours and the Second Thursday's creative mixer at the Steam Plant Event Center. The Steam Plant Theater is an intriguing venue for plays, concerts, comedy acts, films and cultural events. The Walden Chamber Music Society and Alpine Orchestra concert series are performed here. Salida's unpretentious, multi-faceted artsy community also includes visual and performing arts, literary and publishing, design and film and even a local acrobatic circus.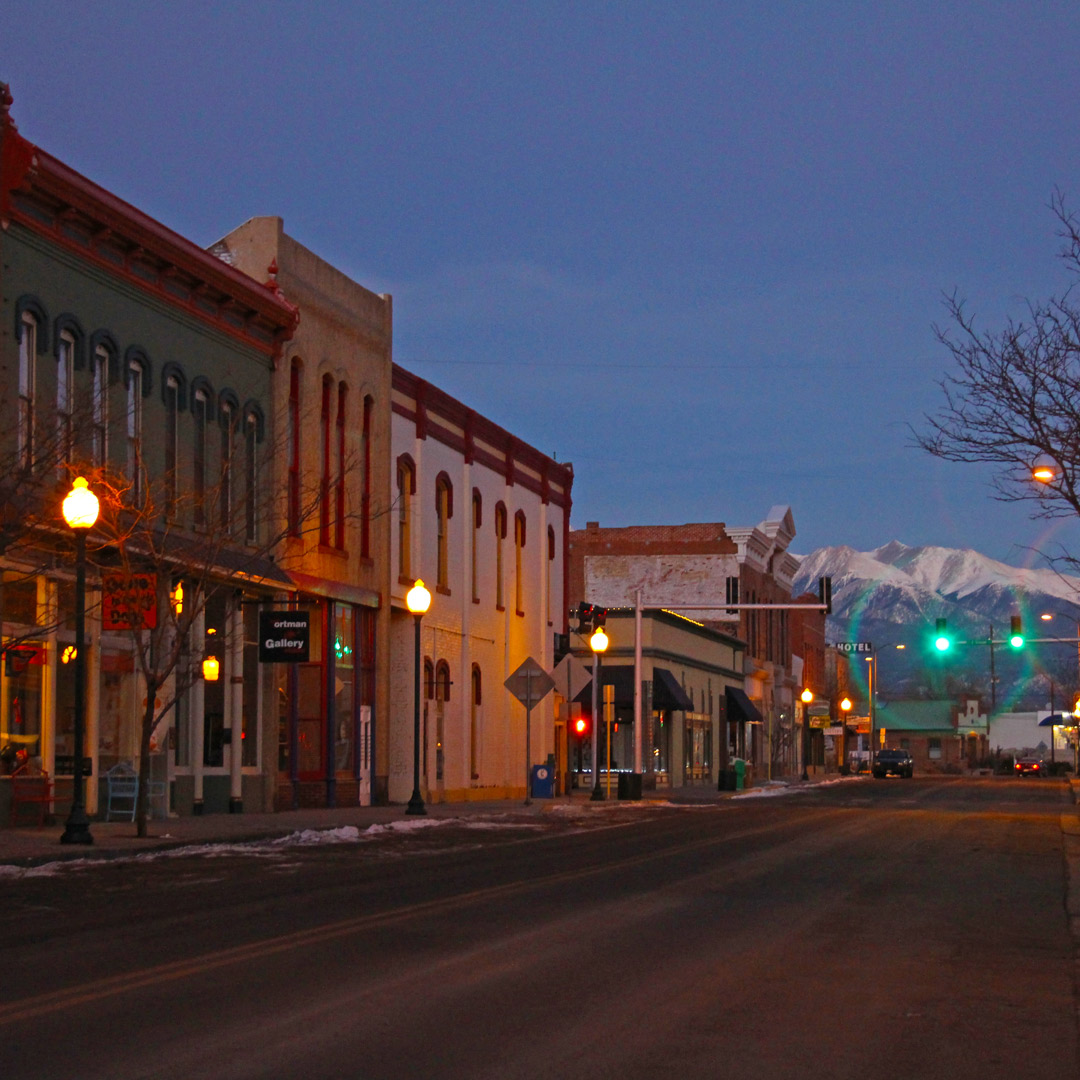 SHOPPING
It's always "Shop Local" day in Salida. There is nothing generic or mass-produced about it. Founded in 1880, downtown Salida is listed on the National Historic Register and is the largest historic district in Colorado. This special district centers on the 1st and F Street intersection, and has more than 100 turn-of-the-century historic buildings. These buildings now house charming antique and consignment shops, outdoor gear stores, independently-owned restaurants, cafes, and bars. Numerous annual parades and festivals keep this area vibrant year-round. Go on a vintage treasure hunt or upscale resale for consignment clothing, furniture and antiques. Great locally handmade creative finds from jewelry to sculpture to fine art are found in the art galleries. There are also three bike shops, numerous eclectic-chic clothes boutiques, souvenir shops, a book store, a historic five-and-dime and even a year-round Christmas shop. It's retail-therapy that supports local entrepreneurs. Win-win.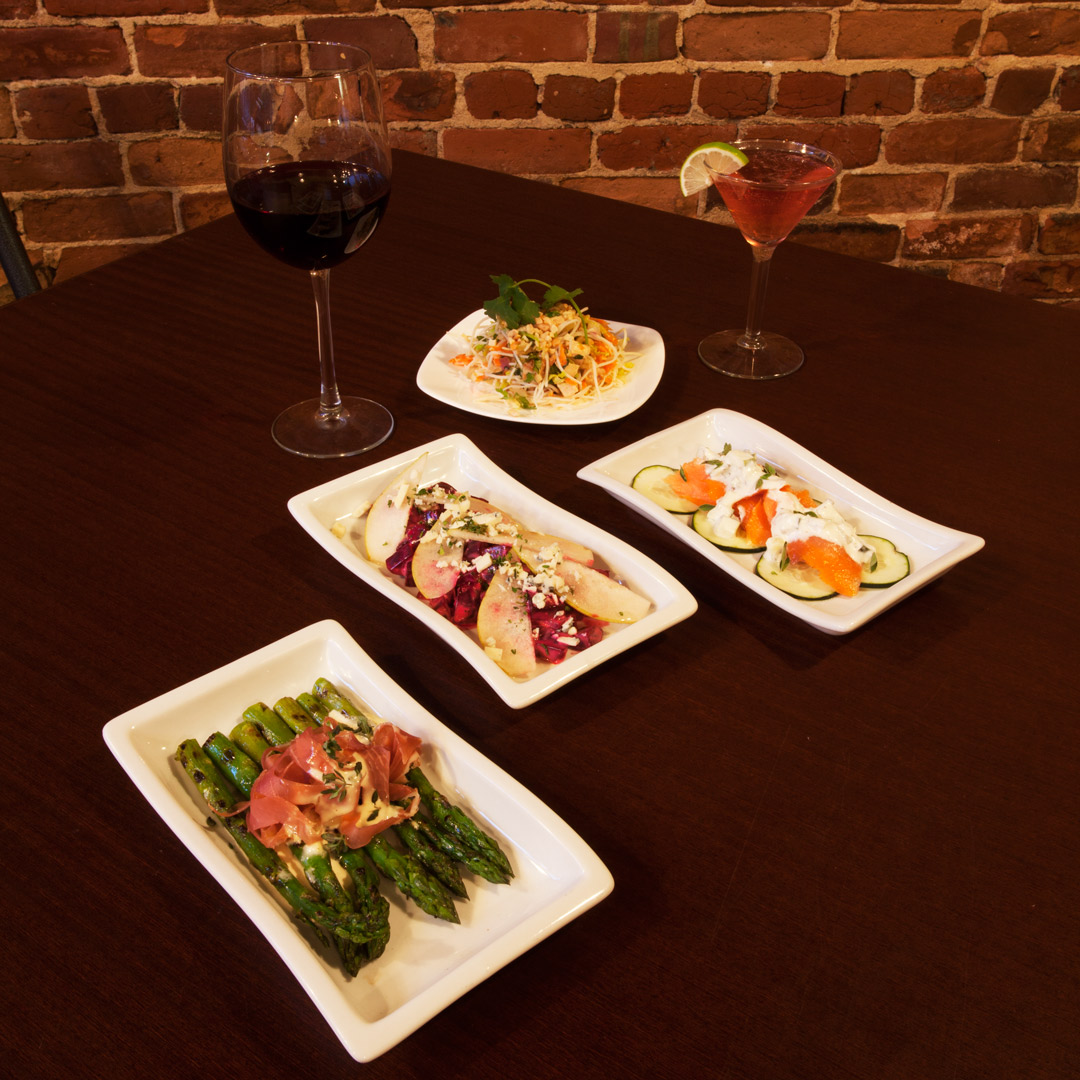 FOODIES
Salida offers a full-plate of independently-owned restaurants, coffee shops, cafes, bars and taverns. Owned by creative and determined local chefs, bakers or baristas, these intrepid entrepreneurs put a signature Salida style into every culinary experience. The emphasis is on healthy, organic and local ingredients, not as buzz words but as a lifestyle and philosophy. About a dozen different restaurants are located in historic downtown, as well as two coffee shops, a bakery, an ice cream parlor and a dessert bar. There's a full spectrum of choices from burritos and burgers to gourmet fine-dining. In Salida's surrounding areas, there are another 10 full-service restaurants. Foodies will find delicious and imaginative offerings ranging from American, Mexican, Cambodian, Italian, Greek, Thai and inventive food trucks. Scenery is served up here, too, with several restaurants just steps away from the rushing Arkansas River and mountain views. Many of the restaurants also have live music and full bars. Eat it up.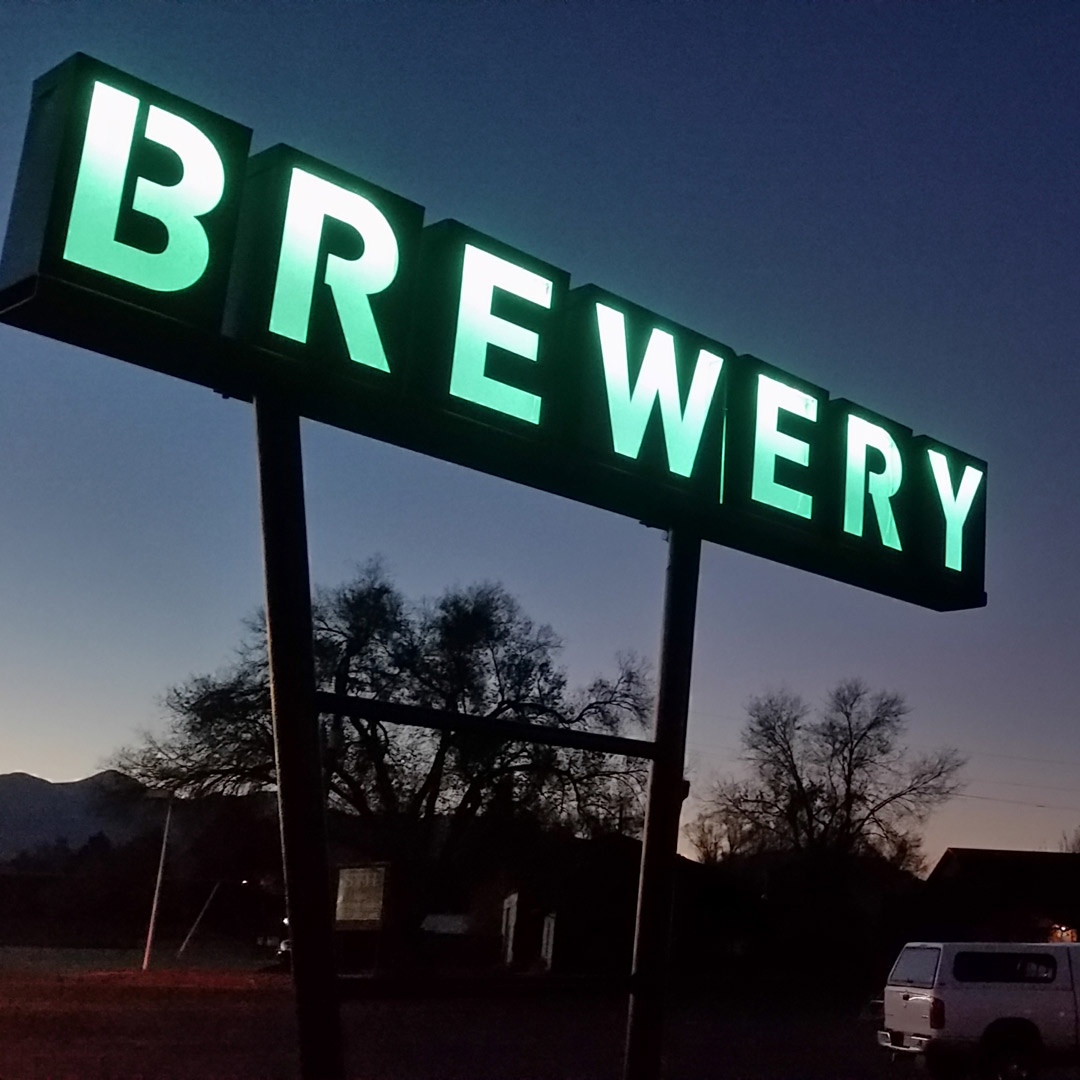 LIBATIONS
For those thirsty for fun, Salida has your happy hydration options ranging from lively bars to an ever-growing craft libation scene. Three craft microbreweries, two wineries and a distillery call Salida home. Craft-cocktails are the next frontier, creating a buzz in several restaurants and bars, too.
Wood's High Mountain Distillery has been artfully distilling small batches of "Western" Gin and Colorado-style Whiskey since 2012. Their atmospheric tasting room, with exposed brick and steel details, is located right downtown. Every batch of booze is fermented, distilled, aged and bottled by hand right here using as many local ingredients as possible.
Pop a cork at local wineries –Vino Salida Wine Cellars and Mountain Spirits Winery. Award-winning varietals are made locally and served in picturesque tasting rooms. Both wineries make creative unique-to-Salida wines like Mountain Spirit's Mountain Zin and Vino Salida's Bee Vino Mead made in collaboration with local beekeepers.
Salida's three microbreweries include Elevation Beer Company, Moonlight Pizza and Brewpub and Soulcraft Brewing. There is a.work-hard, play-hard attitude permeating these taprooms and everyone is welcomed like an old friend. Of course it all begins with their phenomenal, creative beers. Cheers!

LOCAL CONTACT GUIDE
www.skimonarch.com
www.mtshavanoskishop.com
www.mountainSportsHaus.com
www.snowmobilemonarch.com
www.MonarchDogSledRides.com
www.salidabikecompany.com
www.subculturecyclery.com
http://www.captainzipline.com/
www.salidacreates.com
www.salidacouncilforthearts.org
www.SalidaArtists.com
http://waldenchambermusic.org/
www.woodsdistillery.com
www.moonlightpizza.biz
www.elevationbeerco.com
www.vinosalida.com
http://www.arkanglers.com/