With crisp mountain air and sunny blue skies, winter is a perfect time for selfies!  Chaffee County just happens to have some great locations for sharing your perfect adventure.
Pick A Peak
This location boasts unending 360 degree views from the crest of the Continental Divide at Monarch Mountain.  Take the Panorama Lift to the top and ski south along the ridge on Skywalker to the top of Short and Sweet.  On a small knoll you'll find a compass type object with names of the peaks you can see in the distance.  It's known as the Pick A Peak and it provides a great backdrop to your selfie.
Outdoor Living Room
You can find this unique "room" in the South Main neighborhood of Buena Vista adjacent to the river park.  The set consisting of a sofa, chair, ottoman, rug and a chess table, all made from tile, exemplifies functional art.   Stay a while and play a game of chess or have a seat on the couch for a selfie before you stroll down the trail to the pedestrian bridge over the river. Perhaps another selfie opportunity?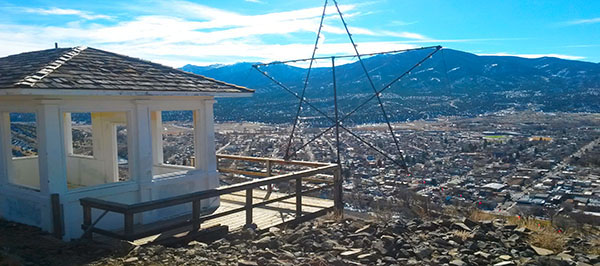 Mountaintop Gazebo
Anywhere you are in Salida the famous Tenderfoot Hill (aka: S Mountain) can be seen with it's distinctive large white "S" and little white gazebo on the tip top.  You can easily walk up to this concrete building from a parking area just below on Spiral Drive.  The views over Salida are unsurpassed as are the views of the Sawatch and Sangre de Cristo mountain ranges in the near distance.  Snap a selfie with these commanding views as your backdrop.
Creekside Hot Pool
Imagine sitting in a small creekside hot springs pool with your bff while a cold rushing stream flows right beside you. This scenario can come true with a visit to Mt. Princeton Hot Springs Resort in Nathrop.  Grab one of the existing rock lined pools or design your own by moving around rocks to regulate the water temperature to your liking.  At night these intimate pools become especially magical with minimal lighting and rising steam.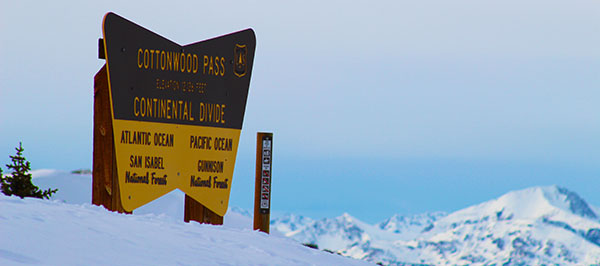 Roof Of The Rockies
You'll need snowmobile assistance for this selfie spot.  Driving or riding a snowmobile up to the alpine areas around Chaffee County is a thrilling experience.  One of the best places to do this is Cottonwood Pass near Buena Vista.  A system of groomed trails will bring you to the top of the pass where you can let it loose among the high peaks.  Swing by the Cottonwood Pass sign proclaiming the 12,126 foot elevation and pay homage to the selfie.  Guided tours and rentals can be reserved from Burandts Backcountry Adventure and All Season Adventures.