Just Roll With It
Get the wheels turning on your next adventure by taking a Jeep or ATV on our amazing backcountry routes. In this rugged mountainous terrain, you'll find everything you love about off-roading — bumps, rocks, ruts, uphill climbs, and mountain passes that lead to incredible scenery. In the San Isabel National Forest alone we have 700 miles of trails to explore.
Take a wild ride amongst sky-high peaks, alpine lakes and pristine forests in places beyond where most people dare to go. For the best experience, take a guided jeep or ATV tour and spend less time reading maps and more time immersed in that engine-exhilaration. In every direction, on all levels, our routes will thrill your adventurous soul.

BEST ROUTES
Fourmile Travel Management Area
"Fourmile," is one of the most popular recreation areas for jeep and ATV fun in the Arkansas Valley.  With 100,000 acres of Forest Service and Bureau of Land Management lands, the play-possibilities are seemingly endless. The northern section is accessed by traveling east on Buena Vista's Main Street to Colorado Avenue.  Turn north and keep going until Colorado Ave turns into CR 375 (just before the tunnels). Turn east on 375 into the recreation area. For the southern section, go south on highway 24/highway 285, then head east through Johnson Corner to CR 301. Go south to the left access road where you'll see the gate and entrance sign. There are also other access points along HWY 285.
Little Annie Mine Trail
In a nearby vicinity of the Fourmile trails, try this 4WD route that also combines a hike to an old mine. Head east on Main Street in BV, turn left on Colorado Ave then keep going  across the river for about two miles until you reach CR377. Paved roads turn to dirt at this point, but are not difficult to traverse in 4WD. Turn there and go about five miles, then turn right on CR375. Follow that for about a mile until you see what remains of the old wagon road on the left.  Then it's time to take a short scenic quarter-mile hike to the old mine.
Cinnamon Gulch Road
One of the area's most difficult 4WD trails, this 2.5 mile rugged loop has some famous road obstacles like the Double Whammy, Whale Rock and the Rock Garden. From Buena Vista, head south on highway 24, then left at the light and junction of Highway 24 West/Highway 285 north (towards Denver). After Johnson Village, turn right on CR301 and go about 1.5 to 2 miles. Go left at the gates for Cinnamon Gulch and Carnage Canyon and then follow signs to the loop trail.
Bassam Park and Aspen Ridge
Explore the old mining/ghost town of Turret on this route also on BV's eastside. A small historic cemetery still exists there, a testament to the miners who founded the town.  Once inside the town of Turret, ARVs are not allowed on county roads, but getting there is a lot of fun.  Go on Hwy24/285 (toward Denver) and another five miles after crossing the Arkansas River. Turn right on Forest Road 307 or Bassam Park Road. Find Marble Quarry Gulch and Turret further south.
Baldwin Gulch Road
This road offers access to a network of possibilities. Start your trek on highway 285 south of Buena Vista. Go west on CR162 past the Chalk Cliffs and Mt. Princeton Hot Springs. Several miles in, look for Baldwin Gulch Road (277) on the left. From here you can take a right on Boulder Mountain Road leading you up to an old mining site on Boulder Mountain.
Another option is to stay on 277, continue 2.7 miles to a fork.  Take a left to go on an above-timberline trek to Upper Browns Road (278). This leads to (2788) and an uphill climb to 13,500 near Mount Antero's summit.
Or take a right at the fork to (277.2) to travel up to the high-elevation Baldwin Lake at 12, 342 feet. This beautiful lake is framed by towering peaks and rocky ridges.
Hancock Pass
This great long ride is also found by traveling on highway 285 south, then west on CR 162. Continue past Mt. Princeton Hot Springs all the way to St. Elmo, and then proceed to Forest Road 295. This is a nine mile climb to 12,000 feet elevation – best left to the more experienced drivers. Great riding is also found over Hancock Pass and Tomichi Pass into Whitepine in Gunnison County. At this point take Old Monarch Pass to US Highway 50 and end up in Salida. Hancock is home to the former Stonewall mine and once-thriving 1800s community Remnants of just one building remains, but the old boxcars once used as crew quarters are still there. Or take the route to Tin Cup Pass from here too.
Hayden Pass
Southeast of Salida find this scenic route by going east on Highway 50 to Coaldale. It's a rough start for a mile or two then rewarded with spectacular summit views.
Columbia City Trail
Discover historic Columbia City by heading north of Buena Vista on Highway 24. At Granite, turn west and continue six miles to CR 398A west then CR 398. The first four miles are easy-peasy but then the trail turns steep, rocky and rugged. The road does go all the way to Columbia City, but know your experience limits and only go as far as you know you can handle. When it gets too difficult, hike the rest of the way to your destination. It ends up above treeline where the incredible views are reward enough.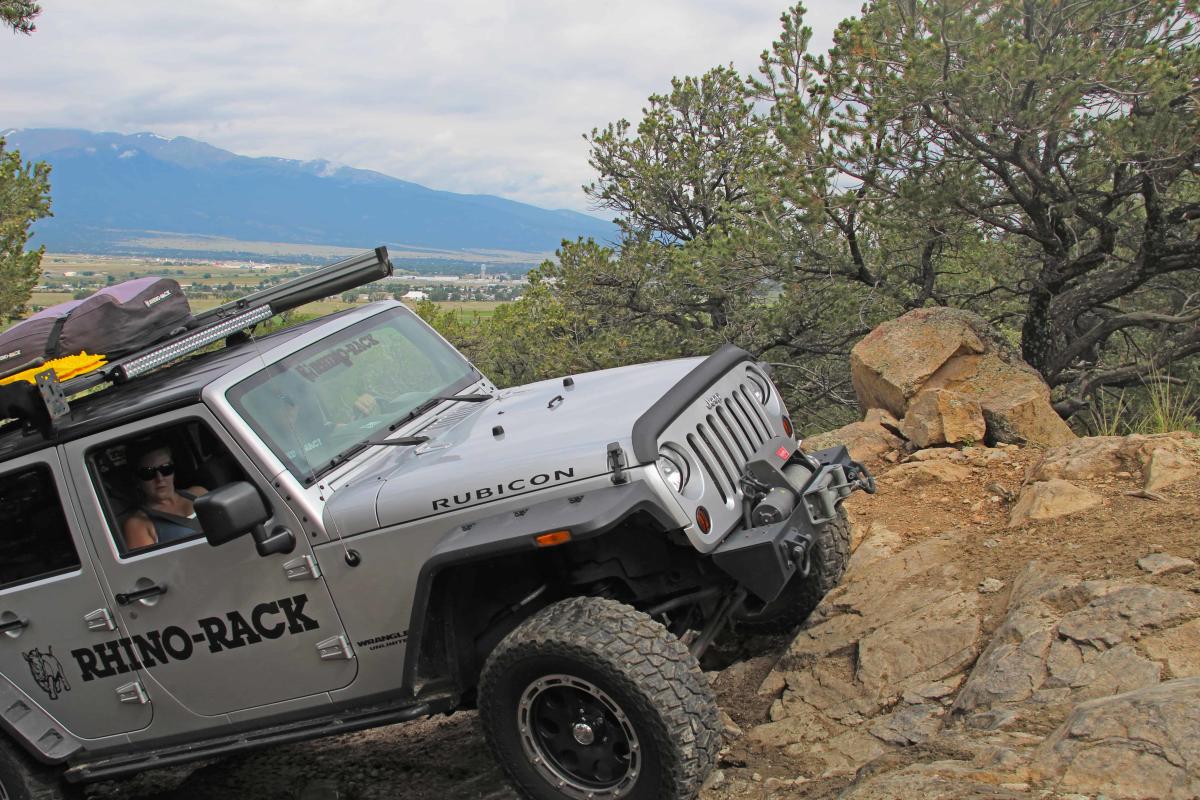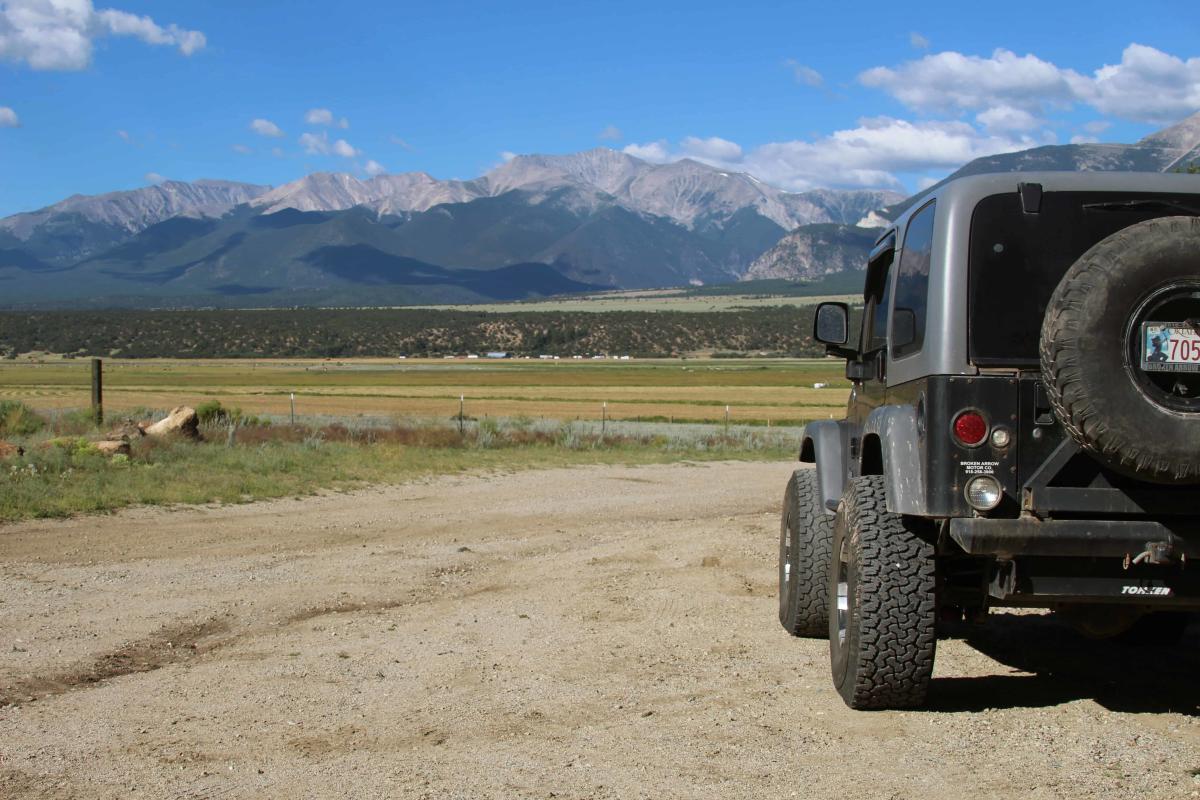 For more information visit the US Forest Service Salida Ranger District Office, 5575 Cleora Road and US 50 in Salida. For maps and specific current road conditions.
---
ALL-4-FUN EVENT
This area is so rich in off-roading routes that Buena Vista was selected as the location for the 53rd Annual All-4-Fun event, presented by the non-profit Mile-Hi Jeep Club of Colorado. The event will be held July 27-August 3, 2019 at the Buena Vista Rodeo Grounds. Around 15 group trips a day for all levels from easy to extreme will head out from there. Both man and machine are tested on these exhilarating trips through the stunning Chaffee County mountain scenery. The event raises money for Stay the Trail Colorado Off-Highway Vehicle Coalition and the Children's Hospital Burn Center. Stay the Trail is Colorado's non-profit land use educational program for OHV's and COHVCO is Colorado's legal resource for land use issues.
OHV COLOR TOUR
Every September just in time for the fall colors, OHV enthusiasts gather together at this epic event. This year's tour takes place Sept. 17-21. Entry fee includes many meals, a Poker Run, tours of old mining sites, ghost towns, mountain passes and camaraderie to spare!