Captain Zipline Aerial Adventure Park
Three different and daring adventures await in one location: The Lost Canyon Zipline Tour has captured the attention of national media from Outside Magazine to National Geographic Traveler, recognizing it as one of the country's top Zip lines. One of the state's first zip lines, its location at the dramatically scenic Lost Canyon east of Salida set the standard very high. Seven different cables ranging up to 695 feet long zip you along at 150-200 feet above and across this gorgeous gorge. The panorama of towering cliffs, mountain vistas and river views are a stunning distraction as you zoom in mid-air. The adrenaline rush starts with that first step off the cliff and just doesn't stop. Open year-round.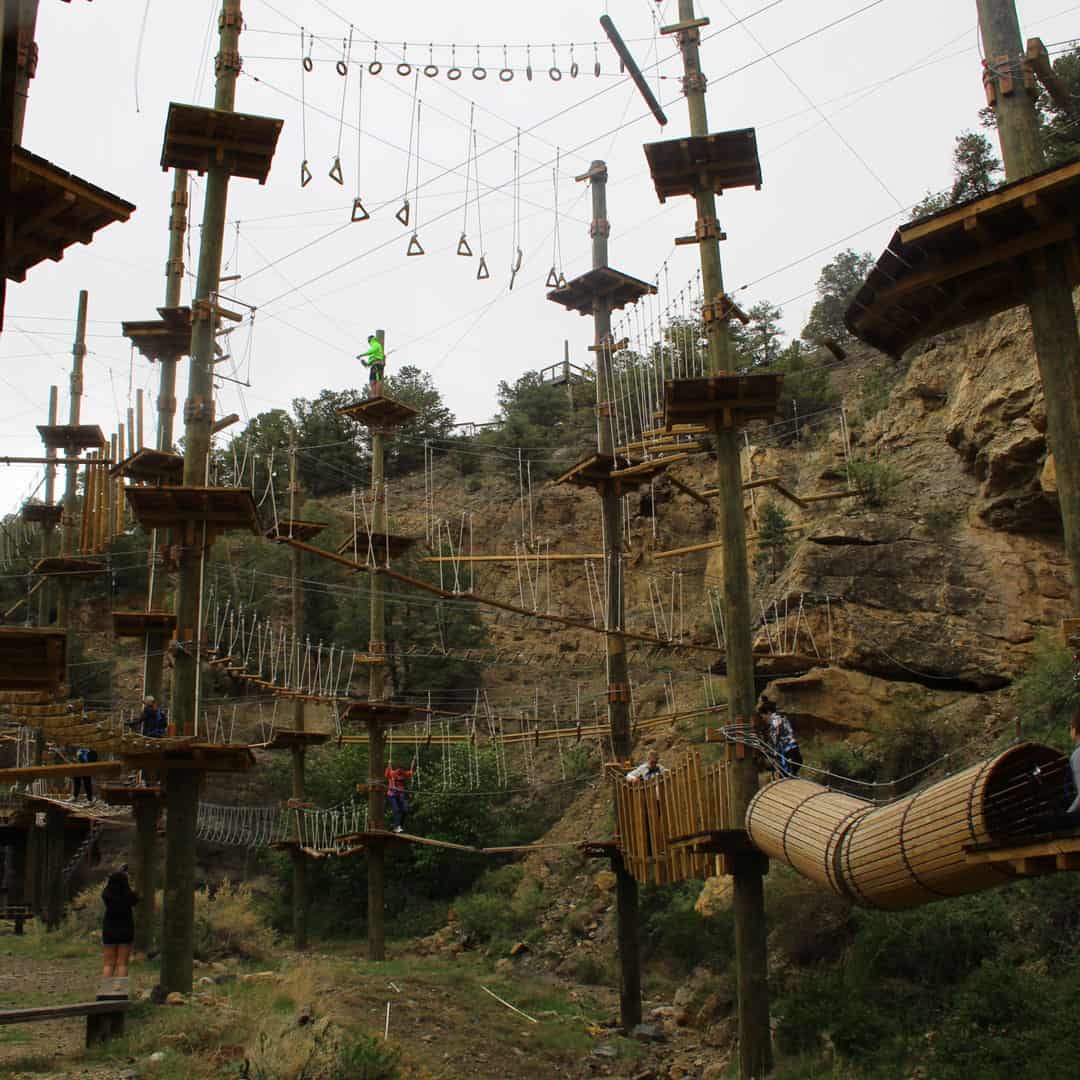 The Canyon Aerial Course is an outrageous obstacle-course erected on the canyon floor below. Colorado's largest aerial adventure park, it was designed and built by professional Swiss Mountaineers, so be assured this outdoor challenge is the real deal. Find your own way to navigate this "jungle-gym" type network of wooden platforms high atop 60-foot telephone poles connected by bridges, swings, trapezes, cables, ropes, nets and even a flying snowboard. Owner Monty Holmes describes it as "Indiana Jones meets Spiderman." Not an organized tour, it is pure free-play for two hours on 120 different elements of varying difficulty. Open year-round.
Then there's the walk-on-the-wild-side, the European-style Via Ferratta. These extreme routes both horizontally and vertically along rock walls and cliffs allow climbers to enjoy views and experiences normally reserved only for elite climbers. What looks impossible from the ground is made possible thanks to the cable lifeline and state-of-the-art equipment. This adventure tour celebrating rock-climbing elements has four routes from 'easy' to beyond extreme. Explore your own level of courage and capability while having the time of your life. Because of the high-level of physical demands on these elements, all participants must be at least 14.
---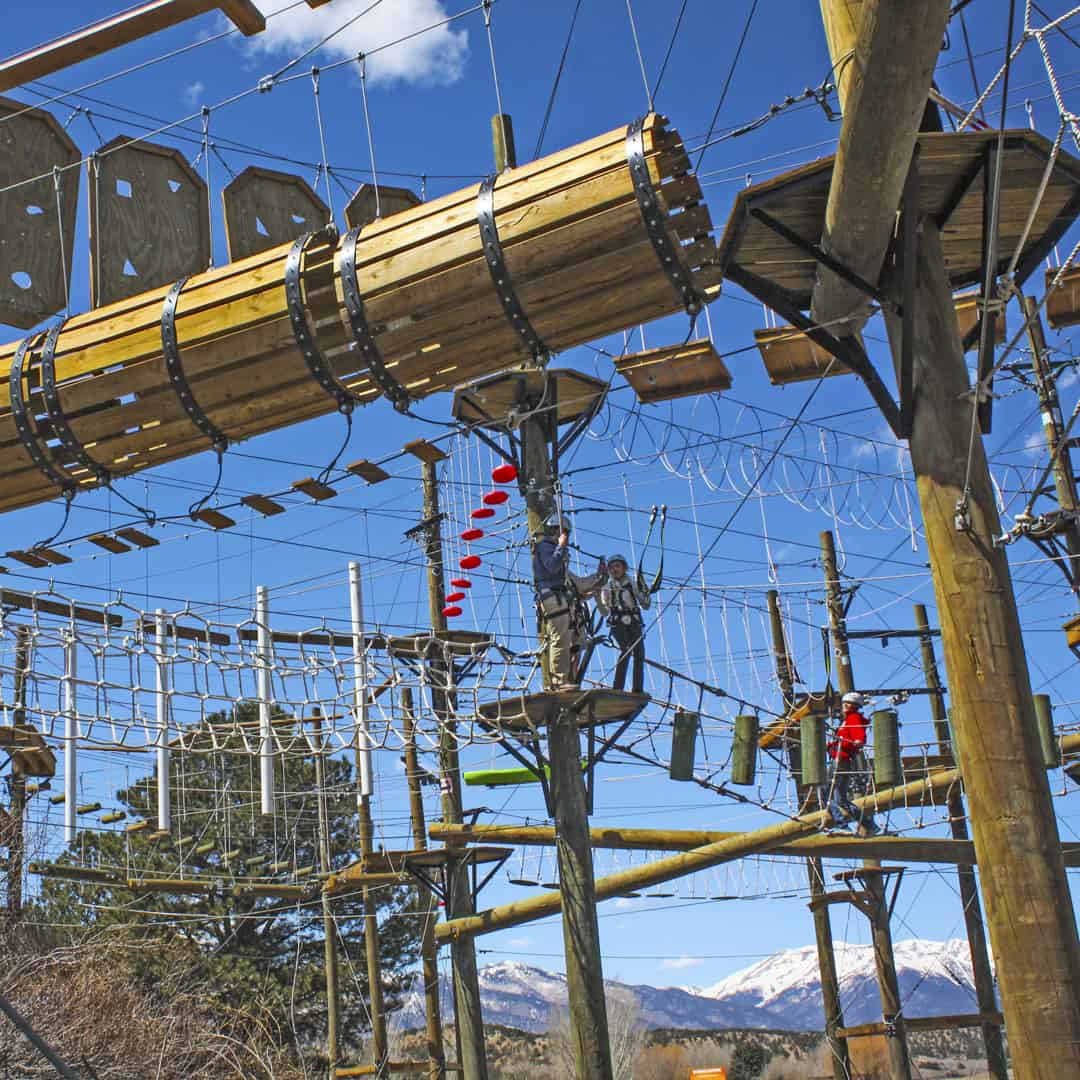 Browns Canyon Adventure Park at Noah's Ark
Take 'play' up a notch – way up and over high rope bridges, a giant swing, zip lines and challenging obstacles. Located right beside the Arkansas River, The Park offers four Courses and two High Adrenaline Challenges. The All-Access Pass includes 66 unique obstacles of varying difficulty and seven zip lines for two-and-a-half hours. Or just do the Big Drop Swing, a wild thrill that falls for 40 feet then swings out toward the river. Groups of at least 25 can reserve the space for an unforgettable Glow in the Park night adventure. Some nights are open to the public. Combine these adventures with whitewater rafting on Browns Canyon or Mt. Princeton Hot Springs for full-day fun. The Adventure Park is open April to October.
http://brownscanyonadventurepark.com/
---
Granite Via Ferrata
For the edgiest thrill, try the newest action adventure known as 'Via Ferratta.' Meaning "iron road" in Italian, the Via Ferrata is a challenging, crazy course along the steep side of a cliff. Super popular in Europe, it is just now gaining a following in America. The Arkansas Valley Adventures (AVA) course is located just north of Buena Vista, amidst the incredible views of 14,000 foot mountains. Zipline to the starting point, then traverse across the crags, rocks, bridges and more. This half-day adventure turns into a full-day experience when combined with a half-day rafting trip on the epic rapids of the Arkansas River.
AVA also offers Zipline Tours featuring seven lines originating from natural landscape platforms leading to some truly original experiences. We're talking features like a 50-foot free fall, a Surf Zip, a Race Zip and even a 900 foot dual race line. Combine it with whitewater rafting or even rock-climbing for a full day. But don't stop there. They even offer multi-day experiences for continuous thrills. Open May through September.