The Circle R Motel is pleased to announce the addition of two new electric car chargers that are in the style of 1950's gas pumps. One charger is a 4-hour charger, and the other is an 8-hour charger. Our guests may charge their electric cars during their stay free of charge. These 2 chargers are located next to our stunning 1955 Studebaker President classic car (see attached photos).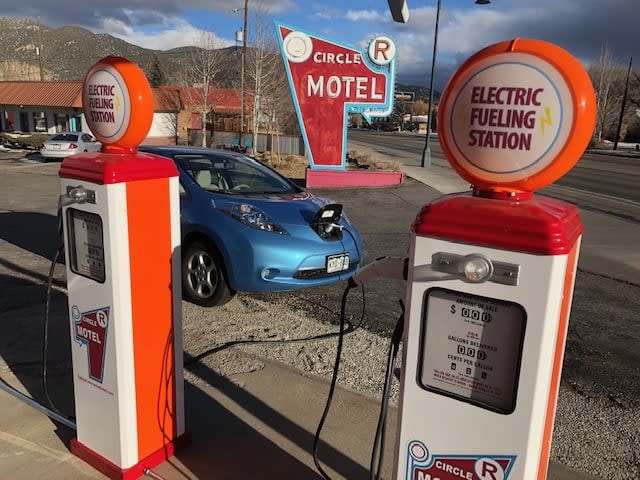 As owners of the Circle R Motel, we are very proud to promote environmental conservation and to accommodate electric car owners passing through Salida. We are especially excited to be able to allow our guests to charge their cars during their stay with us. We are classic car AND electric car enthusiasts. Classic cars appeal to us because of their unique style and appearance and the nostalgia of by-gone days. But electric cars are critically important for energy conservation, cutting our dependence on fossil fuels, and the future of our planet!
The Circle R Motel is a local family owned and operated 1950's retro-inspired motor lodge in the popular town of Salida, Colorado. After a major remodel in 2018, our guests are loving the many updates. Our upgraded rooms are comfortable, clean, cozy, and affordable. In the last year our Google ratings have jumped from 2 out of 5 stars to 4.1 out of 5 stars!

Photos, reviews, and discounts can be found on our website SalidaColoradoMotel.com and our Facebook page Facebook.com/CircleRMotel. The Circle R Motel has many discounts including a Military-Veteran discount, loyal customer discount and a Monarch Mountain Ski and Snowboard Area pass-holder discount. We also offer discounts to participants of many biking events which we are proud to support along with other charitable and community events we help to sponsor throughout the year. For reservations contact the motel at 719-539-6296 or the above website.