Try Chaffee County's Craft Industry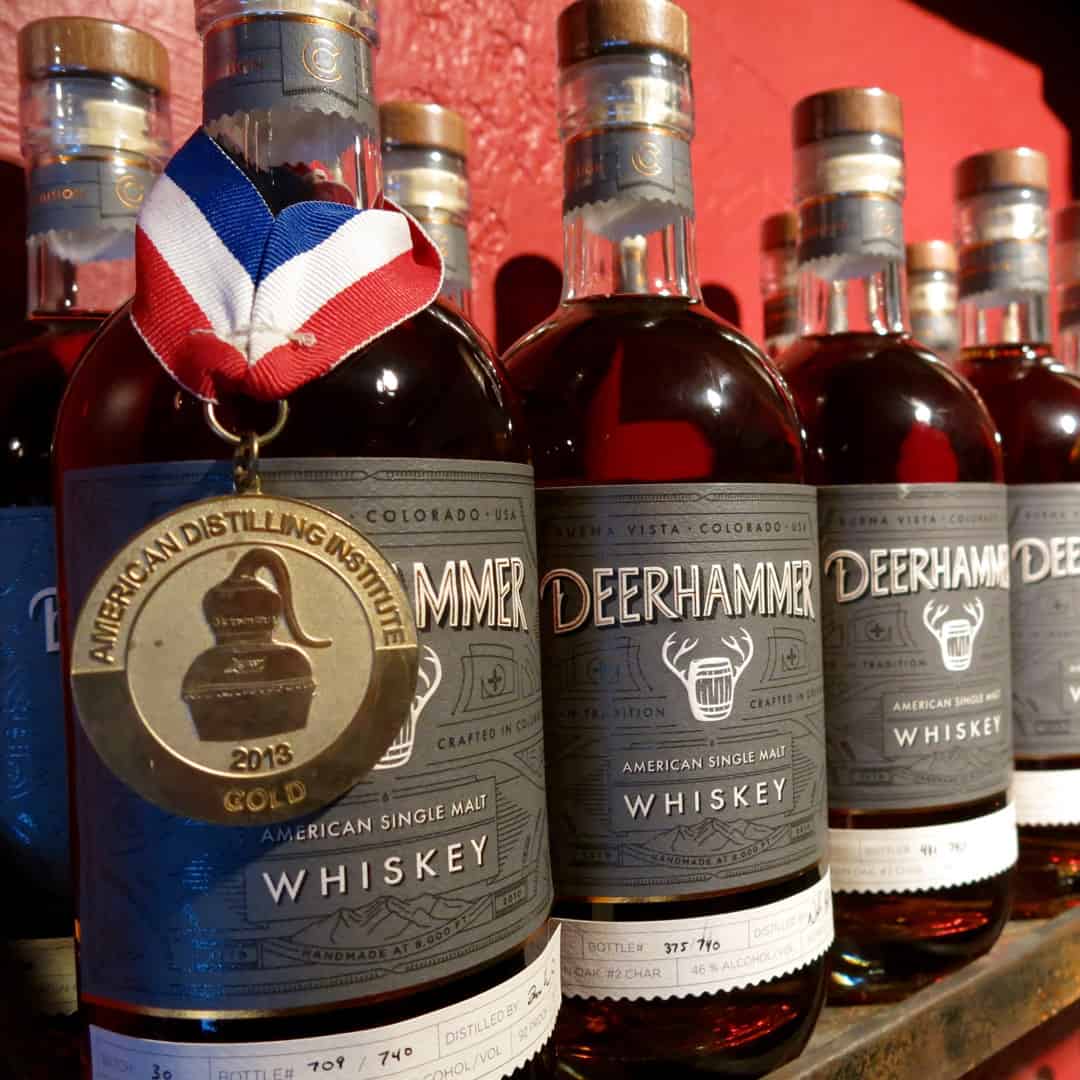 Outdoor adventures, art galleries, festivals, hot springs…People come to Chaffee County for many reasons. But a flourishing craft industry is making Salida and Buena Vista a 'Distillery Destination.' Both towns have a craft micro distillery owned and operated by creative entrepreneurs whose dreams were inspired by the wild whitewater of the Arkansas River.
Both Wood's High Mountain Distillery in Salida and Deerhammer Distillery in Buena Vista are vastly different from large traditional whiskey manufacturers. You'll taste the difference right away. It's like they've bottled the adventurous essence so prevalent here to create uniquely Chaffee County style spirits. For the full effect, try it right here where it's made.
---

Wood's High Mountain Distillery

It all started decades ago with two brothers and a dream. On a long whitewater rafting adventure, P.T. Wood and his brother Lee dreamed of making whiskey. Alas, they were ahead of their time. Micro-distilling wasn't even legal then. But starting their mountain-living dream was entirely possible. They moved to Salida in the 90s.
P.T. worked as a whitewater rafting guide and a homebuilder. Lee organized tech events. When Colorado's first legal distillery since prohibition opened in Denver in 2004, the Woods brothers' revived this whiskey wish. They spent the next several years learning the craft, gathering equipment, saving up seed money and finding the perfect location. By 2012 it all came together. They became proud owners and artisans of their dream-come-true craft distillery in downtown Salida.
Treeline Gin was distilled first, followed by the inaugural small batch of Tenderfoot Whiskey in 2013. The distillery enjoyed immediate success. In the first two years, revenues doubled and production tripled. They currently distribute in Colorado and export to Italy. This international connection accounts for about a fourth of overall sales.
Art of the Craft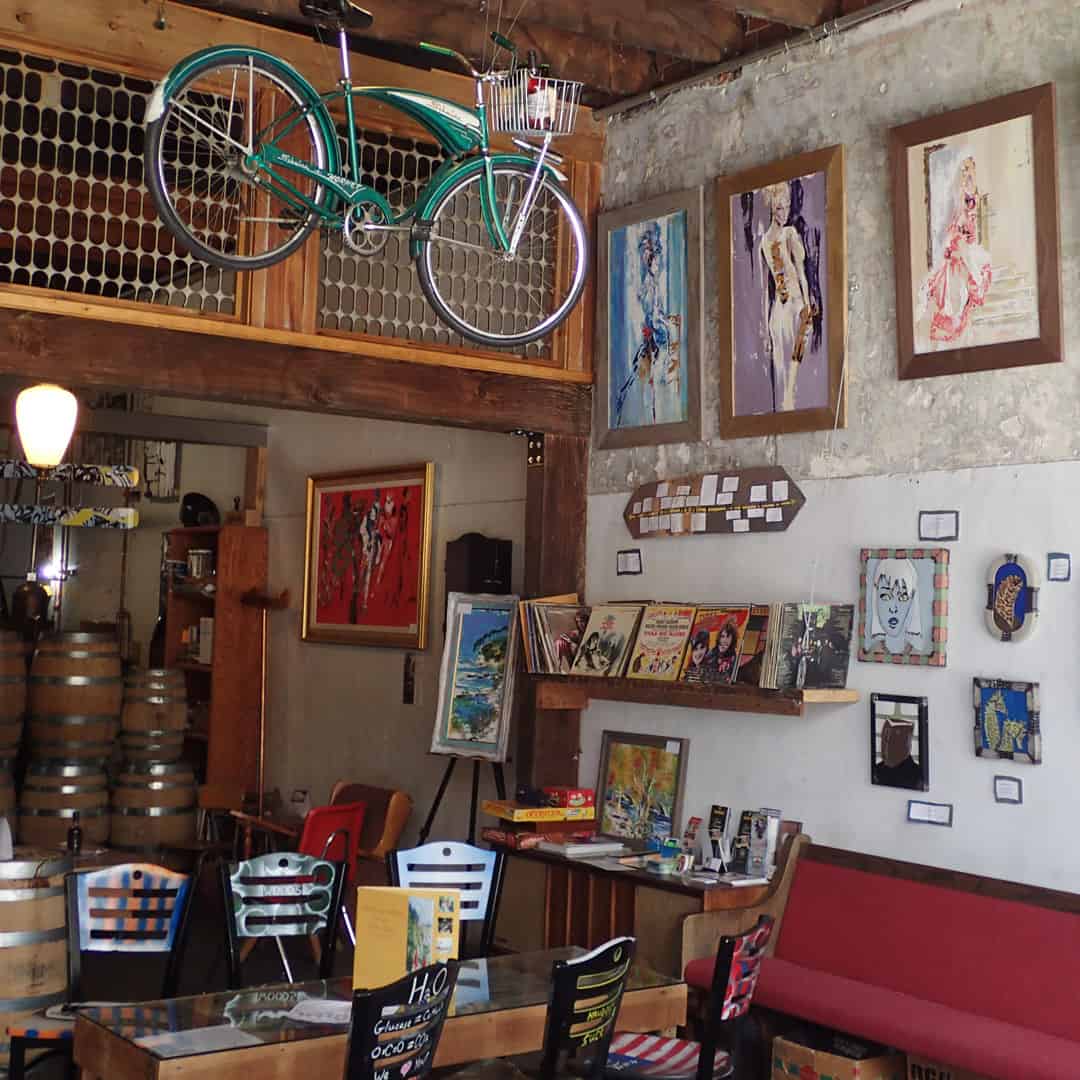 Go ahead and call P.T. "The Alchemist." He gets positively poetic about the craft distilling process, likening it to an almost magical melding of art, science and alchemy. Through creative experimentation, he puts his original and modern touch onto this ancient art form of making alcohol. When hand-crafting spirits, P.T. allows himself the freedom to create what he likes instead of stressing out over what the market demands. Turns out, there's a lot of kindred spirits out there.
True to the art-of-alcohol theme, the distillery is located in the in Salida Creative District, home to about 20 art galleries and working studios. The entire downtown area is on the National Register of Historic Places, too.
Wood's tasting room, with its exposed brick and steel details, is so atmospheric it's like another ingredient adding to the whiskey's appeal. In its former life, the building housed an old auto body repair shop and gas station. Now this eclectic space is where tasters and sippers come to relax on comfy couches and cozy church pews. It's recommended to taste the whiskey and gin neat, but also enjoy the new-old-fashioned craft cocktails featuring their signature and specialty batches.
Whiskey Whispers
In the grain-to-glass tradition, every batch of Wood's booze is fermented, distilled, aged and bottled by hand right here. The core of the distillery equipment began with "Ashley," a 1880s-era German pot still, acquired from an old friend. Equipment is continually upgraded to increase efficiency but Ashley's not going anywhere. The whiskey is aged with new American Oak barrels from Louisville, Kentucky-based Kelvin Cooperage.
Wood's malt whiskey is crafted with three kinds of barley and 100 percent malted wheat and rye. The result is what P.T. calls a "really big" Colorado-style whiskey. They produce Wood's Alpine Rye Whiskey and Wood's Tenderfoot American Malt Whiskey. Tenderfoot Whiskey won a bronze medal at the American Craft Distillers Association (ACDA) craft spirits judging. It also earned a score of 85 from Whiskey Advocate, and an 89 point "highly recommended" rating from Beverage Tasting Institute (BTI).
Gin and Bear It

Their gins include Wood's Mountain Hopped Gin, Wood's Colorado-styled Treeline Gin, and Treeline Barrel Rested Gin. There is also a tasty Fleur de Sureau Elderflower Liqueur.
P.T. really enjoys the enormous experimentation possible in gin distilling. Traditional dry gin depends on juniper more than any other flavor. However, gin is only required to be 50 percent juniper, leaving the other half open to playing with non-traditional botanicals from citrus to floral qualities. It's not surprising then that Wood's are "Western gins" – they're bigger, more aggressive.
Always heavily involved in the community, P.T. has fully immersing himself into this whiskey world, too. P.T. is the president of the Colorado Distillers Guild.
The distillery is open daily at noon on weekdays and 10 a.m. on weekends.
www.woodsdistillery.com 144 First St. 719-207-4315.
---
Deerhammer Distillery Co.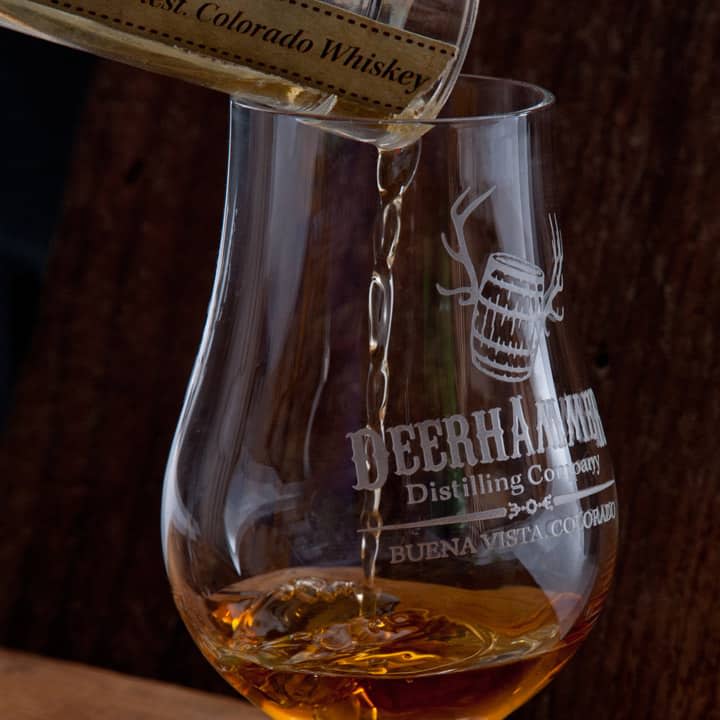 A handwritten "Eric's Picks!" sign in Trader Joe's in Denver declares Deerhammer American Single Malt Whiskey to be "quite frankly the best whiskey made in Colorado." This ringing endorsement describes it as "100 % single malt barley whiskey with notes of honey, sweet coffee and caramel upfront with a stunning cacao and vanilla finish!"
If it sounds a bit creative, artistic even, that's because this whiskey comes from a man with a background in Graphic Design. It's fair to say Lenny Eckstein is now designing whiskey. He and his wife Amy founded Deerhammer Distillery in Buena Vista in 2010 with the goal to make "something different." Since their first batch was distilled in 2011, they've been doing exactly that. Very well.
In search of a more outdoorsy, adventurous life, the couple discovered Buena Vista after visiting often to camp and kayak.
"Buena Vista has a really compelling, interesting feel. There's so much to discover all around. That's what's so cool about it," says Eckstein. "Our distillery lends itself well to all the good things happening here."
Located on BV's Main Street, the distillery (a.k.a. 'whiskey bar') is small and rustic, with rough-cut wood and a ceiling adorned with elk and mule deer antlers. It seats around 30. In the summer, the lively outdoor patio expands the capacity considerably.
"People come in here after having an awesome day hiking or rafting or at the hot springs and they want to tell us about it. We love that. Having a whiskey tops off their adventures," says Eckstein.
A sliding glass door separates the tasting room from the production area where the whiskey-making magic happens. "It's kind of a neat component to have all our equipment so visible," says Eckstein.
Using repurposed dairy equipment and machinery, Eckstein built the production area himself. The only custom piece, created by an artisan in Arkansas, is a Scottish-style direct fire 140 gallon copper pot called "the Colonel."
Eckstein and crew are happy to show off the whole milling, mashing, fermenting, and distilling process, either in a regularly scheduled or by-request tour.
Pioneering Perspective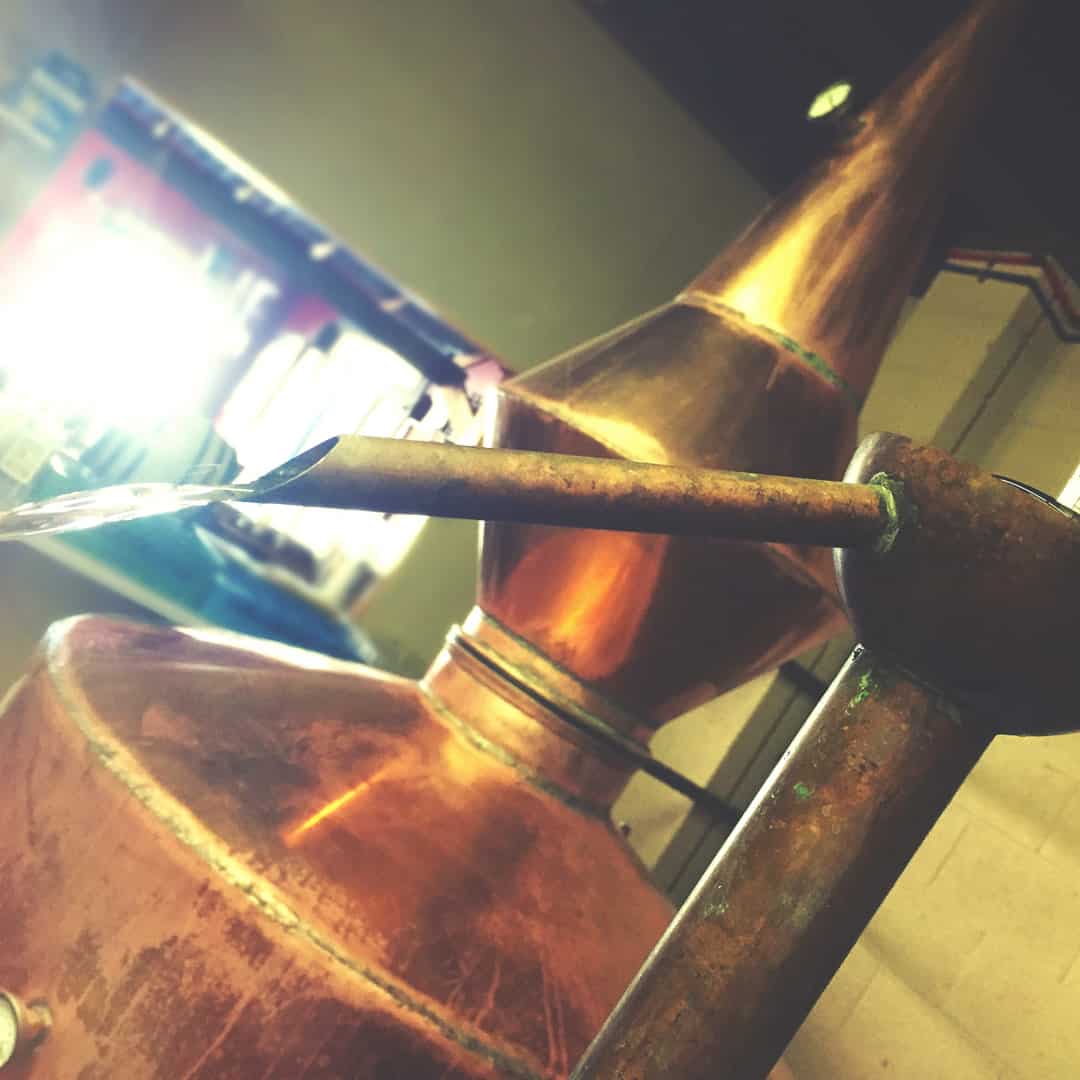 "Craft beer happened because the big companies were making good beer but it was boring. People wanted something different. Genuine," Eckstein says. He started out as a homebrewer of beer "on a bit of an obsessive level." That's where his curiosity about whiskey began. It was also his means of studying fermentation science, flavor variation and the other necessary elements. Brewing beer and distilling whiskey are somewhat similar, he explains.
Eckstein's challenge is to make great whiskey by honoring tradition and following all the standards, but then defying conventions.
"My thinking is, what aren't the 'big guys' doing? To set ourselves apart we have to do something different. There's so much room for experimentation. We take pride in being innovative by making all these interesting flavor profiles and truly unique tastes," he adds. Chocolate and coffee flavors? Oh yea.
Feel the Spirit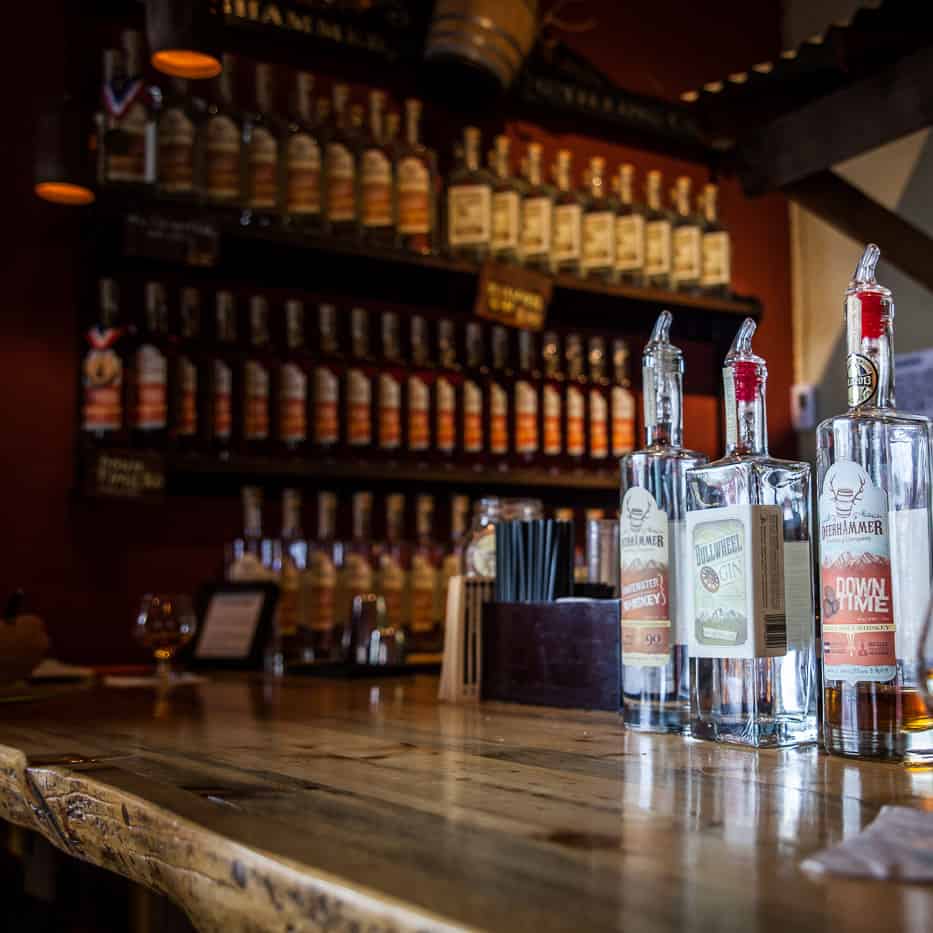 The artisan Deerhammer American Single Malt Whiskey, aged for two years, is the cornerstone spirit. They also craft Deerhammer Whitewater Whiskey, Deerhammer Dutch Style Gin and Deerhammer Buena Vista Brandy. They use Colorado ingredients and businesses as much as possible, with their corn coming from the Four Corners area, and wheat from the San Luis Valley.
To fully appreciate the flavors, these spirits should be tried straight. The Deerhammer mixologists come up with some great mixed drinks, however, using blends of special micro batch spirits. Their ghost pepper whiskey gives new meaning to "fire water."
Aging Gracefully

Deerhammer has enjoyed a slow, organic growth – aging gracefully like their whiskey. Initially, they often entered competitions and won some gold medals. Later they decided to pull back. They didn't want to spend all their time increasing production just to enter competitions or expand distribution outside of Colorado. Growing too big would compromise why they do what they do.
"We want to keep things simple," Eckstein says. "We have a great life. We want to make whiskey but we also want to go kayaking in the middle of the day."
Winter Hours: Sat 2-10, Sun 11-6, Mon and Tues closed, Wed 4-10, Thurs 11-10, Fri 2-10
http://www.deerhammer.com 321 E. Main St. 719-395-9464