Visit Salida, Colorado To See The Largest Christmas Tree In Colorado
November 26, 2022 –  January 9, 2023
Parade Of Lights Downtown Salida, Colorado
6:00PM November 26, 2021 Santa Claus will light Christmas Mountain after the parade with fireworks to follow.
The Parade Of Lights
Move over, New York City. Salida's got something even better – higher and brighter—than the lighting of the tree in Rockefeller Center. How about a 750 foot tall Christmas tree? Not just a tree either; it's a whole Christmas Mountain. This holiday symbol made up of 4,500 brightly-colored LED bulbs strung from Tenderfoot Mountain's summit to base shines over Salida throughout the whole holiday season, from late November into mid-January.
See the largest Christmas tree in Colorado with the magical power to transform Salida into Christmas Town and Riverside Park into Holiday Park, too. It's been a local holiday tradition since 1989.
This much-anticipated tree lighting is always held the Friday evening after Thanksgiving. As soon as Santa makes his much-anticipated appearance, it's time for the countdown. 3-2-1…Just as the lights are turned on at Tenderfoot Mountain. Now it's officially Christmas Mountain.
The glowing effect is accomplished with green lights outlining the tree and its garland, while red, orange and white lights create ornaments to complete the picture. This giant Christmas tree is topped with a large sparkling star visible over the Arkansas River Valley for miles and miles.
Heart Of The Community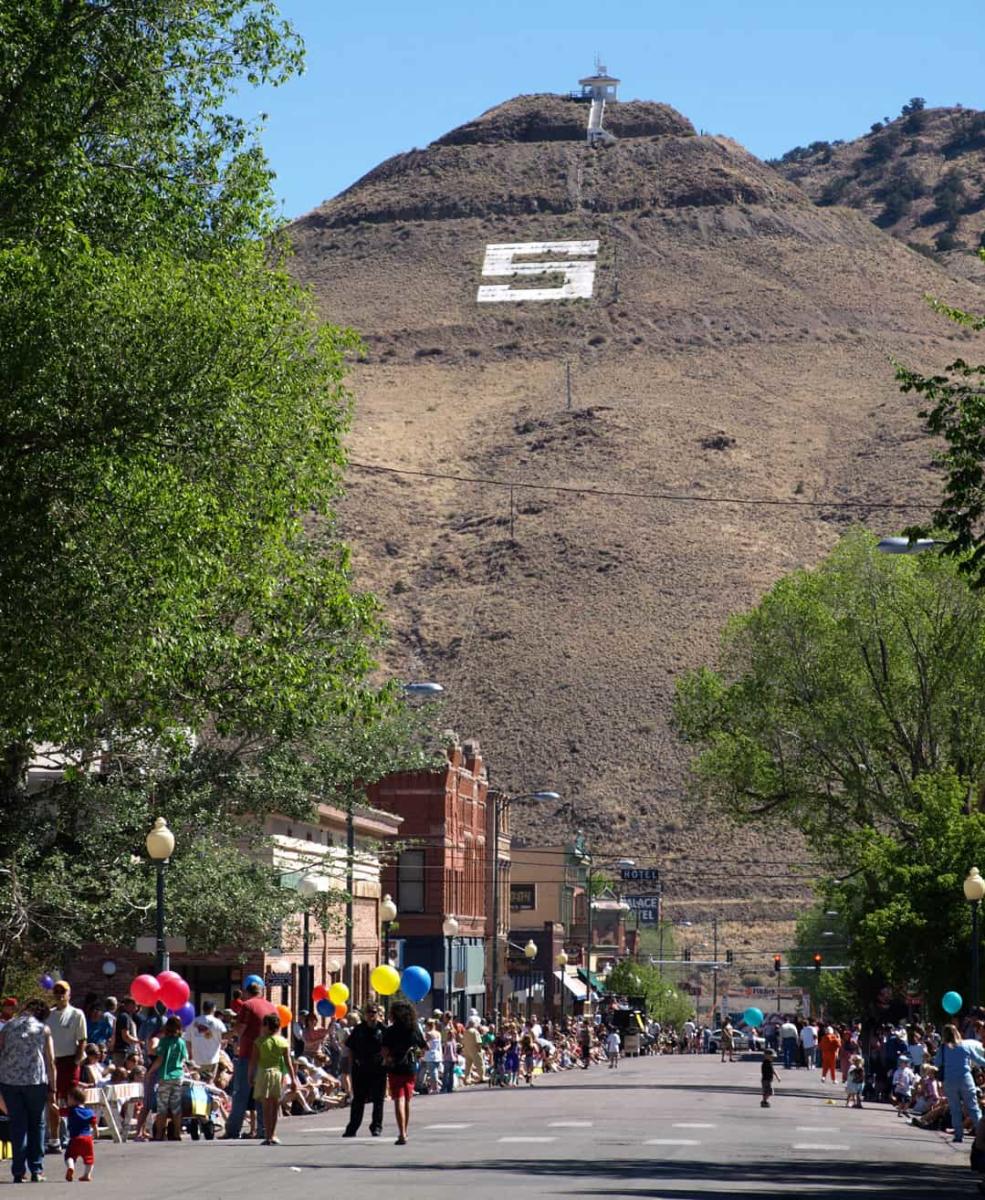 Tenderfoot Mountain, a.k.a. 'S' Mountain, has a major year-round presence in the heart of Salida. Prominently located at the end of F Street — the town's main drag – it is normally adorned with white lights in the shape of "S." This alternates with a red heart symbolizing the "Heart of the Rockies." The lighting is occasionally changed to commemorate other special occasions, too – including special tributes and causes.
Originally, the idea for Christmas Mountain came from a local contractor. First he tried using floodlights to create a 'tree' effect, but the results didn't quite inspire the magical effect he envisioned. So in 1990, he asked a surveyor to draw up a design for the display. Using these blueprints, volunteers carefully strung extension cords and lights in a zig zag pattern down the gently sloping 500-foot mountain. If stretched out, this strand of lights would cover a mile. The enchanting effect forever transformed Salida's Christmas celebrations, making the town a true Christmas-in-Colorado destination.
Every year since then, volunteers continue to take on this traditional task in early November. After the holidays are over, they're back out there volunteering to take them down. Local real estate agents cover the electricity costs, as they do year-round for the other lighting. Salida Middle School students help out by holding a penny drive to raise funds. Locals donate money and manpower too. Christmas in Salida is truly a community affair; a gift to all who want to share in the glow of this holiday spirit.