SEVEN PEAKS FEST BRINGS NEW TALENT TO STATE
Caylee Hammack's First Time in Colorado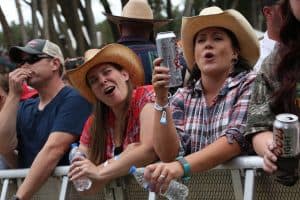 Caylee Hammack rolls into Nashville's Ryman Auditorium parking lot while simultaneously in the middle of a phone interview. While she repeatedly spells her name to the garage attendant so he can find her on the list ("I'm a New Artist," she tells him), Caylee answers questions about her role in the upcoming Seven Peaks Festival at 'The Meadows,' in Buena Vista.
She juggles this semi-chaos with patience and wit until the phone call drops in the garage's dead zone freeing her to focus on the evening ahead. Caylee was there to perform at the 13th Annual ACM Honors show on August 21st.
This is the hectic but increasingly exciting life of Caylee Hammack, a 25-year old up-and-coming country music artist living and working in Music City, USA. Over Labor Day weekend she will head to Colorado – for the very first time – to take the stage at the country music fest founded by Dierks Bentley. He and Caylee share the same manager so when Dierks asked if she'd like to be part of it, there was zero hesitation.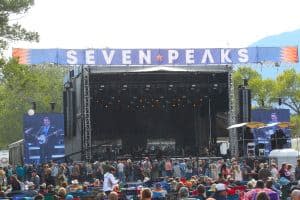 "I heard Seven Peaks Festival is fantastic in every way so I said, 'oh yea, I'd be happy to do it!'" says Caylee. "Festivals are special because they just have a whole sense of excitement. It's like a mini-vacation for everyone, so people are just more able to cut loose and have fun. I can't wait!"
Caylee says because this is her first time in Colorado she is taking some time off to really enjoy it.
"I'm just going to hang around and connect with people and take it all in," says Caylee. "I'm really excited to have the time to watch my friends (Maren Morris, Dierks, etc) perform, too."
Living in Nashville, Caylee knows most of the performers in the line-up, but looks forward to meeting some of the 90s night favorites like Travis Tritt and Tracy Lawrence.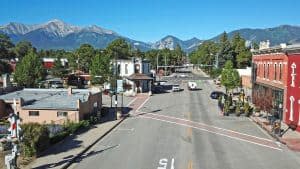 Colorado may be unfamiliar territory for her, but small towns like Buena Vista? That part she knows well. She was born and raised in Ellaville, Georgia, a town with a population very similar to BV.
"I love to connect with people who were raised in small towns like me. We've got a kindred spirit thing going on. So I feel like that's how it will be in Buena Vista," says Caylee.
The fiery redhead gets things going with her set at 3:20 Saturday afternoon – admittedly, a tough time slot.
"I like a good challenge," she says. "You know, I don't care if I perform at 3 am or 3 pm, I'm just honestly grateful to be there."
Chances are she'll get the daytime crowd's attention in a hurry with her original debut single, "Family Tree." She writes all her own songs and this one combines pretty much all the necessary country elements in a true-story way, It describes all the "crazy little quirks" that make her family who they are. She sings of a chain-smoking sister, a grandma bailing her uncle out of jail, and her own personal hunger for more.
As the lyrics say, "Some of us are on fire to get out."
And get out she did. At 19, she left her hometown with her few possessions stuffed into trash bags and drove 399 miles to Nashville. For weeks she slept in her car as she set out to build a career as a singer/songwriter. When she finally found a stage willing to let her perform she went all out, covering Miranda, Clapton and Tom Petty tunes. When the applause died down the interest heated up. She was immediately offered a job singing four-hour sets in Nashville honky tonks.
She's paid her dues, but now she is undoubtedly headed in the right direction. She is now signed with Universal Music Publishing Group and won the prestigious ASCAP Sammy Chan Lyricist award, among other accolades. She has performed with 'Girls of Nashville," and in Dollywood, Las Vegas, Salt Lake City, Florida and Georgia. Recently she toured with LANCO on their 'Hallelujah Nights Tour.' In September she performs with Miranda Lambert at Roadside Bars and Pink Guitars in Kentucky.
All this before ever setting eyes on the Rocky Mountains. Imagine the heights she will reach from here…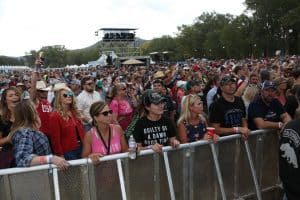 Seven Peaks Festival General Admission Three-day passes start at $215 (same as last year). Special VIP packages and camping passes available too. sevenpeaksfestival.com.